Experts call for measures to ease the impact of coronavirus on the economy
Ensuring supply of essentials, controlling prices, slashing customs duty on raw materials and rescheduling loans are some of the recommended actions.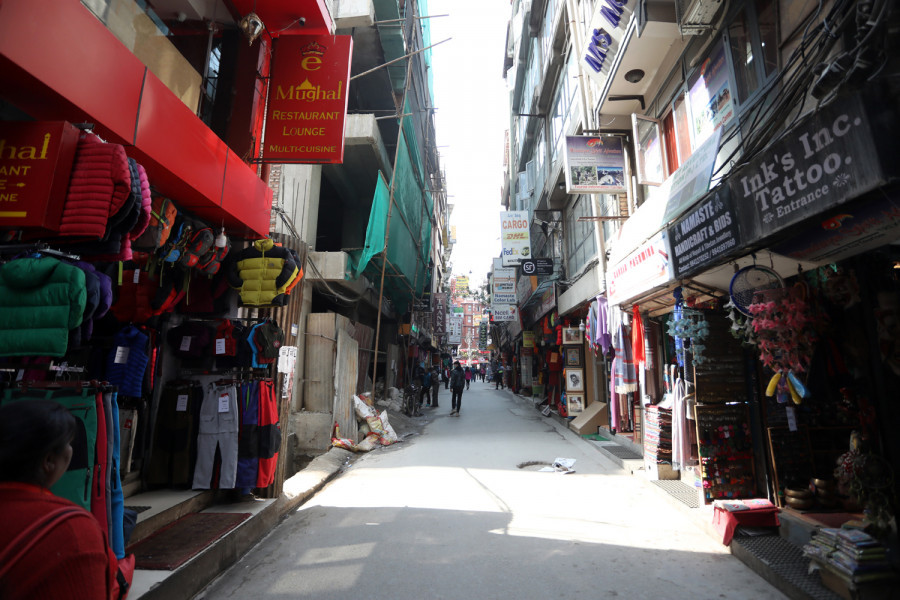 Businesses in Thamel catch a chill after Covid-19 scares off foreign tourists. post file photo
bookmark
Published at : March 18, 2020
Updated at : March 19, 2020 16:17
Kathmandu
Fears about the impact of Covid-19 on the world economy continue to grow. The large economies are still trying to figure out the actual effect of the pandemic; but in Nepal, certain sectors are already beginning to worry. Bankers have their concerns while industrialists say they are bracing themselves for a crisis.
"One of our major concerns is that businesses could fail to pay their loans and the loans will turn into bad debts, as most of them have already been affected," said Ashoke Rana, chief executive officer of Himalayan Bank. "Business is down due to fear, but the consequences will be more severe if the country sees the spread of the virus."
According to Nepal Rastra Bank, banks and financial institutions had a loan exposure of Rs3.18 trillion as of mid-February, and overall non-performing loans (loan amount missing the repayment deadline) was just 1.77 percent.
Bankers say they are already seeing a sharp drop in loan demand, and fewer people are visiting banks amid coronavirus fears. "We ourselves prefer that customers do not visit the banks for the sake of the safety of our staff," said Rana.
Another concern for banks is the foreign labour market as both Nepal and the labour destination countries have stopped travel of migrant workers.
With businesses shutting down in labour destinations, there is a likelihood of migrant workers losing their jobs. This will affect remittance inflows in Nepal, one of the important sources of bank deposits and which account for around 26 percent of the GDP.
Remittance, tourism and exports are the major sources of foreign exchange earnings for Nepal.
A slump in remittance could also lead to a contraction of economic activities as the recipient families mostly spend the money on consumption, education of their children and building houses.
"So, potential disturbances in foreign labour markets will have consequences on the livelihoods of many people in the country," said economist Raghubir Bista. "There is no space in the country to provide employment for returnees from foreign employment."
Since many people spend most of the remittance in the market, a drop in the flow will have a direct impact on the demand for goods and services, economists say.
It is just a matter of time before the effect of the pandemic on remittance inflows is seen, according to them. In the first six months of the current fiscal year, the country saw remittance inflows increase by 0.9 percent to Rs447 billion.
Crowds are starting to thin at the markets due to coronavirus fears. People are avoiding going to restaurants and shops, and the decrease in people's movement can be gauged from the shrinking vehicular traffic on Kathmandu's roads.
Besides wholesale, retail and tourism, the manufacturing sector too is facing a shortage of raw materials. The export industry is having a hard time shipping goods to markets like Europe, the United States and China due to supply chain disruptions.
The carpet industry is one of the sectors facing headwinds from the coronavirus crisis. "We have not been able to export the carpets that have been packed and readied for shipment," said Hari Bahadur Jyu Thakuri, senior vice-president of Nepal Carpet Manufacturer and Exporter Association.
"We are also not getting wool from the Tibet Autonomous Region of China as the borders between the two countries are closed."
According to the association, the US is the largest market for Nepali carpets followed by Europe while China is emerging as a lucrative market.
In the last fiscal year, Nepal exported carpets worth Rs7.16 billion to third countries other than India and China. The northern neighbour bought carpets valued at Rs195 million, according to Nepal Rastra Bank data.
Last week, Dharma Raj Shakya, immediate past president of the Federation of Handicraft Associations of Nepal, told the Post that handicraft exports had largely stalled with monthly shipments barely totalling Rs1 million to Rs1.5 million. According to the federation, the country exports handicrafts worth around Rs6 billion annually.
Domestic market-based industries seem to be more resilient than export-based industries. Manufacturers say they are using the raw materials remaining in their stocks.
Pharmaceutical industries said they have stocks of medicines to last them a few months after India banned exports of a number of medicines.
"There is no need to panic with regard to medicines as we have adequate stocks of raw materials, and the market has inventories enough for a few months," said Hari Bhakta Sharma, managing director of Deurali Janata Pharmaceutical Company.
The scale of the impact of the current pandemic will depend on how long it continues. The longer Europe and America struggle, the worse it will be for the global economy, and Nepal is certain to feel knock-on effects.
The government, which is struggling to put in place measures to prevent the virus from spreading, needs to set its priorities right, said observers. Only one case has been reported in Nepal so far, and the patient recovered too.
If the crisis deepens across the globe, the government will be faced with multiple challenges. In the event of shortages of daily essentials, its response should be swift and robust, and it needs to work in tandem with the private sector, analysts said. The private sector, on its part, will need to come up with its own plan of action.
Experts say there is no way to predict what shape the problem may take, but the government and the private sector must chalk out some immediate measures. Economist Bista said that both sides should work together to ensure that daily essentials are available to the public at affordable prices.
"People who may lose their jobs due to the impact of coronavirus will be hurt harder economically," said Bista. "Maintaining supply and controlling prices will be a great relief for them."
Although the Federation of Nepalese Chambers of Commerce and Industry appealed to traders to sell goods transparently, people are finding it hard to get cooking gas in the market.
With the country being prone to supply disruptions due to its heavy dependence on imports, he urged the government to take measures that will promote domestic production.
Economist Shankar Sharma recommended a series of short- and medium-term measures to tackle the economic impact of coronavirus.
"Right away, the government can slash the customs duty on raw materials required for manufacturing industries. And for airlines facing hard times due to coronavirus, the government can cut parking fees," said Sharma.
"In the medium term, there should be loan rescheduling for affected industries and subsidised loans for small and medium scale enterprises." He also stressed the need to introduce measures to help people who become jobless due to the pandemic.
Frequently asked questions about the coronavirus outbreak
UPDATED as of September 22, 2020
What is Covid-19?
Covid-19, short for coronavirus disease, is an illness caused by the coronavirus SARS-CoV-2, short for severe acute respiratory syndrome coronavirus 2. Common symptoms of the disease include fever, dry cough, fatigue, shortness of breath and breathing difficulties. In severe cases, the infection can cause pneumonia, severe acute respiratory syndrome, kidney failure and even death.
How contagious is Covid-19?
Covid-19 can spread easily from person to person, especially in enclosed spaces. The virus can travel through the air in respiratory droplets produced when a sick person breathes, talks, coughs or sneezes. As the virus can also survive on plastic and steel surfaces for up to 72 hours and on cardboard for up to 24 hours, any contact with such surfaces can also spread the virus. Symptoms take between two to 14 days to appear, during which time the carrier is believed to be contagious.
Where did the virus come from?
The virus was first identified in Wuhan, China in late December. The coronavirus is a large family of viruses that is responsible for everything from the common cold to Middle East Respiratory Syndrome (MERS) and Severe Acute Respiratory Syndrome (SARS). After an initial outbreak in Wuhan that spread across Hubei province, eventually infecting over 80,000 and killing more than 3,000, new infection rates in mainland China have dropped. However, the disease has since spread across the world at an alarming rate.
What is the current status of Covid-19?
The World Health Organisation has called the ongoing outbreak a "pandemic" and urged countries across the world to take precautionary measures. Covid-19 has spread to 213 countries and territories around the world and infected more than 31,405,983 people with 967,505 deaths and 22,990,260 recoveries. In South Asia, India has reported the highest number of infections at 5,557,573 with 88,943 deaths. While Pakistan has reported 306,304 confirmed cases with 6,420 deaths. Nepal has so far reported 65,276 cases with 427 deaths.
How dangerous is the disease?
The mortality rate for Covid-19 is estimated to be 3.6 percent, but new studies have put the rate slightly higher at 5.7 percent. Although Covid-19 is not too dangerous to young healthy people, older individuals and those with immune-compromised systems are at greater risk of death. People with chronic medical conditions like heart disease, diabetes and lung disease, or those who've recently undergone serious medical procedures, are also at risk.
How do I keep myself safe?
The WHO advises that the most important thing you can do is wash your hands frequently with soap and water for at least 20 seconds or use hand sanitizers with at least 60 percent alcohol content. Avoid touching your eyes, nose and mouth with unclean hands. Clean and disinfect frequently used surfaces like your computers and phones. Avoid large crowds of people. Seek medical attention if symptoms persist for longer than a few days.
Is it time to panic?
No. The government has imposed a lockdown to limit the spread of the virus. There is no need to begin stockpiling food, cooking gas or hand sanitizers. However, it is always prudent to take sensible precautions like the ones identified above.
---
---