Crucial meetings and projects with China pushed back after coronavirus outbreak
A number of Chinese-funded hydropower plants are likely to be delayed as Chinese workers who went home for the Lunar New Year are under lockdown.

A file photo of an empty street in Yueyang, Hunan Province, near the border to Hubei Province, which is under partial lockdown after an outbreak of a new coronavirus in China. Reuters
bookmark
Published at : February 6, 2020
Updated at : March 19, 2020 16:08
Kathmandu
As coronavirus spreads across the world, crucial governmental meetings with China scheduled for February and March, along with a number of Chinese-led infrastructure projects, hang in the balance in Nepal.

So far, four meetings with the Chinese, including one led by the Finance Ministry, have been postponed due to the coronavirus outbreak, said Sushil Lamsal, deputy chief of mission at the Nepali Embassy in Beijing.
An official at the Finance Ministry confirmed that a bilateral meeting that would discuss Chinese assistance to Nepal and the expediting of Chinese-led projects had been cancelled by the Chinese.
Government officials also told the Post that the first meeting of the Nepal-China Trade Cooperation Committee, which was agreed to during the visit of Chinese President Xi Jinping to Nepal in October, had been postponed. Similarly, a meeting on agriculture cooperation and another with the Chinese Academy of Sciences have also been postponed due to the coronavirus threat, said two government officials.
Even though no profile engagements have been affected, the postponement of the meetings is certain to affect the timeline of the projects that they were due to discuss, said officials.
"We do not have any high-level meetings at present and no meeting is scheduled under our ministry," said Foreign Secretary Shanker Das Bairagi.
In addition to the meetings, a number of Chinese-led infrastructure projects will also be delayed as Chinese nationals working at these projects in various capacities are stuck in China after migrating home for the Chinese New Year, said an official from the Prime Minister's Office. China has effectively placed Hubei Province, the epicentre of the coronavirus outbreak, under lockdown and has discouraged outbound travel.
The hydropower sector, especially Chinese-funded projects, may see a large impact. The 456 MW Tamakoshi Hydropower Project in Dolakha district, which has reached the final phase of completion, could be impacted by the absence of skilled Chinese workers who were heavily involved in the project, said officials.
The 140MW Tanahu Hydropower Project on the Seti River, the 111 MW Rasuwagadhi Hydroelectric Project, the 120MW Rasuwa-Bhotekoshi Hydropower Project, the 102MW Madhya Bhotekoshi Hydropower Project, and the 37MW Upper Trishuli 3B Hydropower Project are all being built by Chinese contractors.
But Pravin Raj Aryal, spokesperson for the Energy Ministry, said that they had yet to receive reports from the hydroelectricity projects regarding whether their works would be hampered due to absence of Chinese workers.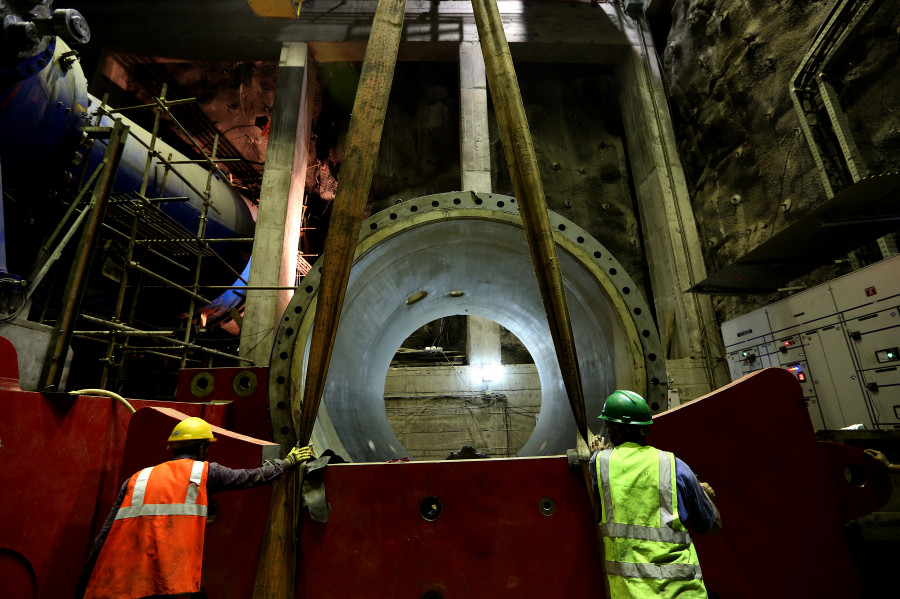 A file photo of workers installing a pipe at the Upper Tamakoshi hydro project site. Courtesy of upper Tamakoshi Hydro Project
There are at least five transmission line projects being constructed by Chinese contractors—the 220kV Bharatpur-Bardaghat, Chilime-Trishuli 3B and Ramechhap-Garjyang transmission line projects, including 132 kV Bharatpur sub-station and 220 kV Trishuli sub-station projects.

In the Kathmandu Valley, the smart metering project has also been awarded to a Chinese contractor.
"Most managers from hydropower and transmission line projects who went to celebrate their holiday have not returned," said Prabal Raj Adhikari, spokesperson for the Nepal Electricity Authority. "As of now, some projects may be delayed but they have not been significantly affected. But if the problem persists, it could be catastrophic."
According to Adhikari, the earthquake of 2015 was already damaging for many hydropower projects and now, this epidemic is causing worry.
"The private sector of independent power producers will be hit mostly as almost all of them have hired Chinese contractors," he said. "We are following developments."
Rajan Pokhrel, director-general of the Civil Aviation Authority of Nepal, told the Post that the ongoing construction of two international airports in Pokhara and Bhairahawa have already been affected, as half of the skilled Chinese human resource who went homes for the holiday is under lockdown and unable to return.
According to Pokhrel, out of 300 Chinese workers at the Pokhara International Airport project, 150 went home to celebrate the Chinese New Year. In Bhairahawa, only 40 skilled Chinese workers remain out of 80.
"We are not sure when they will return. If the coronavirus prolongs, it could be disastrous for both national pride projects," said Pokhrel.
Replacing the Chinese workers with Nepalis is particularly difficult as they were workers skilled in building airport infrastructure, he said.
A Chinese state-owned company—China National Aero Technology International Engineering Corporation—has also won the Rs6.92 billion bid to build key infrastructure at Tribhuvan International Airport, but as the construction has not yet started, it will not significantly affect the ongoing upgradation of the Kathmandu airport, project officials said.
Both Kerung-Kathmandu Railway and Kathmandu Metro Rail projects are also likely to suffer due to the outbreak, said officials at the Department of Railways.
Chinese consultants were scheduled to arrive in Kathmandu for a field visit at the end of February or the first week of March to ascertain the feasibility of a Kathmandu metro rail but their arrival could now be delayed, said Balaram Mishra, director-general at the Department of Railways.
Since the outbreak of disease, movement into and out of China has been significantly curtailed and until the outbreak is fully controlled, nothing much of substance is going to happen between Nepal and its northern neighbour, according to a senior Finance Ministry official.
Frequently asked questions about the coronavirus outbreak
UPDATED as of September 22, 2020
What is Covid-19?
Covid-19, short for coronavirus disease, is an illness caused by the coronavirus SARS-CoV-2, short for severe acute respiratory syndrome coronavirus 2. Common symptoms of the disease include fever, dry cough, fatigue, shortness of breath and breathing difficulties. In severe cases, the infection can cause pneumonia, severe acute respiratory syndrome, kidney failure and even death.
How contagious is Covid-19?
Covid-19 can spread easily from person to person, especially in enclosed spaces. The virus can travel through the air in respiratory droplets produced when a sick person breathes, talks, coughs or sneezes. As the virus can also survive on plastic and steel surfaces for up to 72 hours and on cardboard for up to 24 hours, any contact with such surfaces can also spread the virus. Symptoms take between two to 14 days to appear, during which time the carrier is believed to be contagious.
Where did the virus come from?
The virus was first identified in Wuhan, China in late December. The coronavirus is a large family of viruses that is responsible for everything from the common cold to Middle East Respiratory Syndrome (MERS) and Severe Acute Respiratory Syndrome (SARS). After an initial outbreak in Wuhan that spread across Hubei province, eventually infecting over 80,000 and killing more than 3,000, new infection rates in mainland China have dropped. However, the disease has since spread across the world at an alarming rate.
What is the current status of Covid-19?
The World Health Organisation has called the ongoing outbreak a "pandemic" and urged countries across the world to take precautionary measures. Covid-19 has spread to 213 countries and territories around the world and infected more than 31,405,983 people with 967,505 deaths and 22,990,260 recoveries. In South Asia, India has reported the highest number of infections at 5,557,573 with 88,943 deaths. While Pakistan has reported 306,304 confirmed cases with 6,420 deaths. Nepal has so far reported 65,276 cases with 427 deaths.
How dangerous is the disease?
The mortality rate for Covid-19 is estimated to be 3.6 percent, but new studies have put the rate slightly higher at 5.7 percent. Although Covid-19 is not too dangerous to young healthy people, older individuals and those with immune-compromised systems are at greater risk of death. People with chronic medical conditions like heart disease, diabetes and lung disease, or those who've recently undergone serious medical procedures, are also at risk.
How do I keep myself safe?
The WHO advises that the most important thing you can do is wash your hands frequently with soap and water for at least 20 seconds or use hand sanitizers with at least 60 percent alcohol content. Avoid touching your eyes, nose and mouth with unclean hands. Clean and disinfect frequently used surfaces like your computers and phones. Avoid large crowds of people. Seek medical attention if symptoms persist for longer than a few days.
Is it time to panic?
No. The government has imposed a lockdown to limit the spread of the virus. There is no need to begin stockpiling food, cooking gas or hand sanitizers. However, it is always prudent to take sensible precautions like the ones identified above.
---
---