Government to freeze financial transactions of sugar mills for failing to pay farmers
Despite a government sanctioned agreement to clear all dues by January 21, farmers are still owed Rs 800 million by sugar mills.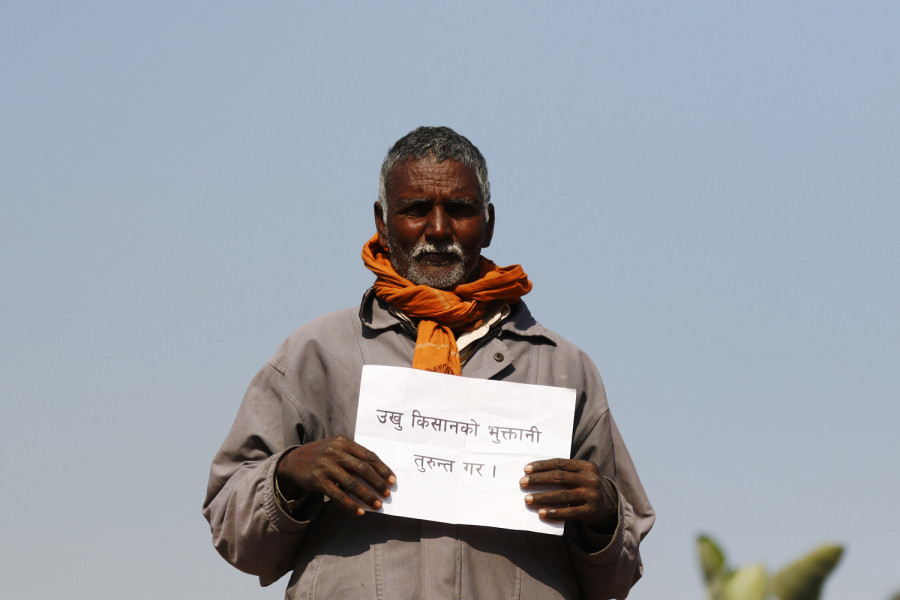 Sarlahi farmers came to Kathmandu last month demanding payment. Keshav Thapa/TKP
bookmark
Published at : January 23, 2020
Updated at : January 23, 2020 14:41
Kathmandu
A day after the deadline for sugar mills to pay farmers their dues, the government on Wednesday said that it is going to freeze financial transactions of at least three sugar mills.

Four sugar mills have made partial payments while two have gone out of contact, according to the Ministry for Industry, Commerce and Supplies, which reached a deal with sugarcane farmers earlier this month to clear all their dues by January 21.
Even as the deadline passed, sugar mill operators still owe Rs800 million to sugarcane farmers, some of whom have not been paid for three or four years.
At a press conference, Dinesh Bhattarai, joint-secretary at the ministry, said that the ministry has written to Inland Revenue Department to freeze financial transactions of Annpurna, Indira and Lumbini sugar mills.
According to the ministry, of its Rs420 million dues, Annapurna Sugar Mills has paid just Rs30.9 million while Mahalaxmi Sugar Mill has paid Rs110 million of a total Rs210 million. Indira Sugar and Agro Industries has paid just Rs7.4 million, but it is unclear how much Indira owes farmers.
Of the Rs79.44 million in dues, Everest Sugar and Chemical Industries has to pay only those farmers who don't have bank accounts, said the ministry.
The operators of Mahalaxmi Sugar Mill, Baba Baiju Nath Sugar Mill and Bagmati Khadsari Sugar Mill have all gone out of contact, according to the ministry. While the ministry could not provide the amount owed by Mahalaxmi and Baba Baiju Nath, Bagmati Khadsari Sugar Mill owes Rs84.1 million.
Despite sugarcane being a cash crop, for years sugar mill operators have been buying cane from farmers on credit and delaying payments.
But in December last year, sugarcane farmers had had enough and they marched to Kathmandu to protest against non-payment.
A majority of farmers had loans on their head and said that they were afraid that their lands would be seized by banks if they defaulted on their payments again.
After the plight of sugarcane farmers was widely reported in the media, the government on January 4 reached a deal with them that all their dues would be cleared by January 21. Farmers were not convinced, but they said they did not have any other option.
Now that the deadline has passed and payments have yet to be made, farmers said they have lost faith in the government but are not sure what steps they should take.
Rajesh Yadav, a sugarcane farmer from Sarlahi, who is also a member of the Sugarcane Farmers' Struggle Committee, said that farmers want to continue protests but that cannot happen right now as it's peak harvest season.
Sugarcane farmers have for years lived in a dilemma. If they step up protests, they run the risk of sugar mills not buying their crops, but if they sell their produce, they have to sell it on credit and wait for the cash for years.
"That's why we've been saying that the government should play the role of a guardian and help ensure our payments," Yadav told the Post over the phone from Sarlahi.
Bhattarai, the joint-secretary, said that the government is serious about getting the sugarcane farmers paid but it is also concerned that some "opportunists" are taking advantage.
Bhattarai's reference to "opportunists" is in line with what Minister for Industry Lekhraj Bhatta said on Tuesday that some middlemen were trying to manipulate farmers. Like Bhatta, Bhattarai did not elaborate on what he meant by opportunists.
Officials also did not say exactly what they will do to ensure payments to debt-ridden farmers.
"Our intention is not to catch the sugar mill owners who have yet to clear dues to farmers, nor do we intend to send them behind bars," Navaraj Dhakal, also a joint-secretary at the ministry, said at the press conference. "We just want to make sure that the farmers are paid."
Madan Rai, an agriculture scientist, said that years of nonpayment to poor farmers is an outcome of weak governance.
"Industrialists and mill owners are either themselves at the policy-making level or they can easily influence those who formulate policies," said Rai. "On the other hand, farmers lack the wherewithal and resources to pile enough pressure on industrialists. Sugar mills not paying farmers for years simply exposes yet another form of corruption."
Kapil Muni Mainali, president of Nepal Sugarcane Producers' Federation, said that the government has finally dashed farmers' hopes.
"We expected the government to work in the interest of farmers, but we were wrong," Mainali told the Post. "Even the government promise of providing subsidies to farmers has not materialised yet."
Sugarcane farmers are now planning to launch protests at the local level from Friday.
"We will protest here in the district until February 1. After that we will decide to launch protests in Kathmandu again," said Yadav, the farmer from Sarlahi. "This time, it will be a do or die protest."
---
---