Shiva Maya Tumbahangphe resigns as Deputy Speaker
The election for new Speaker to be held on January 26.

Shiva Maya Tumbahangphe leaves the Parliament building following a press conference in Kathmandu on Monday. Post photo.
bookmark
Published at : January 20, 2020
Updated at : January 21, 2020 15:57
Kathmandu
When Deputy Speaker Shiva Maya Tumbahangphe on Monday resigned from her post, she also appeared resigned to the fact that fighting patriarchy was not an easy battle.
After addressing Monday's House meeting, Tumbahangphe tendered her resignation to the Parliament Secretariat to pave the way for the election of the new House Speaker.
"We overthrew the monarchy easily but we still need to make lots of efforts to root out patriarchy," said Tumbahangphe while talking to mediapersons.
Since the commencement of the winter session, Tumbahanghphe had staked claim to Speaker's post, which has been vacant since early October last year after Krishna Bahadur Mahara stepped down following allegations of attempted rape.
Nepal Communist Party Co-chairs KP Sharma Oli and Pushpa Kamal Dahal, however, had own persons in their minds as the new Speaker—both men.
As Tumbahangphe stood her ground, the ruling party leadership instead of considering her as the new Speaker had asked her to step down.
While briefly addressing the House on Monday, Tumbahangphe said that she was waiting for a decision on Speaker to ensure that the lower house does not remain headless.
While Oli wanted Subash Nembang, Dahal was making a pitch for Agni Sapkota as the new Speaker.
And negotiations between Oli and Dahal continued for a month.
A Secretariat meeting of the ruling party on Sunday evening decided to propose Sapkota as the new Speaker, ending Tumbahangphe's prospects.
Though women leaders in the party earlier had said they would continue to throw their weight behind Tumbahangphe, there were none who spoke against the party's Sunday's decision.
On Monday, Tumbahangphe lashed out at the party leadership for not allowing her to lead the House.
"Inclusive democracy has been the most crucial provision of our constitutional system," said Tumbahangphe while addressing the House. "But this spirit of the constitution cannot come into implementation by speech and letters. We need proper conduct and practice for the true implementation of this spirit."
"I hope the political parties and the leadership that took the lead in constitution drafting agree to the fact that for democracy to strengthen in a true sense, there should be the representation of all organs of the society in all higher positions of the state," added Tumbahangphe.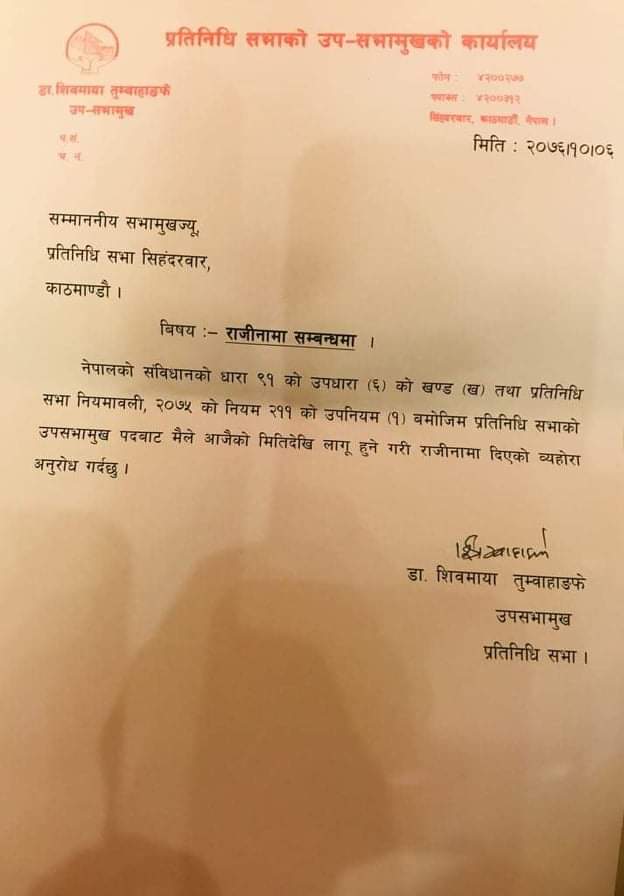 ---
---