Chinese President Xi to sign at least a dozen agreements in Kathmandu
While the 1,200MW Budhi Gandaki hydroelectric project is set to be revived, an agreement is also expected on the detailed project report for the Kathmandu-Kerung railway line.

President Xi Jinping waves after his arrival at the airport in Chennai, India, on Friday. Reuters
bookmark
Published at : October 12, 2019
Updated at : October 12, 2019 08:38
Kathmandu
On Saturday, Kathmandu will roll out the red carpet for Chinese President Xi Jinping, who is paying a two-day state visit to Nepal. During his 20-hour stay in Kathmandu, Xi will hold a whirlwind round of meetings with Nepali leaders and officials, including President Bidya Devi Bhandari, Prime Minister KP Sharma Oli and former prime ministers Sher Bahadur Deuba and Pushpa Kamal Dahal.

Read: Nepal and China to discuss extradition treaty during Xi Jinping's visit
All eyes, however, are on the pacts and understandings the two neighbours will sign and the political implications of a Chinese president's visit to Nepal after 23 years. Xi will be overseeing the signing of at least a dozen agreements between Nepal and China.
Prime Minister Oli held an hours-long meeting with several ministers on Friday evening to finalise the number of pacts to be signed during Xi's visit. However, official communication has not been forthcoming.
While a number of articles on the agenda for Xi's visit were approved by a Cabinet meeting on Thursday, officials remain tight-lipped on the number of agreements to be signed with the Chinese side as negotiations were ongoing with both sides exchanging the texts of various agreements as of Friday evening.
Read: The Chinese president's visit is likely to have tremendous political significance but how Nepal calibrates its foreign policy will be key.
High on the agenda, according to multiple officials the Post spoke to, is the preparation of the detailed project report of the Kerung-Kathmandu railway on a Chinese grant. Nepal will also be seeking an understanding on the railway's investment modality, which will be discussed during the visit but agreed upon later, according to two senior officials privy to the Xi visit agenda. Possible financing modalities include a grant, a soft loan from China, and investment from Nepal. Finances, however, will only be finalised once the detailed project report is complete.
Consensus, however, has been reached on two important agreements regarding the development of Nepal's energy sector. Officials familiar with negotiations told the Post that the revival of the 1,200MW Budhi Gandaki Hydroelectricity Project, which has been in limbo for quite some time, is almost certain.
The Oli administration had earlier instructed the Ministry of Energy to negotiate with China Gezhouba Group Company to develop the project under the 'engineering, procurement, construction and finance' (EPCF) model.
On Thursday, Oli told former prime ministers and foreign ministers that a few pacts relating to infrastructure and connectivity, and an understanding on reducing tariffs for Nepali products exported to China would be signed during Xi's visit, according to Narayan Kaji Shrestha, spokesperson for the ruling Nepal Communist Party (NCP).
"We were briefed on some agreements regarding road connectivity, the Madan Bhandari University, the detailed project report for the Kerung-Kathmandu railway, upgrading of the Araniko Highway, and the construction of a port at the Korala border point in Mustang," Shrestha told the Post. "Other issues like cross-border transmission lines and ways to reduce the widening trade gap with China will also be discussed during meetings with the Chinese side."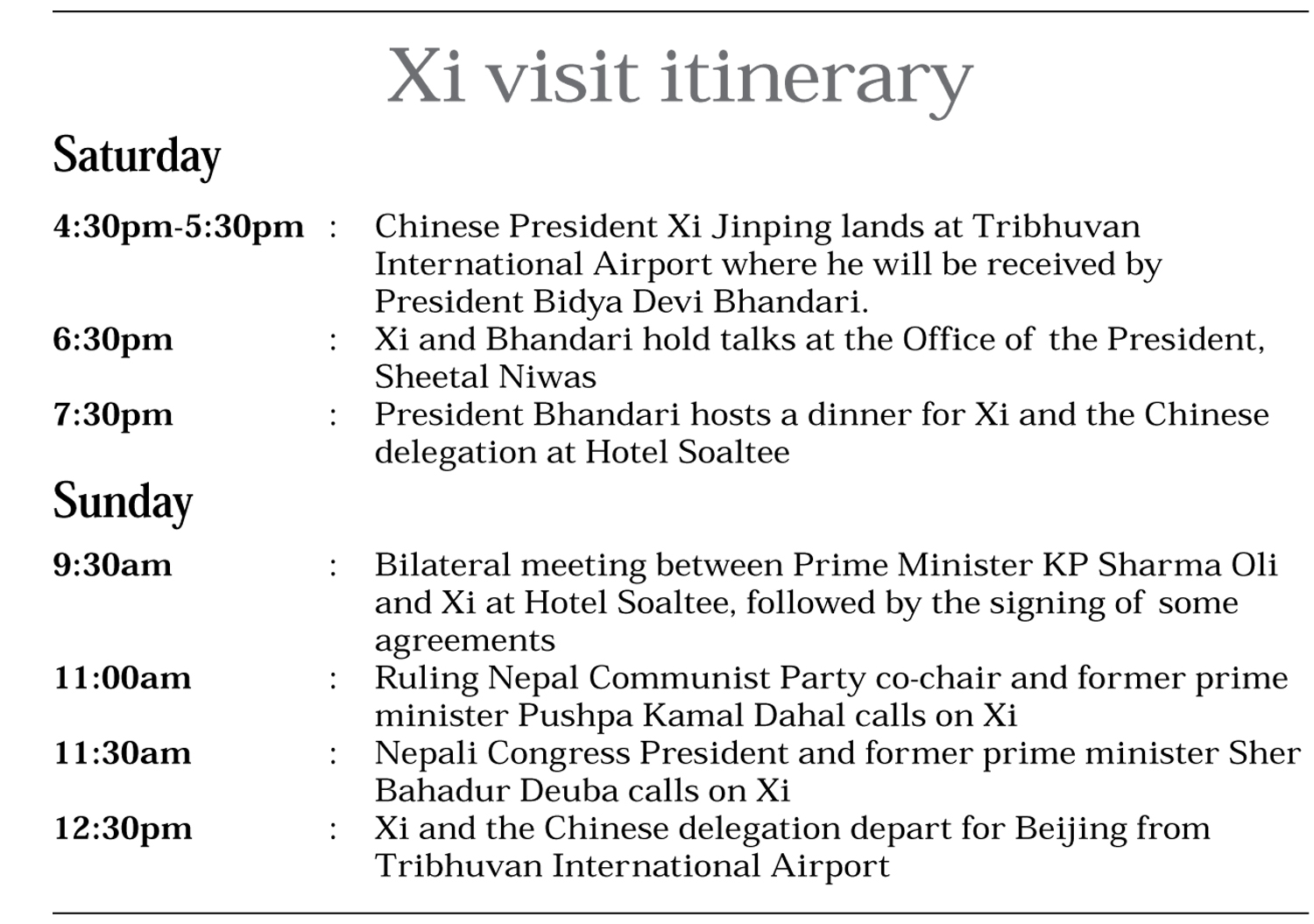 On Friday, a meeting of the Investment Board Nepal awarded the survey licence to Nepal's Hydroelectricity Investment and Development Company and its Chinese joint venture, Power Construction of China Limited, to carry out survey works for the 762MW Tamor Hydropower Project that is spread across Taplejung, Panchthar and Tehrathum districts in eastern Nepal. Nepal and China will sign an agreement to jointly develop the project, said an official who did not wish to be named.
Similarly, China has also agreed to extend support for the establishment of the Madan Bhandari Science and Technology University in Chitlang, Makwanpur. The project, which is expected to cost Rs 43 billion, will host over 4,000 students pursuing degrees in science and technology, humanities, social science, management and law. The university will be spread over 450 bighas of land. A liaison office for the university has already been established in Sainbu, Lalitpur.
Read: A blueprint for consolidating power: China exports Xi Jinping Thought to Nepal
At least three north-south corridors—Koshi, Karnali and Gandaki—that will link the Indian and Chinese borders are also on the agenda. Agreements on the construction of the six-kilometre Tokha-Chahare tunnel, a road up to Rasuwagadhi via Betrawati in Nuwakot, and the Kimathanka-Hile road section will also be signed.
Upgrading the Kimathanka and Korala border points, the Araniko Highway, and expanding the Kodari Highway, the only highway that connects Nepal and China, are also on the agenda from the Nepali side. Nepal has proposed expanding the Kodari Highway from Miteri Bridge to Dhulikhel, according to officials.
China is also interested in setting up an Ayurvedic medicine plant in Nepal, and cooperating in the energy sector with the construction of a 400kV transmission line and the 400MW Fukot Karnali Hydropower Project, said officials. Military cooperation is also on the agenda.
Xi is scheduled to land at Tribhuvan International Airport at 4:30 pm on Saturday. The Chinese president will be flying to Kathmandu from Chennai, after concluding the second India-China informal summit with Indian Prime Minister Narendra Modi.
Officials closely following the developments said that they expected Nepal to figure in the Modi-Xi informal summit on Friday and Saturday, the contents of which will be released later.
In Kathmandu, Xi will be received by President Bhandari and Prime Minister Oli. Xi will then head to Soaltee Crowne Plaza, where he will be staying for the duration of the visit.
The Chinese president will then hold delegation-level talks with President Bhandari at Sheetal Niwas. Later in the evening, Bhandari will host a dinner for Xi and the Chinese delegation at Soaltee Crowne Plaza.
On Sunday morning, Oli and Xi will hold a bilateral meeting, which will be followed by the signing of at least a dozen pacts and understandings related to infrastructure, energy and connectivity, among others, according to officials.
***
What do you think?
Dear reader, we'd like to hear from you. We regularly publish letters to the editor on contemporary issues or direct responses to something the Post has recently published. Please send your letters to [email protected] with "Letter to the Editor" in the subject line. Please include your name, location, and a contact address so one of our editors can reach out to you.
---
---