Police data suggests rise in abduction cases over the years
Around 104 cases of kidnapping were reported last fiscal year alone.

Police parade suspects in a kidnapping case. There has seen a continuous rise in kidnapping cases, according to the police records. Post File Photo
bookmark
Published at : September 15, 2019
Updated at : September 15, 2019 07:58
Kathmandu
In the last five years, the country has witnessed a rise in the number of kidnapping cases, according to Nepal Police data.

The last fiscal year 2018-19 alone saw 104 cases, the highest in the last five years. According to police statistics, kidnapping/abduction cases rose 35.1 percent in the last fiscal year, compared to the previous fiscal year.
Officials say what is even more alarming is that not all kidnappings were perpetrated by professional criminals.
"In the majority of cases, the culprits were either relatives or acquaintances," said Senior Superintendent of Police Uttam Raj Subedi, chief of the Metropolitan Police Range, Kathmandu.
"Many a time we have found that people have been kidnapped in cases of failure to repay loans."
Wednesday's kidnapping bid was a case in point.
On Wednesday, four people abducted Alen Gurung, his wife and their eight-month-old from Tribhuvan International Airport. The family had returned to Kathmandu from Sikkim on a Budha Air flight.
The four kidnappers had waited at TIA for Gurung and his family to arrive.
Based on the information provided by a fellow passenger, police managed to arrest the abductors.
The arrestees are Dinesh Lama of Sindhupalchowk, Susil Upreti of Chandragiri,
Milan Rai of Nuwakot and Binesh Pahari of Sitapaila.
According to Hobindra Bogati, spokesperson for the Metropolitan Crime Range, preliminary investigation shows Alen Gurung had borrowed money from Lama.
Lama had then plotted Gurung and his family's kidnapping in a bid to recover his money.
"Lama used to lend money to people, especially to those who wanted money to gamble in casinos," said Bogati. "But when Gurung failed to return the amount, Lama plotted the kidnapping to threaten Gurung."
Data maintained by the Nepal Police Headquarters shows that in the fiscal year 2014-15, altogether 70 kidnapping complaints were registered. The number of such cases rose to 79 in the following fiscal year.
However, in the fiscal year 2016-17, the cases of abduction decreased by nearly 28 percent to 57.
Besides this year, there has seen a continuous rise in kidnapping cases, say police.
In the fiscal year 2017-18, there were 77 kidnapping cases. The number of kidnapping cases in 2018-19 at 104 means a 48 percent rise since 2014-15.
According to Senior Superintendent of Police Umesh Raj Joshi, deputy spokesperson for Nepal Police, in the majority of cases, the abductees are not actually kidnapped.
"In many cases, victims' relatives have been found guilty as they know everything about the victims and they think they can make quick money by kidnapping them and demanding a ransom," said Joshi. "Kidnappers also target minors."
"The records show a rise in such cases because we treat cases of someone forcefully taking people under control also as kidnapping," said Joshi. "There are several reasons for such kidnapping, abducting or hostage-taking. In some cases, people try to exact revenge, while in others, they want people to pay back their loans."
As per the law, anyone found guilty of kidnapping is liable to 10-15 years in jail and a fine of up to Rs 150,000.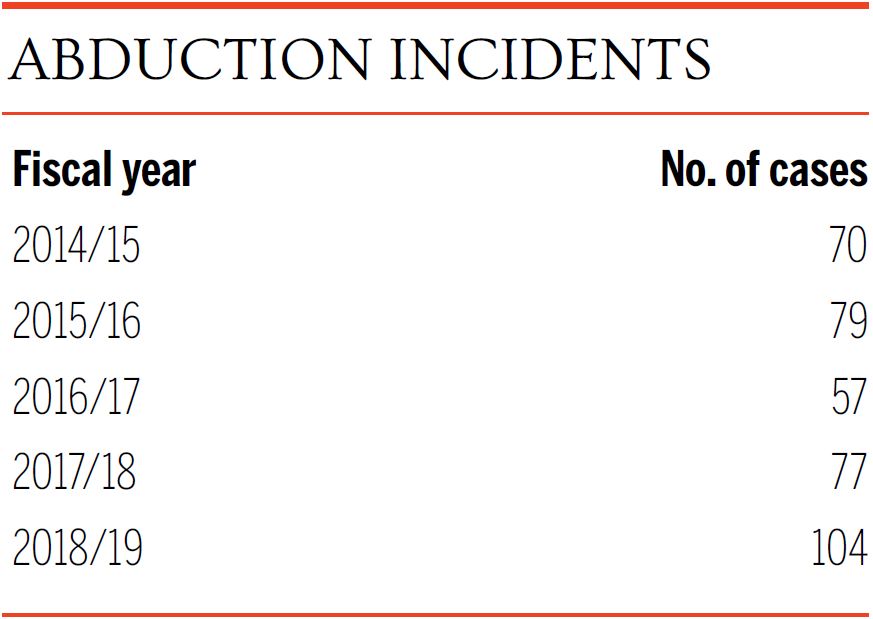 ---
---