People are furious after Home Minister says Nirmala Pant's rape and murder isn't a "new phenomenon"
The remark comes just days before the one-year mark of the gruesome incident whose investigation is still incomplete.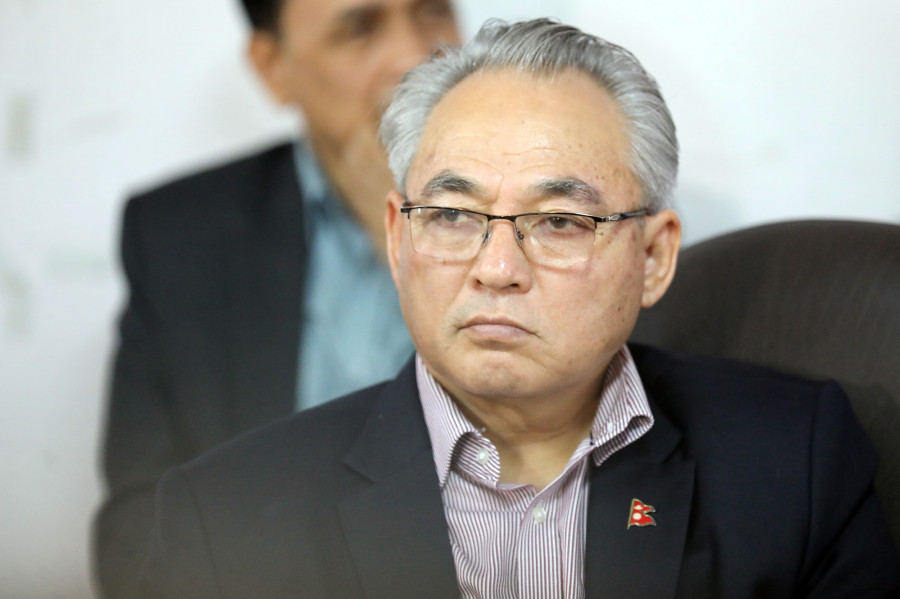 Home Minister Ram Bahadur Thapa during a press meet on Tuesday. Elite Joshi/TKP
bookmark
Published at : July 23, 2019
Updated at : July 24, 2019 13:15
Kathmandu
Home Minister Ram Bahadur Thapa's flippant remarks about rape, specifically the Nirmala Pant case, has sparked outrage among Nepalis, many of whom went online to criticise him and the government for their frivolous and apathetic attitude towards violence against women.

Speaking at a press conference on Tuesday, Thapa said that rape was commonplace in Nepal and that the case of Pant, a 13-year-old girl who was raped and murdered in Kanchanpur last July, had been unnecessarily politicised.
"Nirmala Pant's rape and murder was a gruesome crime, but it isn't a new phenomenon. [These things] used to happen in the past, they are still happening now and will continue to happen, to some extent, in the days to come as well. We cannot completely control these kinds of cases," Thapa said.
The home minister was valourising the "achievements" of the Home Ministry in maintaining peace and security in the country over the last year, when he suddenly went off on a tangent about Pant's case.
Thapa's statement comes just days before the one-year mark of Pant's murder, which led to a stringent re-examination of the police's handling of rape cases in Nepal. In the weeks and months since the teenager's gruesome murder, several mass protests took place all over the country and several committees were formed to probe the workings of the officers involved in the investigation, which has been labelled botched from the very beginning. So far, no progress has been made in the investigation of the case.
So on Tuesday, social media users were quick to criticise Thapa.
"Is this an open invitation to rapists? How easily he says, there is nothing new about what happened as if we are supposed to get used to it? I don't know what to say!" one user wrote on Twitter.
"Your excellency, does that mean we will have to wait for Congress or another party's government to nab Nirmala's killers?" another person said.
For activists who had taken to social media and the streets several times over the last year demanding justice for Pant, the Home Minister's statement was a reminder of how difficult the road to justice is.
"It is extremely irresponsible of him to make a statement like that," said Hima Bista, one of the activists. "This also shows the political mindset of the decision-makers in our country—they simply aren't committed to this cause."

***
What do you think?

Dear reader, we'd like to hear from you. We regularly publish letters to the editor on contemporary issues or direct responses to something the Post has recently published. Please send your letters to tkpoped@kmg.com.np with "Letter to the Editor" in the subject line. Please include your name, location, and a contact address so one of our editors can reach out to you.
---
---