Two former ministers and a sitting lawmaker among 351 individuals charged with corruption in the past year alone
The Commission for Investigation of Abuse of Authority filed the highest number of corruption cases last fiscal year.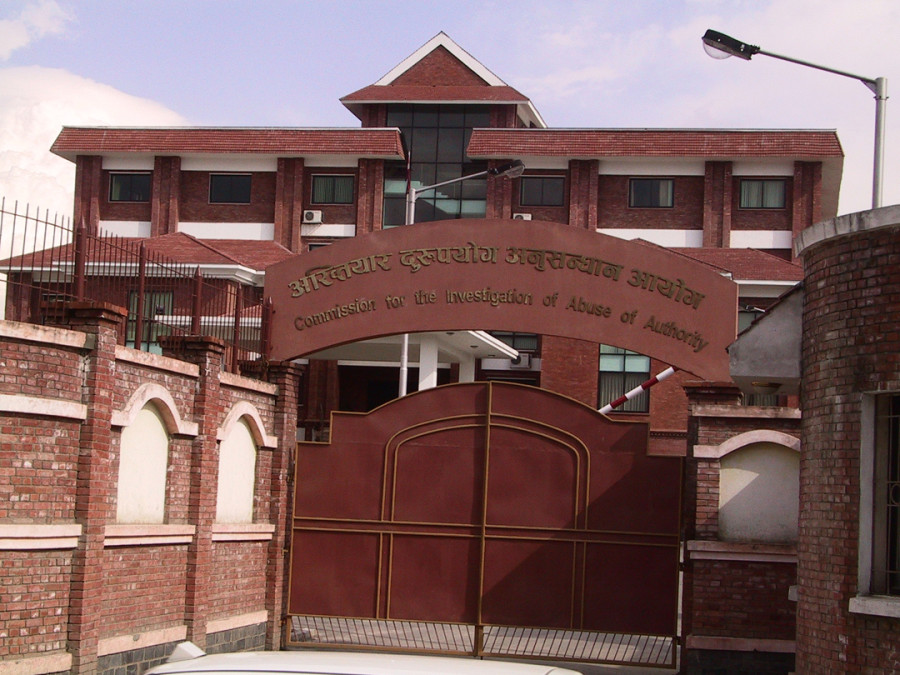 File photo/TKP
bookmark
Published at : July 20, 2019
Updated at : July 20, 2019 08:17
Kathmandu
Charges against two former ministers and a sitting lawmaker were among the 351 corruption cases filed last fiscal year by the Commission for Investigation of Abuse of Authority, the highest number yet in Nepali history.

Former ministers Bikram Pandey and Badri Prasad Neupane, and sitting Member of Parliament Hari Narayan Rauniyar were the three highest-ranking officials charged with irregularities, the CIAA said in a press conference on Friday. These three officials were charged with the highest amounts of financial irregularities.
Pandey, who is former Minister of Land Reform and Management as well as chairman of Kalika Construction, has been accused of fiscal irregularities amounting to Rs2.16 billion.
On December 7, the anti-graft body filed a case against Pandey and other 20 officials and consultants over substandard construction of the main canal of the Sikta Irrigation Project. Different sections of the canal were heavily damaged in June 2016 and July 2018. When the newly built channel was first tested in June 2016, it collapsed at multiple sections. Despite repair, sections broke again in July, during another test. Pandey was minister during the Puspa Kamal Dahal-led government in 2016.
Likewise, Neupane, former minister for women, children and social welfare, faced charges of irregularities worth Rs315.21 million while leasing out land to Fun Park, a children's amusement park at Bhrikutimandap, Kathmandu. This is the second largest corruption case of the past fiscal year, according to the CIAA.
The Fun Park, which covers 60 ropanies of land, is owned by the Social Welfare Council, the regulatory body overseeing non-government organisations. Neupane headed the council's board when it decided, on July 30, 2012, to lease out the land without competitive bidding, causing a loss of Rs315.21 million for the council, the CIAA said in its chargesheet filed on February 4. Neupane had become minister representing the Chure Bhawar Ekta Party, which later merged with the then CPN-UML.
Sitting lawmaker Rauniyar, along with his son Sumit and 10 other government officials and consultants, were charged by the corruption watchdog on October 5 last year. Rauniyar, who was elected from Parsa Constituency 3 for the House of Representatives, representing the former Sanghiya Samajwadi Forum, is the founder of the infamous Pappu Construction Company. Rauniyar has been charged with financial irregularities amounting to Rs193.2 million for building a substandard bridge over the Babai river in Jabbighat, Bardiya.
Besides these three, other influential people, including sitting CIAA commissioner Raj Narayan Pathak, also had corruption charges filed against them last fiscal year.
On March 26, the CIAA filed a corruption case against Pathak, charging him with corruption of Rs7.8 million after leaked audios and videos showed Pathak admitting to receiving Rs7.8 million from a group headed by Lambodar Neupane to settle a dispute over land owned by the Nepal Engineering College.
Pointing at these cases, CIAA Spokesperson Pradeep Koirala said that the anti-graft body had qualitatively improved its performance over the year.
"The CIAA filed a corruption case against its own commissioner, along with government staff, contractors and middlemen involved in land transactions, lawmakers and former ministers," said Koirala.
Other high profile individuals charged with corruption in the past year include former Nepal Rastra Bank Governor Tilak Rawal, former Executive Director of Nepal Oil Corporation Gopal Bahadur Khadka, sitting chairman of the Tribhuvan University Service Commission Chaitanya Prasad Sharma, ex-vice-chancellor of BP Koirala Institute of Health Sciences Balbhadra Prasad Das, and Director-General of the Department of Transport Management Chandra Man Shrestha.
While court hearings are ongoing in all of these cases, a verdict has yet to be issued on any of them.
What do you think?
Dear reader, we'd like to hear from you. We regularly publish letters to the editor on contemporary issues or direct responses to something the Post has recently published. Please send your letters to tkpoped@kmg.com.np with "Letter to the Editor" in the subject line. Please include your name, location, and a contact address so one of our editors can reach out to you.
---
---