With few options for education and employment, deaf community remains limited to service jobs and skilled work
The development of a Nepali Sign Language and dedicated schools have helped but there is much more that could be done

Nepali Sign Language is progressing and helping make schooling better for deaf children but the development is not enough, experts say. Post Photo: Anish Regmi
bookmark
Published at : June 23, 2019
Updated at : July 29, 2019 17:03
Kathmandu
Bir Bahadur Bogati, 49, wanted to become a theatre artist when he was young. But growing up in Kavre, he was told that he would never be able to perform on stage because he was born deaf.

"My father wanted me to become a typist. In those days, learning to use a computer could get you a good job," Bogati told the Post through a sign language interpreter. "But in school, we were taught carpentry and weaving to help us with employment. I always wanted to be an entertainer and act in dramas."
It was only in his 30s that Bogati, now a treasurer at the National Federation of the Deaf Nepal, got a chance to be part of a play.
He has worked on some plays, but he could not pursue a career in theatre.
For deaf people like Bogati, despite their skills, talents and interests, there are very few avenues of education and employment to pursue.
In many schools for the hearing-impaired, education ends at 10th grade. Higher education, when available, is very restrictive, further limiting their employment opportunities in vocational and skills-related work—carpentry, tailoring, electrician, plumbing—and service-related works.
Bogati himself started school when he was 10 at the Central Higher Secondary School for the Deaf in Gairidhara, Kathmandu—the only school for the deaf at the time.
The school provided classes only up to seventh grade and skills training such as carpentry and weaving after that, in lieu of higher education. Bogati recalls some of his friends dropping out of school because they didn't want to pursue a vocational career later in life.
At present, there are 22 schools for the deaf in Nepal; of them, only three provide 12 years of school education—1st to 12th grade. Only one school, Central Higher Secondary School for the Deaf, provides higher education—Bachelors' degrees in Education and Management.
According to KP Adhikari, president of the federation, there are 11,000 students at deaf resource classes and around 4,000 students at deaf schools.
"But we believe there are more children who haven't received any form of education," Adhikari told the Post through the sign language interpreter.
Schools like Central Higher Secondary School can have only 12 students at a time in a class, as the learning process is visual and requires teachers to be more observant.
"Ideally, we would want 12 children in one class, but some classes have a lot more students—we have 41 of them but only 22 teachers for the entire school," said Upendra Parajuli, principal of the Central Higher Secondary School. "We would like to provide more subjects for students to choose from, but our budget will not allow it. We need to look into everything. From manpower to equipment."
And then books are another major concern.
"There aren't even enough books for the deaf," said Dil Maya Thapa, principal of the Bahira Bal Madhyamik Vidhyalaya in Bhairahawa, one of the three high schools that provide classes up to 12th grade.
The National Federation of the Deaf is the only organisation in Nepal that produces reference books and video materials for deaf education.
"The government collaborates with us when they have projects. Otherwise, they haven't taken any initiative to publish books," said Adhikari.
In communities where there are no schools, the government operates "resource classes", which focus on teaching sign language. But there are only 172 resource classes, which do not guarantee quality learning, said Adhikari.
"There are still no private schools for the deaf," said Samridhi Shrestha, who provides speech and language therapy to the deaf through her organisation, Helping Hands for the Deaf. "And those from well-to-do families go to foreign countries where they get good opportunities."
This year, the government has allocated a budget of Rs 20 million for the development of Nepali Sign Language research centre and interpreter training centre.
"But it is still unclear how much we are getting as we need to divide the budget with other institutions as well," said Adhikari.
The National Federation is planning to use the budget to extend the reach of Nepali Sign Language learning to far-off deaf communities.
This investment will be significant in increasing the capacity of the deaf, said Adhikari.
The federation estimates that Nepal has a deaf population of more than 300,000, but most people in rural areas are only just discovering Nepali Sign Language.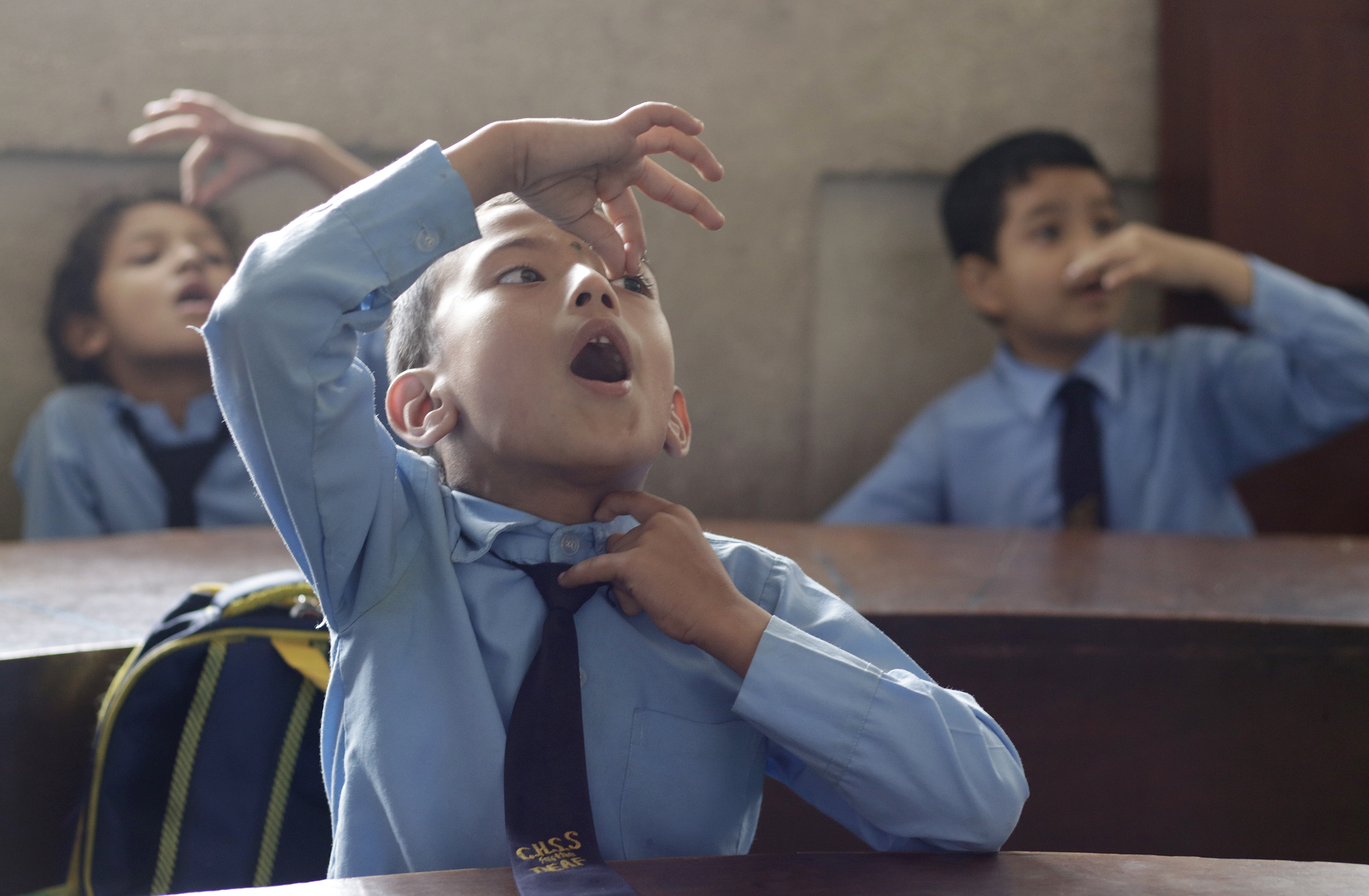 Anish Regmi/TKP
Developed in 1998, Nepali Sign Language has rapidly progressed and is helping make schooling better for deaf children. However, it isn't enough as schools for the deaf require professional Nepali Sign Language literate teachers, along with more subjects and study materials that can build the capacity of deaf students in the real world.
"Nepali Sign Language is essential for deaf education," said Adhikari. "We have been teaching sign language in many parts of Nepal to help in deaf schooling, but we can't say that schools and institutions in Nepal are providing quality education for the deaf because faculty members and teachers aren't well versed in sign language."
Despite the development and teaching of Nepali Sign Language, the deaf still have problems finding employment. This is not just because the able-bodied do not know sign language but because education for deaf people does not equip them with skills for the real world.
"People don't understand that the deaf aren't in a situation where we can fight for our choices, because we have to make a living too," said Bogati. "We are already struggling to get a good education and employment. Our dreams come later. Who would have thought that I might want to become a theater artist and not a typist or a carpenter?"
In 1997, the privately owned Bakery Café started employing deaf people as servers in their restaurants. "It wanted to encourage the idea that the deaf are capable of working," said Shilu Sharma, a Nepali sign language interpreter and president of the National Association of the Sign Language Interpreters Nepal. In recent years, the Soaltee Crowne Plaza too has followed suit, hiring the deaf to work service jobs.
The government has set five percent disability quota system for the people with disabilities, but those hard of hearing say employment opportunities often go to the people with disabilities other than hearing impairment.
"Deaf people have to share this quota with other persons with disabilities. Even if they wish to contest jobs, there are still barriers, like a lack of interpreters at job interviews," Sharma told the Post. "When people look at us, there isn't a way for them to tell that we can't hear," said Sharma. "Discrimination is more visible when we want to work."
So without many options and no higher education to compete with able-bodied people, most deaf people end up in skills-related businesses or the hospitality sector.
"Life is much better today for the deaf, but much more needs to be done—diverse quality education can help transcend the limitations that we and the community have enclosed ourselves within," said Bogati. "At least then, nobody will be able to call us laata."
---
---