In educated and elite Nepali circles, a different kind of "menstrual huts"  
Young Nepali women living in cities may not be banished to sheds, but many of them are forced to adhere to a long list of menstrual restrictions.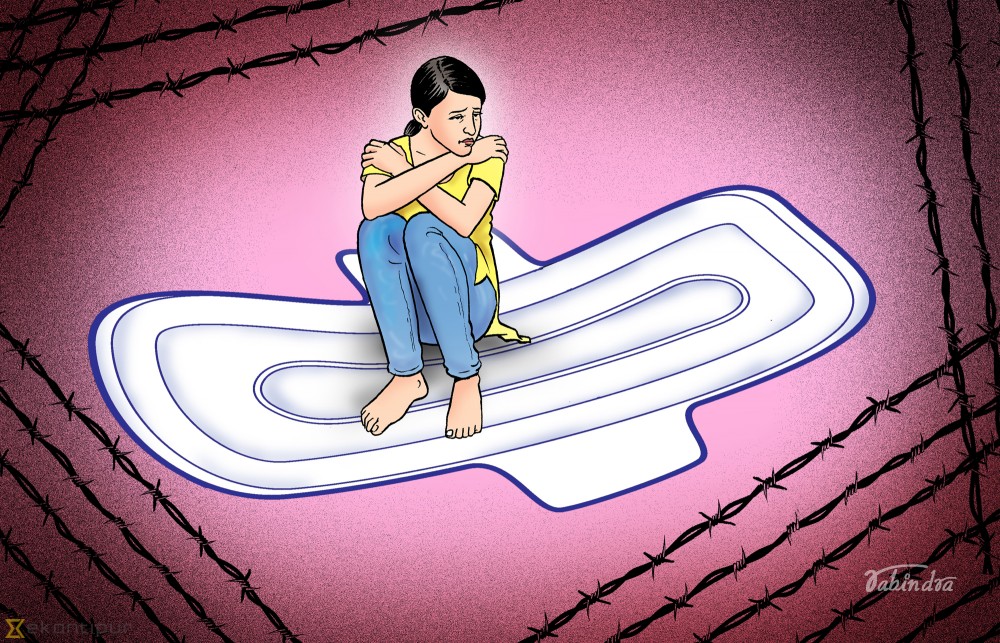 Post Illustration: Rabindra Manandhar
Published at : May 27, 2019
Updated at : June 28, 2019 15:30
Twenty-five-year-old Rajina Shrestha ticks all the boxes of a modern Nepali woman. She is educated, opinionated and fiercely independent. But like thousands of others belonging to that troupe, she has not been able to reject one practice: observing menstrual restrictions every month.
Shrestha, who is currently pursuing a Master's degree in Biotechnology and is also a hobbyist comedian, comes from a traditional Newar family in Kathmandu. During her monthly period, she is not allowed to sit with her family at the same table during meals, touch any vessels containing water or partake in any religious ceremonies.
"I grew up watching my mother and cousins abide by these restrictions," said Shrestha. "So I knew that when I got my period, I would be expected to follow the same rules."
In Nepal, menstruation-related discrimination is usually associated with Chhaupadi, an age-old tradition of banishing menstruating women to animal sheds to live in isolation. The practice, which is highly prevalent in the far-western districts of Nepal, despite being outlawed in 2005 and criminalised in 2017, continues to kill multiple women each year.
But as Radha Paudel, who has been a staunch advocate for eliminating menstrual taboos, told the Post in an interview earlier this year, "some sort of Chhaupadi is being practiced all over the world wherever Nepalis are living, regardless of caste, class and education."
"In Achham, women are banished to huts. In Kathmandu, they are confined to a private space," Paudel told the Post in February. "The principle is the same in both cases: menstruating women are impure and need to be isolated from their surroundings."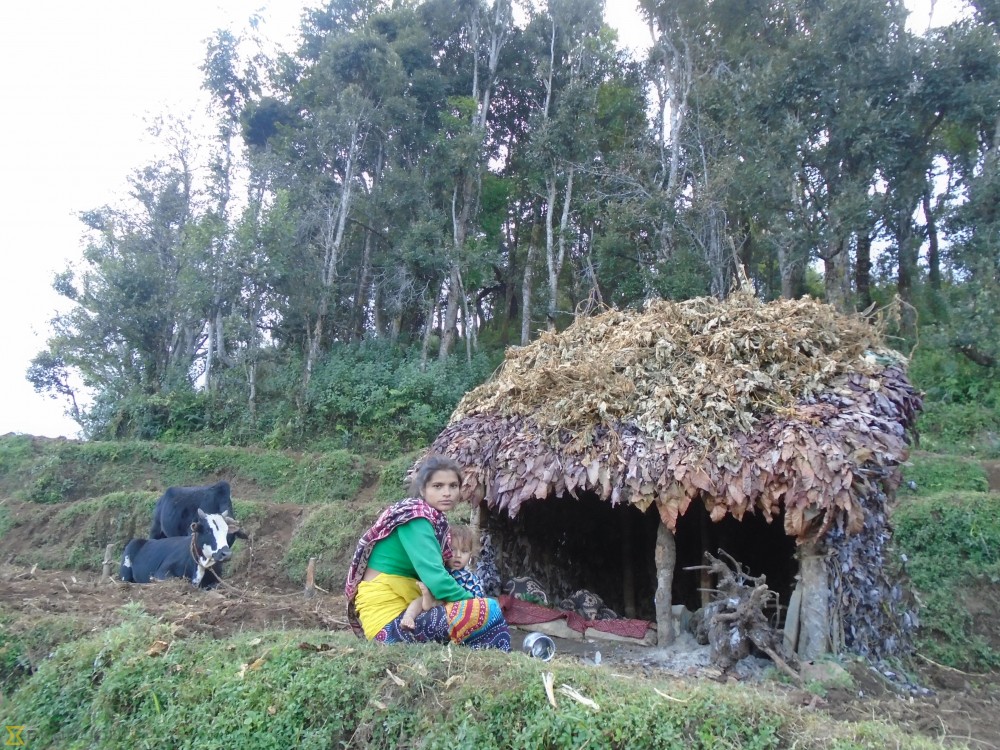 A woman outside her Chhaupadi hut in western Nepal. Post File Photo
The restrictions imposed on menstruating women living in the cities may fall into the "moderate" category, but the number of women adhering to such rules is as high—if not more—as those observing Chhaupadi.
Nearly 50 percent of women living in urban areas said they avoid social gatherings during their period, according to the 2014 Multiple Indicator Cluster Survey, a study focused on monitoring the situation of children and women in Nepal. Likewise, nearly a quarter of them stay in a different room when they are menstruating, the study found.
The most common restrictions include being barred from preparing food, touching water or plants, entering temples, partaking in religious and cultural ceremonies, and laying on the same bed as their husbands.
The degree to which these rules are followed varies. For instance, while in some families, menstruating women are strictly made to eat on the floors, in other cases women dine at the table—but by themselves.
"I used to feel bad," said Christina Pradhan, 29, who experienced being isolated from her family during meals when she was living in a joint family. "Seeing everybody eat together in the kitchen while I was made to eat separately made me feel lonely."
While most women interviewed by the Post said they didn't mind following these restrictions because they are not as extreme or life-threatening as Chhaupadi, they admitted feeling isolated.
"I did not like these restrictions, as they made me feel like I was being excluded from my family," said Shreesha Nankhwa, a research associate at an organisation working on Water and Sanitation issues.
Nankhwa, a 25-year-old Patan native, recounted how during her first period, her parents swiftly cleared out the refrigerator of all the food after finding out she had touched the fridge. For them, everything in the fridge had become "jutho"—contaminated—since she had touched it.
"The fact that women still have to follow these practices makes me feel angry and helpless," said Nankhwa. "But from my own experience, I can tell it's a painfully slow process to change people's minds about such taboos."
When a Post reporter tweeted on Sunday asking to hear from women who faced menstrual restrictions, dozens of women responded within hours. By the end of the day, Nepali women, both living inside the country and abroad, were eager to share their experiences.
"I come from a liberal family, now married into a religious household," one woman said. "I have to follow so many rules I can't even keep track of. There are places one can go, and not go; things I am allowed to touch, chairs I am allowed to sit on. The worst part is my husband isn't allowed to touch me. Each month, I look for excuses to go to my parents' for these four days. And my new family prides themselves on being progressive and educated."
For nearly all the women who shared their experiences with the Post, the reason for adhering to these restrictions was the same: not wanting to stir up conflict in the family and make elders—the ones who believe in the notion of menstrual impurity—feel disrespected.
"I am not allowed to enter the worship room, touch other people's food or cook for my family members," said Ashma Khadka, 24, a law student. "Even though I am against these practices, I don't want to hurt my family's feelings."
In other cases, the women said they stopped observing the restrictions once they began living on their own and away from their families.
Pratima Timalsina, an administration worker based in Kuwait, told the Post she stopped following such practices after she moved to the Gulf three years ago.
"When some elderly members of the family ask me if I am abiding by these restrictions, I just nod," she said.
All the women who spoke to the Post said they were opposed to any kind of restrictions being imposed upon them during their period but admitted that eliminating the practice completely would take a long time.
"These women grew up believing that if they do not follow these taboos, something bad will happen to their families," said Nankhwa. "This belief is ingrained in them and letting go of it is going to be very difficult."
Until then, the women say they are happy with the small wins, the smallest of changes they are able to bring to the nature of these restrictions.
"Earlier, I was made to sit on the floor during meals. After I protested, my parents agreed to let me eat at the dining table," said Shrestha. "It didn't solve the problem, but it's a change for the better."
---