'Nepal's education needs major policy reforms'
Kantipur Publications in collaboration with Higher Institutions and Secondary Schools' Association Nepal (HISSAN) is organising the fifth 'Kantipur HISSAN Edu Fair 2018'.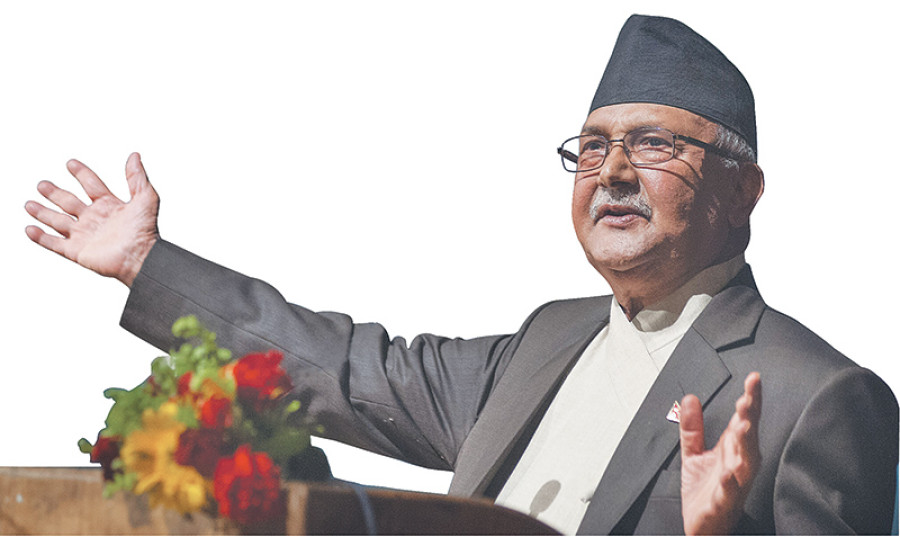 bookmark
Published at : May 24, 2018
Updated at : May 24, 2018 16:27
Kantipur Publications in collaboration with Higher Institutions and Secondary Schools' Association Nepal (HISSAN) is organising the fifth 'Kantipur HISSAN Edu Fair 2018'. Prime Minister KP Sharma Oli will open the four-day event featuring over 150 domestic institutions that starts today under the theme 'Excellent Education within Nepal'. Binod Ghimire of The Kathmandu Post asked PM Oli questions on different aspects of education and the government's plan to improve it. Excerpts:
What is the state of Nepal's education system?
Our existing education system lacks focus. It will not be an exaggeration to say it is running on ad hoc basis. There has been no change in the traditional way of teaching and learning system, despite the fact the world has leaped forward hugely. Our children have no choice, but to study in such traditional schools. There is no priority to professional and vocational education. No steps have been taken to modernise it. Education has to be linked with life, society, necessity, development, employment and income, but we lack such plan and policies. History of our schooling is not long. It was only after country entered into democratic setup in 1950 we embraced modern school system while it took another 10 years to establish the first university.
It was only after 1990 we setup medical and engineering colleges. In these years, we completely lacked a road map for our human resource needs and the focus of education system. What will be your government's focus?
A proper profiling of education sector and the human resources we want to produce has to be made. Schools and colleges should be set up based on this.Educational needs of one place or one community might differ from other. Therefore, we have to do proper planning. We cannot afford to continue the present system that lacks focus on our priorities. There will be changes in education that mostly produces the learned unemployed. Our government will prepare an education policy that caters to the needs of the nation, its progress and prosperity.
Government investment in education is the highest. Why have we failed to achieve goals?
You talk about government's investment. Along with the state, there has been huge investment from the other sectors as well. The private sector has invested huge money so has the community and parents.The community set up many public schools, including the one I attended, that are currently operating. The community also paid teachers' wages. Despite so much of investment, results are disappointing. This is because of two reasons. First, a lack of proper planning that never had focus and targets. Second, is the way we function. For instance, see how schools recruit teachers. They entered on contracts and consequently got permanent posting. How can we expect quality education from them? This shows we need major policy reforms in education.
Your party is in power, so the onus of developing policies with you.
We have raised the issues several times, but the concern is where is the focus of the people who are responsible for doing all these things? Somebody else had the steering for long though we were sitting next to him. You can only warn the driver of an accident, but you cannot control the vehicle. We were in a similar situation.
Budget for education decreases every year. How can you improve education when budget is limited?
The budget ceiling given to the ministries is not well calculated and scientific. This needs correction. The present ratio of technical education to the non-technical is not balanced. We have no alternative to promote technical, vocational and professional education. Our education will be of three types: technical, professional and non-technical. Research and innovation will get top priority. With proper planning, the education system now on will change. There is no need of certificates or degrees that do not qualify students for employment. The government is committed to providing maximum budgetary allocation to education. We should remember increasing budget would not ensure quality. The budget will increase if there is assurance of improving quality.
Could there be partnership between private and public schools to improve quality of education?
The private sector cannot operate arbitrarily. It needs to be controlled. In the name of providing quality education, they cannot impose arbitrary fees on students. Yes, we cannot ignore the fact the private sector by its nature is competitive
and needs to deliver quality of education for its sustainability.On the other hand, public schools fail to give us quality. Therefore, these differences need corrections. There is no alternative, but to increase the quality of education in public schools. There is no compromise. The government will take necessary steps for this.The teacher's duty is to teach in classrooms. There is no room to remain absent from duty under any pretext.
The education fair amplifies the message that quality education can be imparted in Nepal. Do you think it's a realistic claim?
It is very much realistic. We can develop Nepal as an international educational hub. Genetically we have good memory, as we are descendents of learned ancestors who propounded the rich eastern philosophy. The climate we have too is favourable for us. I stress we have the land that is most suitable for knowledge production.
---