PM outlines plans for prosperous Nepal from Rara
Prime Minister KP Sharma Oli has called on everyone not to harbour doubts over developing a prosperous Nepal and fulfilling the aspirations of people.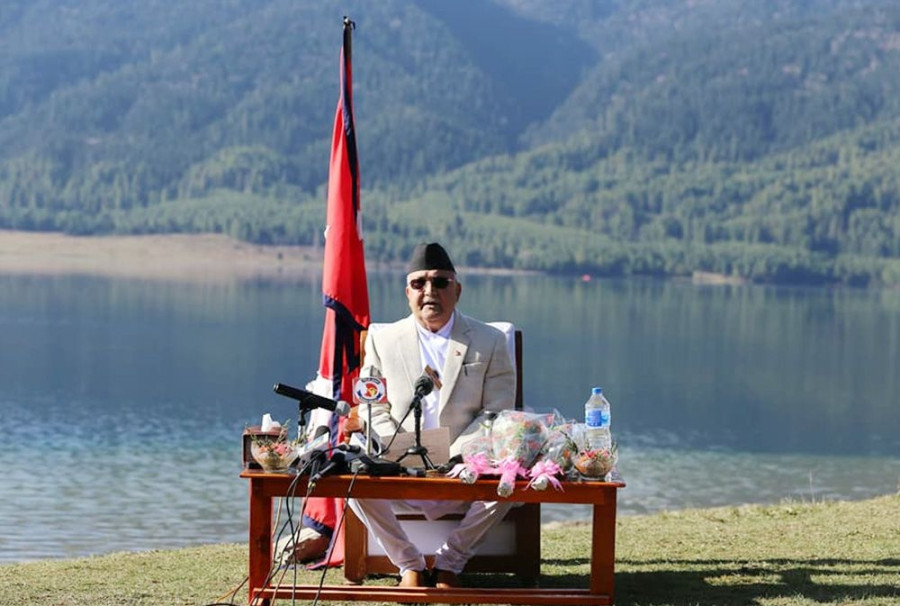 bookmark
Published at : April 14, 2018
Updated at : April 15, 2018 07:51
Karnali
Prime Minister KP Sharma Oli has called on everyone not to harbour doubts over developing a prosperous Nepal and fulfilling the aspirations of people.
Addressing the nation on the occasion of Nepali New Year 2075 BS from Rara Lake in Mugu district on Saturday, PM Oli announced a prosperous future for Nepal and expressed his commitment to work with honesty towards that end. He said that nationality, democracy, social justice, peace, and stability would be adopted as five bases of development and prosperity.
"Nepal is endowed with all necessary resources for prosperity from vast natural and cultural heritages to social and biodiversity, dynamic and self-reliant people," said PM Oli in his nearly 50-minute long address. He recalled the poverty and problems facing the country. "A different scenario is revolving in my eyes that we don't have good school for children, proper roads and bridges to go to schools, and we don't have enough human and physical resources to save the women in labour pain," he said.
Then PM Oli elaborated on the potentials and current challenges facing the country, and the formula for prosperity. Reiterating that the current national determination is economic prosperity, the Prime Minister said the government would give an unprecedented momentum to economic development so as to fulfil the void created due to waste of valuable time in the past.
He pledged to promote Nepal from its current status of under developed country by 2022 and to achieve the 17 goals of sustainable development. He explained that his announcement might sound too ambitious to some people. "But the nation can't take a giant leap without setting a high goal. We have named it 'Prosperous Nepal and Happy Nepali'," he noted.
PM Oli appealed to the domestic and foreign investors to invest in Nepal. He said the government would ensure investment-friendly environment, favourable worker relations and investment and profit by participating the private sector as an important part of national economy. "You [Investors] don't have to deal with unnecessary legal and administrative hassle," said PM, assuring the investors of providing relief from the past obligations such as additional fee and commission.
He tried to clear the doubts of naysayers that Nepal lacks necessary resources to meet the aforementioned goals. "There is no reason for a country that has minerals below its earth and life and herbal plants on its surface to remain undeveloped," he noted
In his address, PM Oli expressed his commitment to comprehensive democracy. He noted that the government's programmes will be targeted to end the causes of social oppression and economic exploitation for building a socialism-oriented state as envisioned by the constitution. "The rule of law will be strictly enforced. Anarchic activities under the grab of democracy and fake rulers with the protection from the people in power will come to an end," said PM Oli, adding that the government will adopt zero-tolerance policy against corruption.
The Prime Minister said the government will transform Nepal from an agricultural country to an efficient agriculture country. He laid out the plans for improving agricultural productivity within the next five years. He said the current agricultural-dependant population of two-thirds would be reduced to 25 percent and the confine the contribution of agriculture to 20-25 percent to the national economy. "The government's policies and programmes will outline the plans to modernize agriculture and development farming as an honourable profession," said Oli.
Talking about health, PM Oli said that Nepal will be turned into an organic hub. "Nepal's water is life saving liquid," he said. "Our policy would be oriented health but not the treatment of disease." He said the government will focus on practical implementation of the right by cooperating with local government and community.
He also said that the government will effectively end the all kinds of violence and discriminations against women practiced in the name of tradition. He said child-marriage and polygamy would be completely banned. "The state will bring in special programmes to improve the development status Karnali among other remote provinces and bring them on national par.
Saying the successful holding of three-tier of elections has paved way for the implementation of constitution, PM Oli, who is also the Chairman of CPN-UML, said a new phase of stability has begun in the country.
PM Oli arrived here in Rara to declare the upcoming Nepali Year 2075 as the Karnali Rara Toursim Year, a campaign increase tourist flow in the region to create economic and job opportunities.
---
---