Cold claims three more lives in Tarai
Cold wave continued to take its toll in several Tarai districts on Wednesday as well. Three more deaths caused by cold wave were reported in Rautahat and Saptari districts.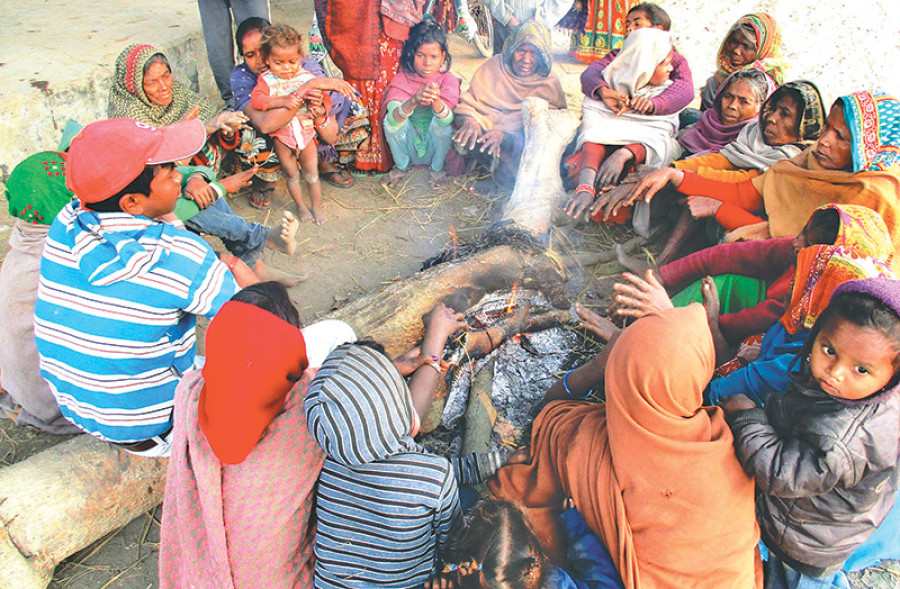 bookmark
Published at : January 11, 2018
Updated at : January 11, 2018 08:35
Rautahat/saptari
Cold wave continued to take its toll in several Tarai districts on Wednesday as well. Three more deaths caused by cold wave were reported in Rautahat and Saptari districts.
In Rautahat, Ramlagan Prasad Patel, 60, of Paroha-9 and Siya Devi, 70, of Gaur-4 died of cold on Wednesday.
Cold related deaths in the district have reached 11 so far this winter. Most of the dead were from the impoverished communities.
With the weather getting unbearably cold, the number of service seekers at government offices in Rautahat has sharply decreased these days. Presence of people in marketplaces has dwindled while fewer vehicles are plying the streets.
In Saptari, Jadauli Sada, 42, of Kanchanrup-9 died of hypothermia on Wednesday morning. Death toll caused by cold weather in the district has reached a staggering 20 in the past 10 days.
The district has not been receiving enough sunlight these days due to dense fog hanging in the atmosphere.
"People are shivering in cold. Those from the impoverished communities are worst off," said Shivanarayan Mandal, the ward member of Tilathi Koiladi-8.
The daily wage workers are having difficulty managing even two squares of meal as the business activities have slowed because of cold.
Meanwhile, the government officials, including Chief District Officer Bhagirath Pandey visited the areas affected by cold and distributed warm clothes to their residents on Wednesday.
Around 2,000 blankets were distributed in Malekpur, Rampur, Jamuwa, Maleth and Kathouna, said CDO Pandey.
Similarly, the Dhurmus-Suntali Foundation distributed blankets at Dalit settlements in Tilathi Koiladi. The foundation said it distributed 155 blankets to the poor families at Dalit settlements in Tilathi Koiladi.
Gulariya schools closed
The government authorities have decided to close community schools in Bardiya district for a week, owing to cold weather. Bhejendra Bahadur Thapa, headmaster at Gulariya-based Bagalamukhi Radhakrishna Tharu Secondary School, said the school has been closed for a week as per the instruction of the District Education Office.
The minimum temperature in Bardiya was recorded at 2 degrees Celsius on Wednesday.
Two children die of smoke inhalation in Itahari
Smoke emitted by a sawdust burning stove has caused deaths of two children, ages two and seven, and critical smoke-inhalation injuries to their parents in Itahari Sub-metropolis-6, Sunari.
Police said the incident happened on Sunday night when the family left the stove burning in their room to keep warm in cold weather.
The four family members—Alam Miya his wife Phosila Khatun and their two daughters Aliya, 7, and Ayat, 2—were discovered unconscious the following morning by their neighbours and taken to Birat Teaching Hospital in Biratnagar.
Aliya and Ayat died in course of treatment that same day. Their parents Alam and Phosila are said to be in critical conditions.
Cold wave accompanied by dense fog has affected normal life in the Tarai region.
Several people have died of hypothermia over the past few weeks. Incidents of death and injury caused by smoke inhalation and house fire have also increased at the same time.
On Tuesday, a woman from Itahari-19 died while being treated for burn injuries at the Dharan-based BP Koirala Institute of Health Sciences.
Daitin Devi Chaudhary, 70, had suffered severe burn injuries when her clothes caught fire while she was sitting close to a hearth on Saturday evening.
---
---