'Gehraiyaan': A messy film about complicated people
The movie's biggest letdown is its unnecessarily complex script, making it hard to digest.

The movie directed by Shakun Batra, explores the dysfunctionality that exists in families and how things that are left unsaid can affect the family dynamics. Screengrab via Instagram
bookmark
Published at : February 15, 2022
Updated at : February 15, 2022 05:22
Kathmandu
Most of us share a complicated relationship with our parents. While we might love our parents unconditionally and feel grateful for the love and joy they give us, many of us, at a certain point in life, come to a conclusion that we don't want to be like them.

As we grow up, we realise that our parents are not the ideal people that we had thought them to be when we were children. We soon realise that they are just human, imperfect, trapped in monotony, and in some cases, passing through life unaware of their trauma and thus affecting everyone around them—including us.
Lucky are those who can break the cycle of toxicity and the intergenerational trauma that our parents pass on to us.
How intergenerational trauma affects a person throughout their life is at the heart of the recently released movie 'Gehraiyaan', which premiered last Friday on Amazon Prime. The movie takes us through the journey of Alisha (played by Deepika Padukone), a yoga instructor, who still hasn't come to terms with her traumatic past experiences.
Alisha was very young when her mother died by suicide, leaving her alone with her father. She blames her father, Vinod (played by Naseeruddin Shah), for her mother's death and the trauma that she had to experience throughout her life. Alisha believes that her mother's suffocating relationship with her father was what pushed her to take her own life.
Since Alisha is yet to come to terms with her emotional wound, she doesn't share a cordial relationship with her father. She resents him, and the only conversations they have is on each other's birthdays. But Vinod isn't the only person Alisha shares a complex relationship with. Her equation with her boyfriend and childhood buddy, Karan (played by Dhariya Karwa), is also turbulent and on the verge of collapse. While the couple lives together in an apartment in Mumbai, Alisha feels stifled by the monotony and the lack of chemistry. In her mind, she believes she's no different than her mother–both of them share similar desperation to break the shackles of feeling stuck yet unable to do anything to come out of the loop.
But everything changes when Alisha meets her wealthy cousin, Tia (played by Ananya Pandey), and her fiance, Zain (played by Siddhant Chaturvedi), in one of the family reunions in Alibaug, Mumbai. While the sisters are meeting after eight years, they hardly engage in an intimate conversation. Surprisingly, it's Zain and Alisha who constantly engage in friendly banter with each other; even though they are meeting for the first time, their conversations are smooth, devoid of any awkwardness.
In the two days of the mini-holiday, they share amicable chemistry and get attracted to each other. However, the attraction isn't limited to friendly flirting. Sexual tension begins brewing right from their first meeting, and it takes a giant leap when they sleep together and start spending nights with each other in luxurious hotels.
At this point, the film takes off, and the focus shifts on infidelity and its emotional impact on the protagonists' lives, and how their future gets shaped by their actions. But, Shakun Batra, the film's director and one of the writers, doesn't limit the story to this aspect alone. The complex characters he creates also go through some transitions. Some get cathartic endings, while some still seek answers for the events that took place in their lives.
In 'Gehraiyaan', Batra also explores the dysfunctionality that exists in families and how things that are left unsaid can affect the family dynamics. Alisha, Tia, and Zain, the movie's major characters, all have a traumatic past. While Alisha lost her mother during her childhood, Tia lost her dad recently, leaving the daughter and mother with very little knowledge on how to manage their properties worth millions. Zain's equation with his parents isn't good either. Zain had once filed a complaint with the police about the abuse his mother suffered under their roof, which led him to abandon his family back then.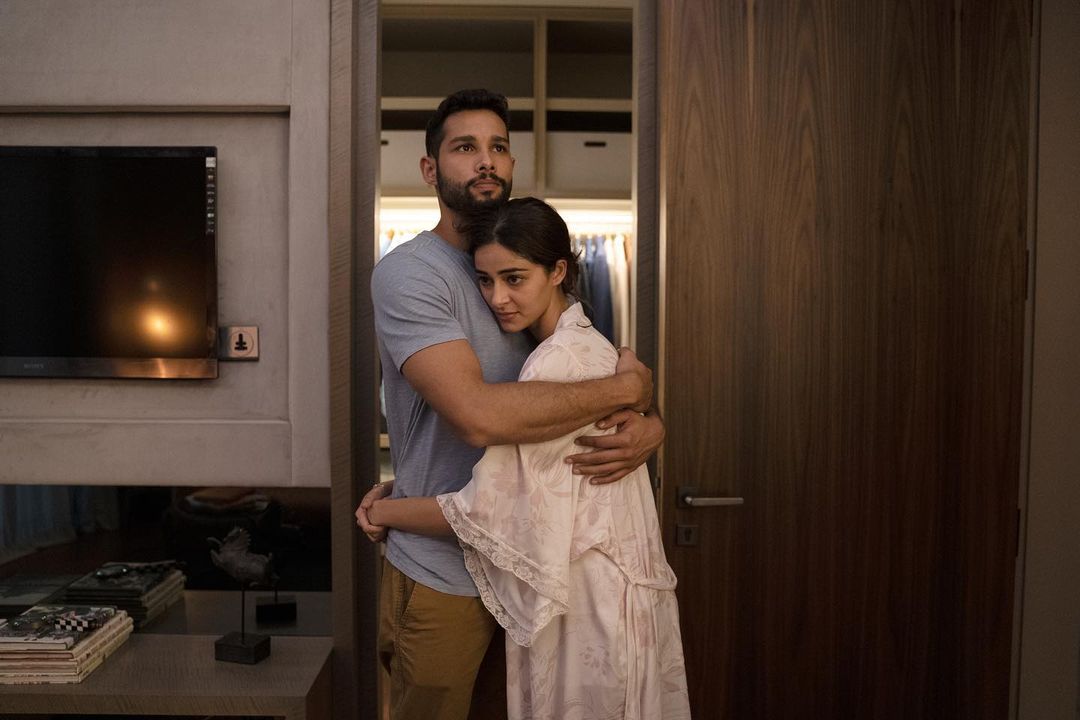 Zain (played by Siddhant Chauturvedi) and Tia (played by Ananya Pandey) in one of the scenes of the film. Screengrab via Instagram
Thus, all of them carry emotional baggage which explains why they behave in a certain way.
In terms of story and the characters' complexity, there are many similarities that one can draw in 'Gehraiyaan' from Batra's previous film, 'Kapoor & Sons' (2016). In his last venture, Batra also explored the themes of adultery, dysfunctional families, and people's inability to admit the truth about their lives.
Even though 'Kapoor & Sons' subject matter was grave, Batra's sharp writing and direction made the film thoroughly enjoyable. The film's well-written script helped justify the character's intentions and the things they did.
But with 'Gehraiyaan', Batra fails to recreate the same magic. In the movie's 148-minute run time, there are only a few moments where it manages to shine, while most of the good scenes are at the climax. Like how his characters in the movie feel trapped in their lives, Batra also entangles himself with the urge to make the story 'unique' and 'different', and in the process, the film starts losing steam.
It's evident from the get-go that the film has been overwritten. In their bid to make a flawless movie, the scenes ended up feeling rather forced—which immediately undermines the production quality. It takes a lot of time for the film to evoke emotions among the viewers, but when it does–in the final 30 minutes, it does so brilliantly-thanks to Padukone's acting prowess. However, to have to wait for more than an hour just to empathise with the characters could be an exhausting process for many.
The lack of breathing space in the first half of the film is also one of the culprits that make the audience feel disconnected from the story. Characters speak dialogues after dialogues, which at a point becomes exhausting. Too many details are revealed in the beginning. The whole act of infidelity between Zain and Alisha also happens so quickly that it takes time to assess why it even happened in the first place.
While the music is brilliant, the background score, however, most of the time feels out of place. In a few scenes, the background music is so loud that one might instantly withdraw from the emotions depicted in the scenes.
It's shocking that a film featuring Padukone and a producer such as Karan Johar, both considered industry bigwigs, has multiple blatantly visible flaws. The editing by Nitesh Bhatia at times feels jarring, and in a few scenes, the dubbing is inconsistent. Kaushal Shah's cinematography, however, makes up for the technical mess. The frames and angles he uses for the scenes in the film beautifully depict the longingness, the emptiness and the suffocation the characters experience.
But there are many facets within the film when Batra does show his brilliance as a filmmaker and a writer. His exploration of how trauma shapes a person's personality is something that has rarely been explored in mainstream Hindi cinema. None of the characters of 'Gehraiyaan' is a hero or a villain. They are just complicated people, like you and I, and the characters are portrayed as who they are without any glamorisation.
Once we get to know the characters' backstories and the baggage they have been forced to carry since their childhood, it makes sense as to why they made certain choices.
For instance, we understand why Alisha is attracted to Zain and is ready to jeopardise her six-year-long relationship with Karan. Since her childhood, she has always sought love that sets her free, not the kind that limits her. Unable to find that kind of love with Karan, Alisha finds herself drawn to Zain, a free-spirited man. With Zain, she feels the kind of love she needs is possible.
Meanwhile, Zain's decision to cheat on Tia results from his childhood experiences of abandonment, and even after all these years, he still seeks validation. But Tia and her family rarely give him the validation he needs, and they always treat him like an outsider, which frustrates him. In Alisha's company, he finds validation which draws him towards her.
The film's central message of how we shouldn't let our past and trauma define our whole lives also comes beautifully in the end.
In the process of getting that message across, the film makes too many convenient and unreasonable choices. The whole climax of the film feels stretched and forced; it happens so abruptly that it isn't convincing enough to make the viewers believe what could have led certain characters to take such big decisions.
Perhaps one of the biggest flaws of the film is that the makers have made it more complex than it should have been, and this ends up overwhelming viewers with unnecessary complexity.
Yet, even in this overwritten, poorly edited and dubbed film, the actors do shine. Padukone is the most convincing of the lot, and she brings the emotions her character warrants. As Alisha, she looks hauntingly beautiful, and in scenes where she breaks down, we feel for her. Surprisingly, Pandey also does a decent job. But both Chaturvedi and Karwa fail to impress. They feel out of place, and that is most likely because their characters aren't well fleshed out, and there are many aspects of them that have been left unexplored.
However, Shah, who plays the character of Vinod, Alisha's estranged father, leaves the most impact, despite his limited screen time. You gradually end up resonating with him, and understand why he is the way he is.
Perhaps what Batra should have focused more on is in exploring Vinod and Alisha's relationship, the intergenerational trauma Alisha deals with, and simply showing the infidelity and its impact without any significant twists and turns. Because that is the kind of film we all intend on watching–a simple rendition of a complex issue.
After all, not every complex issue has to be evaluated through a complicated lens, right?
---
---