Anjan Gajurel: The audience sees the world of the film through the work of art directors
One of Bollywood's leading art directors on what his job entails and the differences between working in Nepal and India.

Sanjog Manandhar/TKP
bookmark
Published at : August 20, 2021
Kathmandu
Born in Janakpur to a family with no connection to the film industry, Anjan Gajurel first arrived in Mumbai, India, 25 years ago to study fine arts. Gajurel has since worked as an art director and a production designer for some of India's leading movie and television production houses.
His most recent movie was the critically acclaimed 'Ludo' which was released on Netflix last year. Some of the noted Bollywood movies Gajurel has worked for are 'Kabul Express', 'Kerry on Kutton', and 'Om Prakash Zindabad'.
For the last three months, Gajurel has been in Nepal building the set of 'Sa Re Ga Ma Pa Li'l Champs Nepal', which will soon be aired on Galaxy 4k TV. A few days before Gajurel leaves for Mumbai for another project, he sat down with the Post's Ankit Khadgi and talked about his journey in Bollywood as an art director, what his job entails, and the difference he found while working in Nepal and India. Excerpts:
Besides those who work in the film industry, many are unaware of what art directors do in films. Could you please explain what role they play in the movie-making process?
Art directors are people who are responsible for creating the overall look of the films. Art directors create layouts and build sets, backgrounds, props, and colour palettes based on the film's script.
An art director has to work with a lot of people from painters, typists, carpenters to vendors to execute the director's vision.
In short, art directors are responsible for the overall look and feel of the films. The audience sees the world of the film through the work of art directors.
In common parlance, art directors and production designers are often simultaneously used to describe one another. Are the roles of art director and production designer the same?
When I first started, films only had art directors, and it was their responsibility to do everything involved in creating sets. But over the years, films started having production designers, and they are now primarily responsible for planning and designing the layout of the sets.
They also plan and decide which colours should be prominent on a set, backgrounds, and sometimes even the characters' attires. They are heavily involved in the pre-production stage of filmmaking.
Whereas an art director is more involved during the production stage, and they have to work in close coordination with the production designer to build sets and execute the director's vision.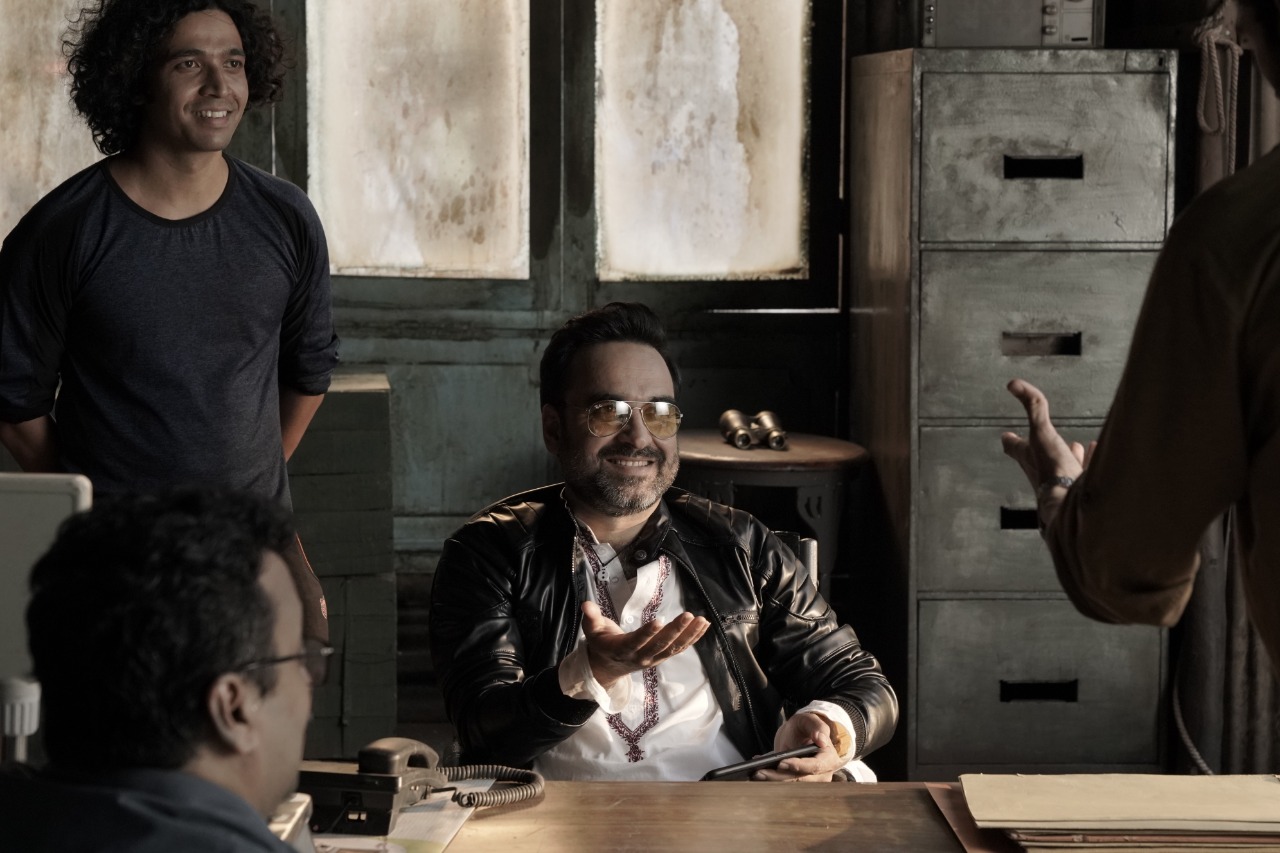 Bollywood actor Pankaj Tripathi on a set that Anjan Gajurel designed for the film 'Ludo'. Photo courtesy: Anjan Gajurel
You studied fine arts and even did a few art exhibitions. How did you end up choosing a career in films and television? What inspired you to make that shift?
After completing high school at Lalitkala Campus, I moved to Mumbai in 1998 and studied fine arts at the city's Sir JJ School of Art. In my four years there as an art student, I was able to learn a lot. To earn some extra money, I was planning to learn VFX and make a career in it. But the courses were so expensive that I couldn't afford them.
As I studied arts, a Nepali friend suggested that I work as an art director in movies and television. At first, I wasn't sure about it. But after knowing the role would allow me to use my expertise and love for creation, I decided to try my luck. With the help of my friend's uncle, I got an opportunity to work as an assistant art director for Balaji Telefilms.
I still remember the day I visited a set for the first time. From the outside, the building was dilapidated, and it looked as if it would collapse anytime. But once I saw the set that was built inside the building, I was blown away. It looked like a palace. This striking difference made me realise the power of art directors, and I was fascinated. And that was when I decided to pursue a career in art direction and use the film sets to show my creativity.
You have worked with some of Bollywood's most prominent production houses like Balaji and Yashraj. How has the experience been like working in Bollywood, and how much has the field of art direction and production design changed from when you started?
People didn't acknowledge my talent when I was a beginner in this field and was taking baby steps. To get my foot in the door, I even worked for free for a while. In Bollywood, what matters eventually is your skills and talent. Soon, people I worked with started to refer me for jobs that allowed me to expand my network and get more opportunities.
In my almost two-decades-long career, I have seen many changes in my field. When I started, the filmmakers wanted their set to look glamorous. They wanted everything to look bright and shiny. But things have changed now. Filmmakers these days care more about authenticity and prefer to make their films' world appear more believable.
Your recent project 'Ludo' was praised for its visuals and aesthetic appeal. What was it like working in the film?
My collaboration with Anurag Basu, the film's director, dates back to the beginning of his career. As a filmmaker, he is someone who has a different working style. He often makes impromptu decisions on the set, and with whatever he does, he strives for perfection. And even if things deviate slightly from his plans, he gets bothered by it. All these factors add a lot of pressure and challenges. But at the same time, working with him is always exciting and forces me to think out of the box.
For me, 'Ludo' has been the most challenging film of my career. Most of the things you saw in the film were sets. Everything was built from scratch, from the den of Sattu Bhai (played by Pankaj Tripathi) to the bedroom of Bittu (played by Abhishek Bachchan). We literally built a hotel room inside a famous temple in Film City. And to deliver the realistic look with minimal resources was immensely challenging.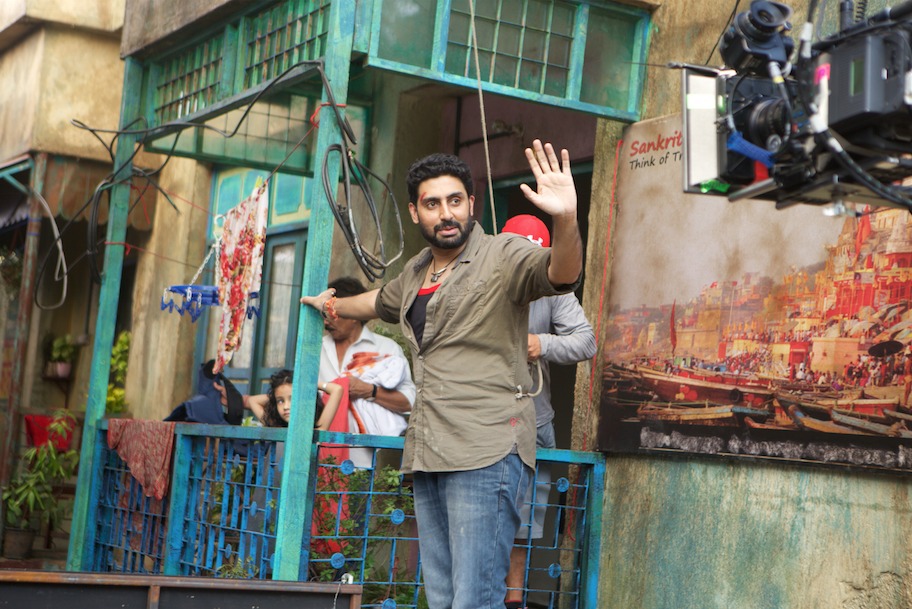 Bollywood actor Abhishek Bachchan on a set that Anjan Gajurel designed for the film 'Ludo'. Photo courtesy: Anjan Gajurel
While building the world the film is based on, where do you get your inspiration from? How do you approach your work?
As an art director, I don't usually get enough time to think and plan my work. Time isn't something we, as art directors, are afforded. We get around three to four days to build a set. Despite the limited time I get to do my work, I don't like to compromise. I try my best to be as authentic as possible. Before sketching the layout and building a set, I try to visit real-life locations to research and study and make sure that my sets look as realistic as possible.
You have been working in Nepal on a project for the past three months. What do you think about the working environment here?
In India, there's intense competition. People make sure they give their best because they know they can be easily replaced. But in Nepal, things are different. 'Ali adjust garum na' (Let's make some adjustments) is something I have heard people say numerous times.
Also, another thing that is lacking in the media industry here is passionate professionals. In the last three months, I have only met a few really passionate working professionals.
---
---