ADB slashes growth forecast on low demand, high interest rates
The Nepali economy is projected to grow by 4.3 percent in the current fiscal, down from the earlier forecast of 5 percent.

While a series of measures by India to tighten food exports has pushed up local prices, the government is making life harder for Nepalis by increasing taxes on food, say analysts. POST FILE PHOTO
bookmark
Published at : September 20, 2023
Updated at : September 21, 2023 07:27
Kathmandu
The Asian Development Bank has downgraded the figures it predicted in April for Nepal's economy on account of low domestic and external demand, continued weakness in investor confidence, high interest rates and poor June rainfall that will likely suppress farm output.

As per the Asian Development Outlook September 2023 released on Wednesday, the Nepali economy has been projected to grow by 4.3 percent in the current fiscal year 2023-24, down from the 5 percent foreseen in April.
Despite the downgrade, the rate is well above the estimated 1.9 percent growth in the last fiscal year ended mid-July.
The report projects Nepal's annual average inflation to fall to 6.2 percent in the current fiscal year from 7.7 percent in the last fiscal year on subdued oil price increases and a decline in inflation in India, Nepal's main source of imports.
Falling crude oil prices at the international level will likely slow inflation in Nepal, the multilateral funding agency said on Wednesday.
But economists say that external sector vulnerability remains and could increase the inflation rate further. For example, the price of Brent crude—the international benchmark for crude oil—edged closer to $95 per barrel on Monday, hitting a new 10-month high.
Reuters reported, quoting the International Energy Agency (IEA), that "oil output cuts which Saudi Arabia and Russia have extended to the end of 2023 will mean a substantial market deficit through the fourth quarter".
Brent Crude went above $90 a barrel mark for the first time in 2023 after OPEC+ leaders Saudi Arabia and Russia extended their combined 1.3 million barrel per day cuts until the end of 2023.
International media reported that experts see a possibility of crude oil prices rising above the $100 per barrel level because of supply cuts and anticipation of economic recovery in China.
In Nepal, gasoline prices have been hiked twice in the last three weeks.
State-owned monopoly Nepal Oil Corporation has increased the price of petrol and diesel. On September 15, it increased the price of petrol by Rs1.12 per litre and of diesel by Rs2.91 per litre.
Petrol now costs Rs183 per litre and diesel is priced at Rs173 per litre.
For an import-driven economy like Nepal, fuel prices are major determinants of the market.
While a series of measures by India to tighten food exports has pushed up local prices, the government is making life harder for Nepalis by increasing taxes on food, say analysts.
After India ordered a ban on exports of non-basmati rice on July 20, the price of rice shot up by Rs200 to Rs400 per 20-kg bag. Coming just ahead of the autumn festival season, it is a big blow to Nepali consumers.
India issued the embargo in response to rising food prices, high inflation and fear of rice shortages due to El Nino disruptions as the country heads into the festive season and elections.
Nepalis had barely recovered from the rice shock when India slapped a 40 percent export duty on onion on August 19. The spicy bulb suddenly became scarce in domestic markets.
On August 25, India imposed a 20 percent export duty on parboiled rice with immediate effect. Experts say the move could further reduce shipments by the world's largest exporter and lift global rice prices, which are already close to 12-year highs.
India extended a ban on wheat exports after curbing rice shipments in September 2022. The southern neighbour has also capped sugar exports this year as cane yields dropped.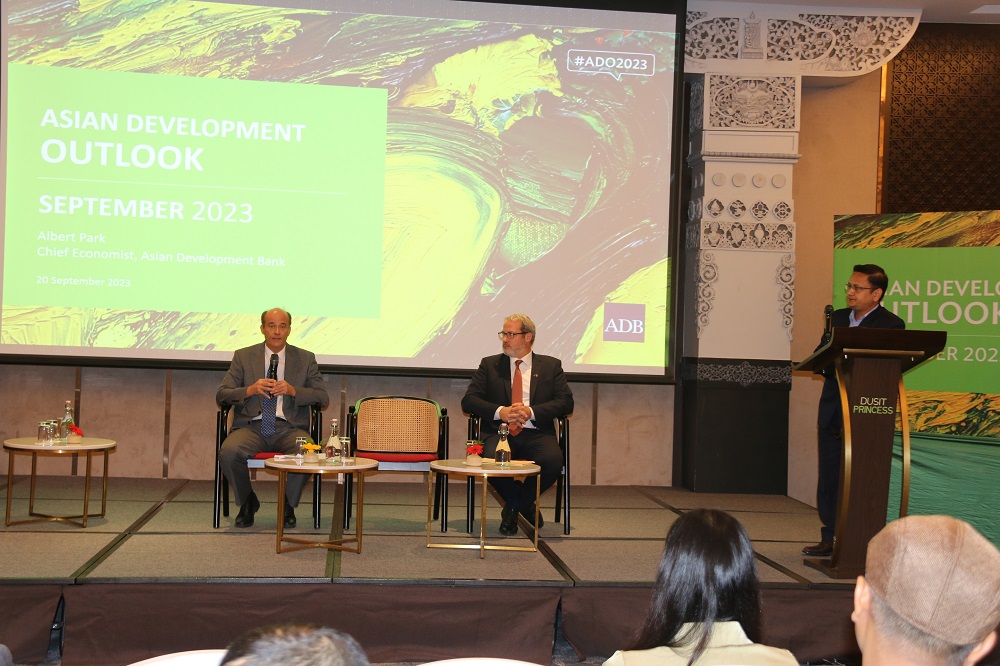 PHOTO COURTESY: ADB
As if costlier food from India was not enough, the Nepal government has been finding new ways to tax its inflation-stricken citizens.
"The Indian move may increase the food inflation rate. The government has requested the Indian government for an export quota of non-basmati rice," said Manbar Singh Khadka, senior economics officer at the ADB.
The ADB report, however, is optimistic. "There is no issue of money supply, and the electricity trade shows promise," said Khadka.
The report said that with moderation in inflation and comfortable foreign exchange reserves, Nepal Rastra Bank has adjusted its monetary policy stance by lowering the policy rate by 50 basis points to 6.5 percent which is expected to help lower commercial interest rates and stimulate economic activities.
Services are expected to perform well with expansions coming from real estate, wholesale and retail trade and accommodation and food services. Agriculture growth may, however, decelerate owing to deficient rainfall in June and erratic weather patterns, further aggravated by lumpy skin outbreaks in cattle.
The report said that the government has prioritised capital budget execution with the issuance of guidelines for its effective implementation. The fixed investment will provide the main impetus to growth in the current fiscal year, reversing the drag it exerted in the last fiscal year.
With foreign exchange reserves rebuilt, there is little risk to external balance, according to the report.
External risks remain relatively well contained, the report said.
Considering the recent trends and the central bank's prudent monetary policy stance, the target of maintaining foreign exchange reserves sufficient to sustain at least 7 months of imports seems achievable.
Amid stable remittances and higher imports, the current account deficit is expected to widen to 1.8 percent of GDP as growth revives in the current fiscal year.
The fiscal challenge, however, persists in Nepal.
"Despite some progress in restoring price and external sector stability, fiscal challenges persist. While the estimated fiscal deficit for the current fiscal year is moderate at 2.4 percent of GDP, much lower than the deficit of 6.1 percent in the last fiscal year, the actual deficit could be substantially higher if the government does not meet its ambitious revenue target," said Jan Hansen, ADB's principal economist for Nepal.
With the dependency of Nepal's economy on remittance, it will be difficult for the country to grow at 5 to 6 percent in a longer period of time, said Hansen.
"There is a need for other sources of economic growth to be unlocked, like the integration of Nepal's economy into the global value chain. The tourism sector should be boosted for growth potential, and there is a need for structural changes and an improved business climate with better facilitation in foreign direct investment."
---
---