Fast fashion fever grips young Nepalis
Generation Z, also called post-millennials (born between 1997 and 2010), whose identity has been shaped by the digital age, have the attitude of 'buy now, throw later'.

A street vendor awaits buyers for summer clothes at Mahabauddha in Kathmandu. Post File Photo
bookmark
Published at : July 5, 2023
Updated at : July 6, 2023 09:14
Kathmandu
Sakuntala Karki buys clothes every month to stay trendy.

Karki, 21, from Pepsicola, says she feels encouraged to follow the latest fashion mirroring key influencers on social media platforms like Instagram and TikTok.
She, however, admits that she wears her new buys not more than three times before discarding them. But she keeps track of new arrivals.
"I fully utilise only 40 percent of my wardrobe on a regular basis," she said.
Karki, a bachelor's level student, says her elder siblings in Australia send her money to indulge her habit of staying on trend.
Like Karki, there are many youngsters in Nepal who are in the fast fashion race.
Experts say that Generation Z, also called post-millennials (born between 1997-2010), whose identity has been shaped by the digital age, have an unsustainable attitude of 'buy now, throw later'. This has resulted in the rise of fast fashion in recent days in Nepal.
According to the Ellen MacArthur Foundation, the dizzying pace of apparel manufacturing has also accelerated consumption: the average person today shops twice as much as those in the year 2000 but the number of times these clothes are worn has nearly halved.
And not only do they buy more, they also discard more.
Sandeep Sharma, a lecturer of behavioural economics at the Nepal College of Management, said that due to the influence of social media marketing and celebrity endorsement, customers, particularly youngsters, are indulging in 'buy fast, dump fast' practices.
"Due to the fear of missing out on the latest trends, the youths go on an impulsive buying spree without considering the long-term economic and environmental consequences," said Sharma. "Today's buyers are more inclined towards purchases that offer them instant gratification."
Due to the burgeoning expendable income largely supported by remittances, young Nepalis are becoming fashionable. Until a few years ago, the average Nepali used to buy new clothes once a year, mainly during the Dashain festival, the most propitious festival to shop for a new wardrobe.
"But now, the situation is vastly different. As Nepali youths are becoming more fashion-conscious, each brand introduces up to three collections annually," said Manish Rai, a fashion designer.
"Every time a global celebrity or an influencer wears a new design, its counterfeits flood the market within a couple of days," said Ashwin Neupane, creative head of Digital Gurkha, a digital marketing agency.
"The counterfeits are cheaper and more accessible. They grab easy eyeballs since they are widely advertised on social media."
Neupane said that the reason behind the rise of fast fashion in Nepal is the cheaper cost of influencer marketing as compared to other countries.
Although sustainable fashion industry has penetrated the Nepali market, it still has a long way to go to catch up with the fast fashion industry.
"Besides there are also ample micro and nano influencers who hold great sway among their followers. Therefore, anything they endorse goes viral in a short time," added Neupane.
"The rising popularity of short video formats such as TikTok, Instagram Reels and YouTube Shorts, and easy digital payment offers and delivery service are also the reason behind high consumption of fast fashion trends."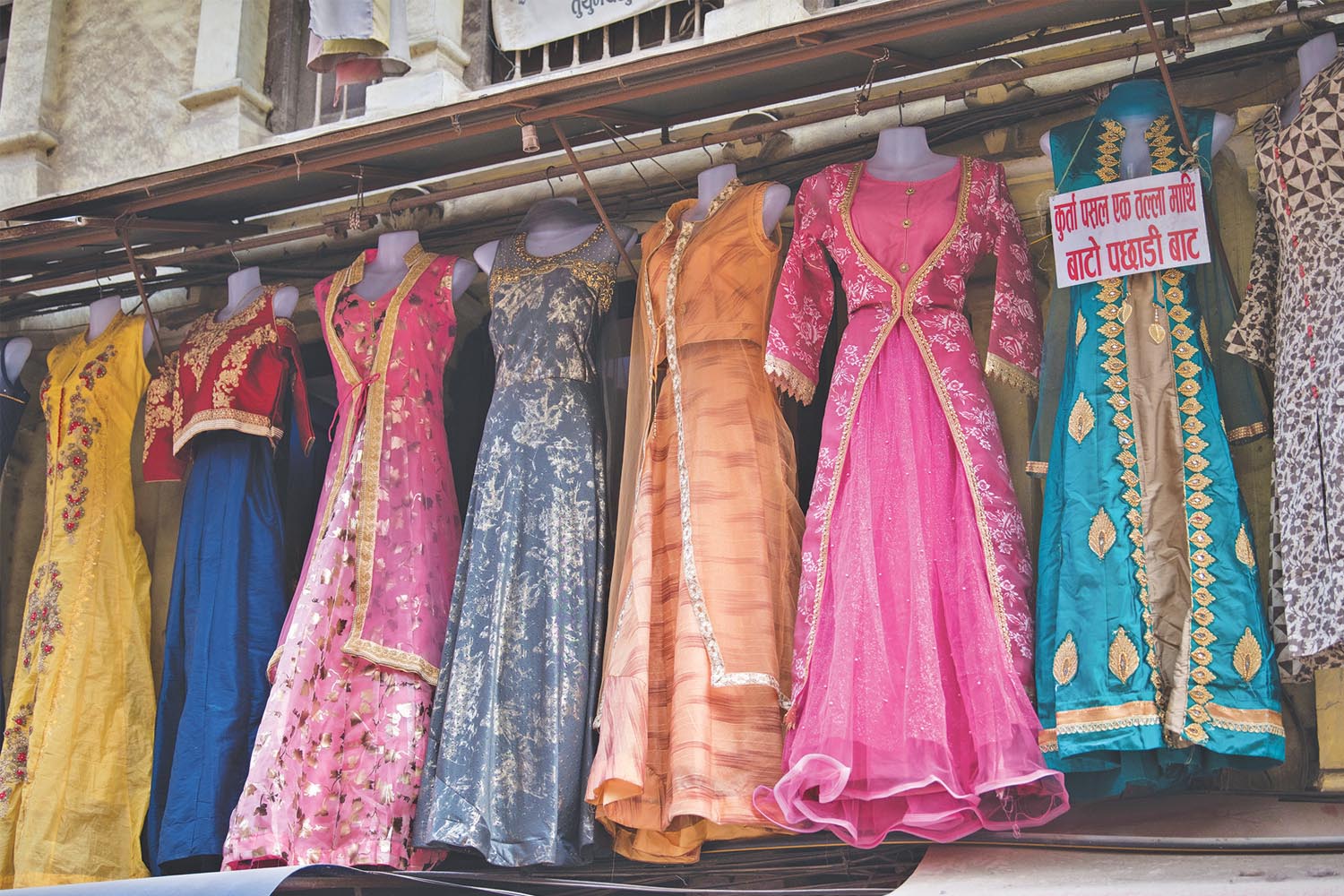 The fast fashion goods are produced mostly in developing countries where labour is cheap and widely exploited, experts say. Shutterstock
Social media platforms generate income through product placements and advertisements with promotion mostly done through targeted ads among its users.
"After a user has spent a significant time on social media, they start receiving targeted ads in greater volume which pushes them to make impulsive purchases," said Neupane. "The impulse to buy overrides necessity buying habits leading to users buying things they don't necessarily need in order to keep up with fashion trends."
Fast fashion comes with a hefty price.
The goods are produced mostly in developing countries—India, China and Bangladesh—where labour is cheap and widely exploited, experts say.
According to international media reports, fast fashion has given rise to a vicious cycle, where manufacturers and fashion brands compete to lower their cost of production by using unsustainable materials and outsourcing manufacturing to countries where labour is cheaper.
The manufacturer then subcontracts to smaller companies which resort to exploitation of labourers in the form of forced labour and low pay to keep the cost low.
"Fast fashion is against the norms of sustainable development goals (SDG) recommended by the United Nations (UN)," said Sharma.
"Overall, the fashion industry is responsible for 8-10 percent of global emissions, more than aviation and shipping combined. The consequences of these trends affect developing nations like Nepal."
In addition to this, fast fashion is also emerging as a challenge to the economy.
"Nepali fashion industry is still evolving and it has produced a number of skilled manpower in the last 10 years. But the Nepali market, which is small in size, has to compete with large manufacturers from Bangladesh and China," said fashion designer Rai.
Sharma too has a similar view.
"Although some of the domestic manufacturers have started producing sustainable clothing from eco-friendly materials, they still have a hard time competing with imported products due to higher cost of production, scarcity of materials and technological challenges," said Sharma.
Rajendra Chaulagain, who owns Renab Fashion Wear, a clothing store in Koteshwar, says he receives orders mostly from TikTok where he displays new arrivals.
"Being on TikTok has made it easier for us to sell," said Chaulagain. "However, there is cut-throat competition among the fashion stores. I regularly update my stock of goods to stay ahead."
He added, "If I don't bring fresh products every couple of weeks, my customers will go elsewhere."
Although fast fashion has come as a boon for local fashion stores in the last decade as seen with the mushrooming of clothing stores in major cities in the country, experts worry that in the long run, it might put the entire fashion industry at risk.
Lecturer Sharma recommends that influencers need to be aware of what they are promoting among their followers and whether the product is sustainable or not.
"They should be encouraged to promote sustainable fashion that stands to have major benefits in the long run."
---
---