Domestic air traffic soars, hits a record 4.46m flyers
Despite an all-time high passenger numbers last year, the revenue of airline companies has gone into a tailspin, executives say.

On average, 297 domestic flights took off and landed daily at the Kathmandu airport. POST FILE PHOTO
bookmark
Published at : February 24, 2023
Updated at : February 25, 2023 11:47
Kathmandu
Domestic airlines saw an all-time high passenger numbers last year amid stiff competition and despite jet fuel prices nearly doubling.

Nepal's domestic airlines—nine fixed-wing operators and 12 helicopters—flew 4.46 million passengers in 2022.
According to Tribhuvan International Airlines statistics, domestic airlines saw an impressive 26 percent passenger growth in 2022, as compared to 2021 figures.
This translates to an addition of 924,264 new flyers in a year.
Industry insiders say despite strong passenger growth, the airlines are making very little money and some of the companies are teetering on the brink of bankruptcy.
The statistics show flight movements increased 33.29 percent to 108,202 flights.
On average, 297 domestic flights took off and landed daily at the Kathmandu airport.
Domestic passenger traffic at Kathmandu's Tribhuvan International Airport had fallen to its lowest level in 2020, since 2009.
Domestic airlines carried 1.45 million passengers in 2020, a 54.28 percent plunge from the 2019 figures. The statistics show that the popularity of plane travel took off in 2021 after a disastrous 2020.
The year 2021 started with a robust passenger demand despite health warnings that another Covid-19 surge could start soon.
While Nepal's privately-owned airlines have largely accomplished their fleet expansion plans or are in the process of doing so, the expansion of airport infrastructure will be key to the commercial aviation industry's future growth, experts say.
The night facilities in most of the airports have enabled airlines to fly in three shifts—18 hours a day. Eight airports in Nepal are now equipped with the technology to allow night flights.
A few years ago, planes were allowed to fly up to 5 pm.
"The key reasons for the increase in passengers are availability and affordability," said Ghanshyam Acharya, accountable executive at Sita Air, which flies in remote areas.
The capacity of aircraft has increased, accommodating more passengers in one flight.
"This reduces ticket costs and makes flying affordable," said Acharya.
He said that due to the ongoing expansion and repairs of highways, people will continue to travel by air.
"The passengers' growth momentum will continue for the next five years as a result of highway conditions."
While the passenger numbers are soaring, for many airline companies their revenue stream is in a tailspin, industry insiders say.
Airlines executives say that the industry largely saw uneven recovery after the Covid-19 pandemic.
"Post-Covid, the airline industry saw cut-throat competition in a bid to entice passengers through low-fare offers," said Anil Manandhar, corporate manager at Shree Airlines.
Air tickets were available for as low as Rs1,500 for a Kathmandu-Pokhara flight and Rs2,000 for Kathmandu-Bhadrapur flights post-Covid—which was close to bus ticket rates, he said.
"Despite strong passenger growth, airlines are making very little money. The increase in passenger numbers has increased the cash flow in the industry, but most airlines are still in a survival mode because of low revenue yields," said Acharya.
The external factors too have affected the profit of Nepal's domestic carriers.
"The jet fuel prices jumped—reaching nearly double. It was then followed by the appreciation of the US dollar against the Nepali rupee. These two factors badly hit the airline industry's revenue," said Manandhar.
The airline industry experienced an unprecedented loss of billions of rupees in revenue in 2020.
The industry suffered an even bigger jolt after two planes crashed in less than a year.
The tourism industry has been worrying about its potential consequences, at least for this year.
A breakdown of passenger numbers in 2022 shows that Buddha Air was the clear winner in passenger movement.
The carrier recorded a steep 24.81 percent growth in passenger numbers last year, compared to 2021, flying 2.38 million passengers. Buddha Air, which currently has 14 aircraft in its fleet, grabbed 54 percent of the passenger market share.
Buddha's closest rival, Yeti Airlines, saw its passenger numbers increase by 16.97 percent to 937,157 in 2022, compared to 2021.
Yeti Airlines' passenger numbers grew after it phased out Jetstream 31 aircraft and added 72-seater ATR aircraft.
Shree Airlines, which diversified into fixed-wing services in April 2017, flew 717,523 passengers, or up 32.77 of the total percentage in the review period to take the third spot in terms of passenger carried, last year.
Saurya Airlines, which started operations in November 2014, carried 177,956 passengers in 2022, up a steep 32.65 percent, compared to the 2021 figures.
Guna Airlines, which made a comeback in 2021 by buying five 30-seater Jetstream 31 aircraft from Yeti Airlines, carried 116,375 passengers in its second year of operations. It recorded a 110.48 percent growth in passenger numbers.
Guna Airlines, however, grounded all its planes on February 15. The airline said it suspended the flights due to a shortage of spare parts. Guna is in the process of selling its five Jetstream 41s to replace them with modern aircraft.
Yeti's subsidiary Tara Air, which only operates in the remote sectors, also observed a growth in passenger numbers in 2022. It flew 24,950 passengers last year, up 11.60 percent from a year earlier.
In 2021, Tara Air saw its passengers decline by a staggering 32.60 percent.
Summit Air, another airline serving remote destinations, saw its passenger numbers jump 13.79 percent year-on-year to 21,797.
The year 2022 was a painful one for state-owned Nepal Airlines as it was the only airline to suffer a negative passenger growth. The national flag carrier saw its passenger numbers come down by 13.81 percent to 17,417 in the review period.
Nepal Airlines' passenger numbers dropped after it decided to ground all of its six Chinese-made planes in 2020 in a bid to cut losses. It currently flies two Twin Otters.
Sita Air flew 14,661 passengers, a 209.17 percent year-on-year increase in 2022.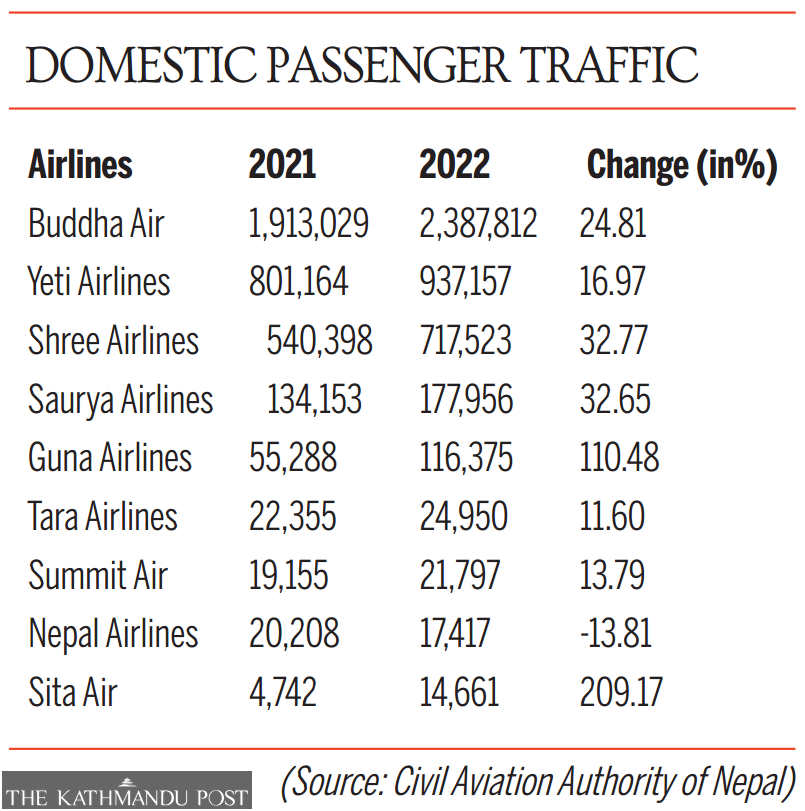 ---
---