Budget prioritises boosting local production over infrastructure
Finance Minister says budget addresses recommendations from private sector to promote production rather than trade.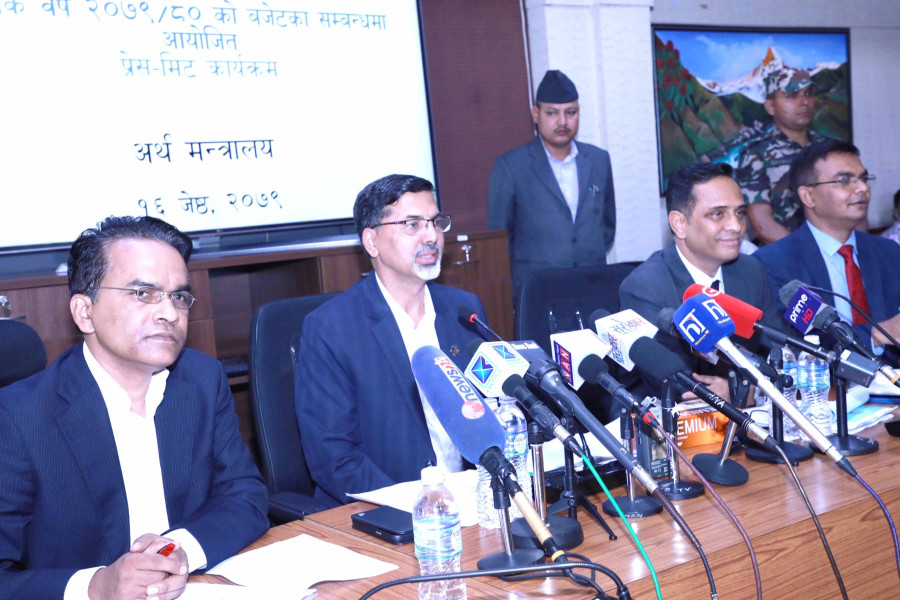 Finance Minister Janardan Sharma attends a post-budget briefing with media at Singhadurbar, Kathmandu on Monday. RSS
bookmark
Published at : May 30, 2022
Updated at : May 31, 2022 09:05
Kathmandu
The 2022-23 budget is a departure from past financial plans in that it focuses more on boosting production and exports and slashing imports than constructing infrastructure, Finance Minister Janardan Sharma said at a post-budget briefing held by the Finance Ministry on Monday.

"The budget has been prepared after studying the current economic situation which is characterised by runaway inflation, soaring imports and depleting foreign reserves," Sharma said.
"The budget has prioritised increasing domestic production and consumption amid fast rising imports, shrinking exports and falling local production," he said.
The government's budget statement has announced implementing programmes like domestic industry decade to increase production and consumption of indigenous goods.
Sharma said increasing local production and consumption and moving towards a self-sustaining economy, which should have been done earlier, had been prioritised.
"Our focus is more on mobilising the available resources and manpower to increase production and minimising the rising trade deficit," Sharma said.
The finance minister presented a Rs1.79 trillion budget for the fiscal year 2022-23 in Parliament on Sunday.
The sources of finance have been broken down into Rs1.24 trillion from revenues and Rs55.46 billion from foreign grants. The deficit of Rs498.26 billion will be covered through domestic and foreign loans.
The finance minister said Rs242.26 billion would be raised from external loans and Rs256 billion from internal loans. As it will be difficult for the government to raise revenue to finance the expenditure plans, it has been forced to turn to loans and grants.
Last September, Sharma had presented a Rs1.63 trillion budget for the ongoing fiscal year 2021-22 ending mid-July.
The budget has announced an 8 percent cash incentive for exports. It has also set a target to neutralise the trade deficit in five years. The government has aimed to achieve an economic growth rate of 8 percent and keep inflation at 7 percent.
Sharma said the budget had addressed recommendations from the private sector to promote production rather than trade. "We expect this will help in the expansion of industry at multiple levels," he said.
"The cement industry has been targeted mainly due to its huge export potential," Sharma said.
"The main objective is to expand industry, create jobs, displace imports and improve export capability," Sharma said.
"Micro, cottage and small scale industries have created many jobs, and a Rs500 billion micro finance fund will be created to provide finance to this sector," Sharma said.
"Credit will be provided to farmers, start-up entrepreneurs and new entrepreneurs at their doorsteps," Sharma said. "Micro insurance and micro finance will be made accessible at the local level," he said.
"To encourage domestic production, government offices will use products manufactured domestically. Yarn and textile industries in the private sector will be given cash incentives for exports to encourage such industries," he said.
"We have prioritised domestic production by increasing the customs rate on imported goods. Everyone needs to produce vegetables and go into commercial production based on new technology," Sharma said.
"We have taken the decision to discourage imported goods. The budget has focused on stability of the country's economy, mobilisation of the financial sector and huge farms."
Finance Minister Sharma announced that imports of paddy, maize, wheat, vegetables and fruits would be cut by at least 30 percent in the next fiscal year. Exports will be doubled while overall imports will be reduced by at least 20 percent in the next fiscal year, he said.
---
---