'Nepal has made reforms and it is getting more investments'
CEO and Asia head of British International Investment on BII's future investment plan in Nepal and the current investment climate.

Nick O'Donohoe, CEO of British International Investment (BII), formerly CDC Group, the UK's development finance institution and impact investor. POST PHOTO: KESHAV THAPA
bookmark
Published at : May 28, 2022
Updated at : May 29, 2022 07:31
Kathmandu
Nick O'Donohoe is the CEO of British International Investment (BII), formerly CDC Group, the UK's development finance institution and impact investor. Srini Nagarajan is BII head of Asia.

BII has big plans and has committed investments aimed at boosting clean and sustainable economic growth in South Asia, including Nepal. It has been investing in Nepal for over four years with its investment totalling to $100 million. It established its office in Nepal in 2020.
Between 2019 and 2021, BII has made six direct and indirect investments across Nepal's key sectors, including clean infrastructure, financial services and telecommunications. The investments include providing capital through a $15 million loan to NMB Bank, a $12 million investment with WorldLink, $21.9 million in the Upper Trishuli Hydropower Project, $40 million first close of Dolma Impact Fund II and $25 million loan to Global IME Bank.
BII's investments are meant to help increase access to clean energy, improve connectivity, and boost jobs and other economic opportunities.
The Post's Krishana Prasain talked to Nick and Srini about the BII's future investment plan in Nepal and the current investment climate. Excerpts:
How is BII supporting Nepal? Is Nepal on your priority list for South Asia?
Nick: We are helping Nepal get new capital and we have brought here $100 million in the last three years. We invested $25 million in Global IME Bank last year at a time when the banking sector was under stress due to Covid-19 and the uncertainty created by it. This is an example of how we are trying to help Nepal. We invest in some countries that are bigger than Nepal. In the last three years, Nepal has got more than a proportionate share of our investment and we would like to continue that. We have an office here and we have offices in 7-8 countries. This shows the importance of Nepal as a priority market for BII.
What challenges have you experienced in the Nepali market?
Srini Nagarajan: The Nepal government has made a lot of reforms and it is getting more investments. But there are a few things they could do. One is ensuring tax exemption for lenders who are looking for longterm access to foreign currencies. The structure for withholding tax should be different from the one of those for short-term credit finance. We do longer term investment.
Secondly, hydropower sector can be enhanced by three things: one is the ability to create a welcoming environment for investors. For example, India has established facilities for solar parks to evacuate power to transmission lines on a reverse (electronic) bidding process. This reverses the tariff, which is comparatively low by the international standards. So, if you put a much more comparative structure through which hydropower bids are awarded then you see a lot more investors participating.
Nick: The investment forums have lots of choices including development finance organisations for investing their money. It's our job to invest in countries like Nepal. We have lots of other countries that we can go to, so it is really important for the country to be competitive in terms of standards, policies, and consistency of policies. The government introduced a three-year holding period on IPO. Now companies like Worldlink, if they are successful, they will ultimately move on to an IPO and people would be willing to invest in those companies but they are locked for three years. Those are some policy decisions that do have an impact on where that money flows.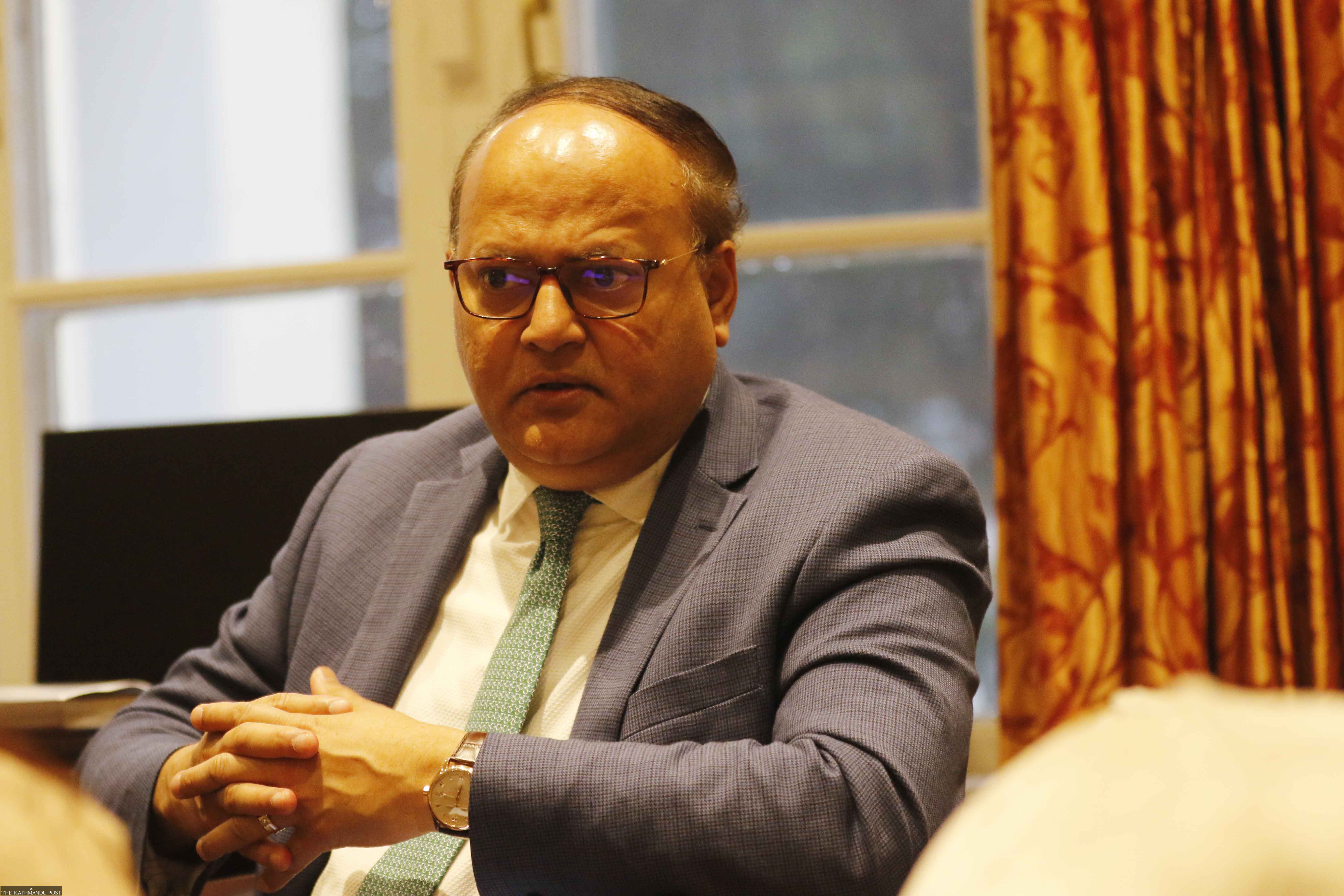 Srini Nagarajan, BII head of Asia. POST PHOTO: KESHAV THAPA
Nepal has a lot of potential for clean and green energy. How should Nepal tap this opportunity?
Nick: Nepal has a huge opportunity in hydropower. The Indian government has worked to make it easy for developers and financiers to develop solar plants with government support and a transparent procurement process. I think these are the things Nepal needs to do to achieve its ambition for growth in the hydropower sector. I think Nepal has 2 gigawatt power at the moment and is planning for 5GW in the next three years. If you get the export market, you could have 10 or 15 GW for which you need to arrange for the capital and we could make that easy.
What is driving BII to expand into the Nepali market?
Nick: Our purpose is to be a development finance organisation. The British government does not give us money because they want a return. They think early return is important. If you invest in the company and go bankrupt it is not going to help anybody so that discipline is important. But it is our job to go to these countries where we think development is needed and also where governments are focused on supporting the private sector in getting capital.
Srini: I think a country like Nepal has to attract a lot more long-term foreign investors. I think institutes like the BII have got more ability to provide capital in the process. We have become a capital force. We have invested in Worldlink and we have put the standards together on sustainability, governance, which can attract the return of the capital.
How do you plan to approach the Nepali private sector?
Nick: Our principle approach is having people on the ground, building relationships, and networks. We are very lucky to have the UK government as our shareholder because through their networks they can bring to us—and help us identify—opportunities. We have not got a specific target. In the last three years, we have committed $100 million and I would be disappointed if we could not at least double the investment in the next three years.
Is there any new investment plan in Nepal?
Nick: We do not talk about any specific investment that is being negotiated. But we definitely have them in the pipeline. The areas we are looking at are hydroelectricity, financial institutions, venture capital, technology, and infrastructures, which have significant potentiality.
The volatility in petroleum prices sheds light on the importance of increasing investment in renewable energy. What has been your strategy so far in Nepal?
Nick: We have the biggest opportunities in hydropower, we have capital to provide to huge projects and we would like to do more. And we think there are some opportunities in solar energy and we are looking for some opportunities now.
How do you assess Nepal's financial market?
Nick: I think the financial sector in Nepal is doing pretty well. The capital ratio is good, the banks function visibly well. There is a need for consolidation of banks as there are too many banks. The opportunities for these banks is to attract more capital from development institutions like BII. In order to do that, they have to set and address some of the standards that development financiers look for in terms of social governance and maintaining transparency. All the development financier institutions have invested in the same banks here and there is a message.
Srini: The concept of neo banking is getting popular in other markets and I think this can be one area that the Nepali banking sector can explore because digitisation is continuing to expand. Neo bank is a concept where there is a digital framework going through artificial intelligence which will help in credit rating for customers based on reports and everything is done completely digitally. It's very cost effective and it can provide loans to small scale SME customers. Though banks might not be ready for neo banking now it can be the next step in Nepal and there is no option but to adopt it.
Nick: If you wait for the existing banks to adopt changes to the way they operate, that's a difficult thing to do. It's challenging to operate in completely new models in other countries as well. In Nepal, banks say it is really difficult to lend money to SMEs. So you need a whole new solution and that's the technology and AI that give them access to credit.
Nepal's private sector growth has not been encouraging. What's hampering them?
Nick: The economy has suffered due to Covid-19, a situation comparable to an economic crisis while inflation has become a major issue.
Srini: We got top layers of entrepreneurs who are the old business houses doing business in a certain way but you need the next level of entrepreneurs as Nepal has got a young population, intelligent people wanting to go to the next level. We encourage this next level of entrepreneurship.
---
---