'We are on a good track and Nepal is one of the fastest-growing markets'
Bjarke Mikkelsen, founder and CEO of Daraz and Aanchal Kunwar, managing director of Daraz Nepal, talk about the e-commerce market in Nepal and the challenges ahead in light of the current economic situation.

Bjarke Mikkelsen, founder and CEO of Daraz POST PHOTO: ELITE JOSHI
bookmark
Published at : April 18, 2022
Updated at : April 19, 2022 16:06
Kathmandu
Daraz, one of South Asia's leading e-commerce marketplaces with its presence in five countries—Pakistan, Bangladesh, Sri Lanka, Nepal, and Myanmar—and with access to over 500 million customers is focused on scaling Daraz's offerings across four core areas—e-commerce, logistics, payment infrastructure and financial services—to deliver a seamless end-to-end commerce solution to the region.
The Post's Krishana Prasain talked with Bjarke Mikkelsen, founder and CEO of Daraz and Aanchal Kunwar, managing director of Daraz Nepal about e-commerce market performance in Nepal, challenges and the current economic impact on e-retail sales.
Excerpts:
How is the e-commerce market performing in Nepal and abroad?
Aanchal Kunwar: E-commerce is doing well globally, thanks to the pandemic. Daraz 11.11 sales last year made Rs360 million which is 100 percent year-on-year growth. The amount of growth that we saw in the Nepali market is significant but it also came with a big responsibility mainly executing safe delivery of goods during a pandemic.
Bjarke Mikkelsen: The last couple of years have been growth years for us and we expect this year to be the same. We are focussing on customer and seller experience, retention, and staying relevant to our customers.
Where does Nepal stand in e-commerce ranking in South Asian countries?
Bjarke Mikkelsen: If we look at the share of the total retail market, it is still less than 1 percent in Nepal which is very low. The biggest growth for us will be if we capture 10 percent or 15 percent of the retail market over the next 5-10 years. I see potential in every segment such as linen, cleaning goods, pet food in the lifestyle segment and other niche categories that have the potential to grow. So, we want to make sure that we do not focus only on one category but on every segment.
What are the challenges in the Nepali e-commerce market?
Aanchal Kunwar: The education of customers and sellers is one of the major challenges. For example, in the offline market when a customer is looking for a bucket of a particular colour, he buys a differently coloured bucket if he fails to find the colour of his choice. But when he orders the same product online, he expects the exact same product to be delivered. If someone orders a yellow bucket, online sellers must deliver a yellow bucket.
We have addressed a lot of complaints from customers about receiving a different product than they placed an order for from 5 percent to 1 percent. But it is still a challenge.
Bjarke Mikkelsen: We need more high-quality sellers to go through our Daraz University to provide a better customer experience but getting more sellers through the process is one of the challenges.
Three years ago we had challenges in managing logistics and digital payment but that has been sorted with our own logistics called Dex where we deliver 70 percent of ordered goods ourselves and it is cost-efficient for customers as well.
Where do you see Nepal five years down the line in the e-commerce sector?
Bjarke Mikkelsen: I am very optimistic because the growth we have seen in the past has been solid. We are on a good track and Nepal is one of the fastest-growing markets. We want healthy growth with a healthy ecosystem where people use e-commerce platforms for the right reason and not just for discounts.
Aanchal Kunwar: Nepali market is very good at adopting new things such as using digital payment which has risen from 10 percent to 50 percent this year. The more people understand e-commerce—both sellers and customers—it will be adopted by more people in the coming years.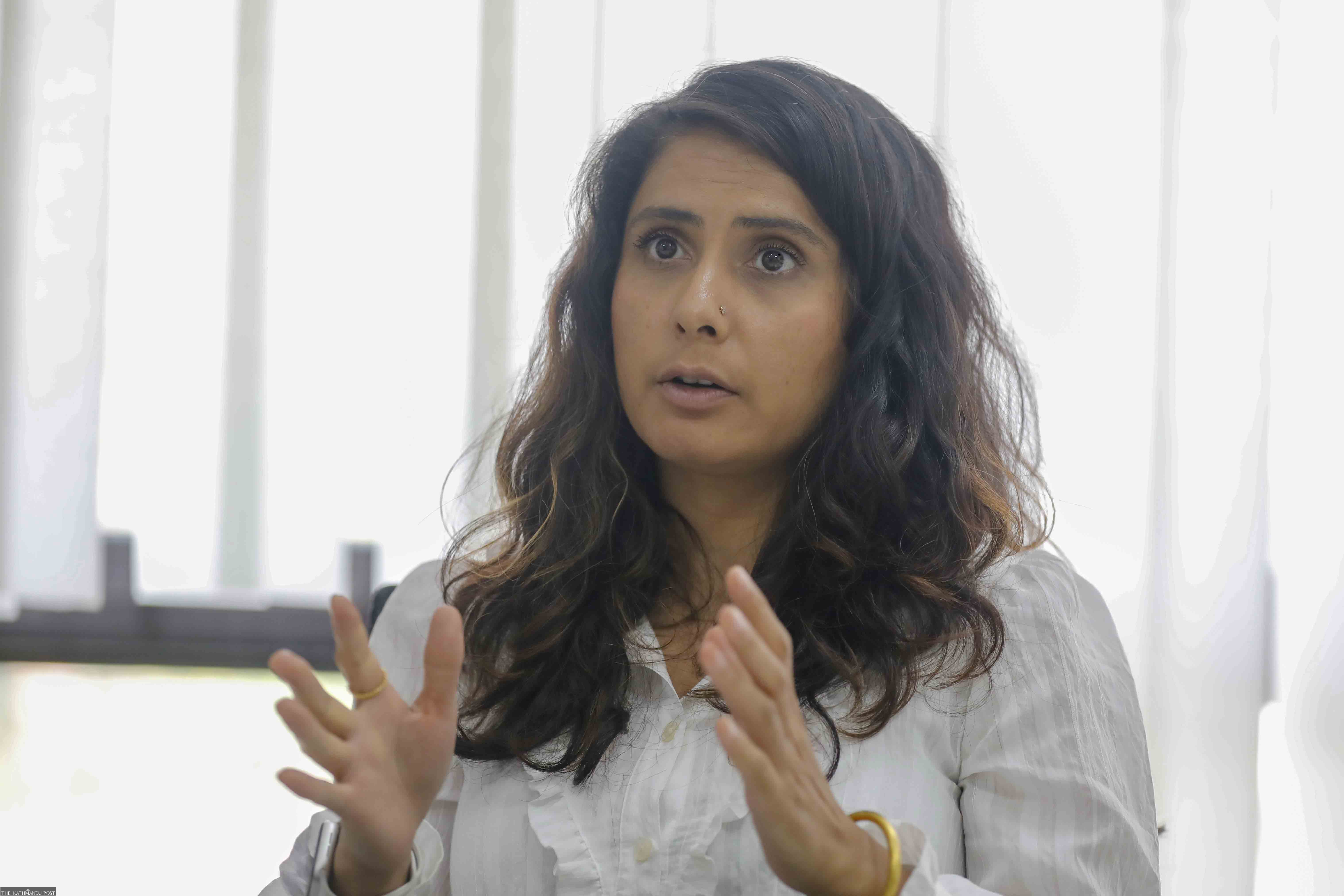 Aanchal Kunwar, managing director of Daraz Nepal POST PHOTO: ELITE JOSHI
Nepal still does not have an e-commerce policy. How difficult is it for an e-commerce company to operate?
Aanchal Kunwar: We work closely with the government. We have internal and external legal teams. But there are lots of grey areas as there are no proper laws in place. We follow government guidelines and directives and ensure that our operations are in line with their understanding and parameters.
Bjarke Mikkelsen: We have been here for the last 6-7 years and have spent a lot of time educating and lobbying to get our business running. But I think now we have reached a point where policy is more crucial.
If we want to turn e-commerce into a billion dollar industry over the next couple of years, we need a framework.
What are your marketing strategies for Daraz Nepal?
Bjarke Mikkelsen: We are shifting to more performance-based marketing strategies. We want to build trust in the type of value proposition our marketplace provides to our sellers or to customers. We need to think differently and speak differently to our customers and sellers. People buying on our platform do not know we have a return policy which is an important policy to gain our customers' trust.
The country's economic indicators are not performing well and the government has stopped importing luxury goods. How will these impact e-commerce?
Aanchal Kunwar: It will impact a lot of businesses including ours since we have cross border business and import our products from China and India primarily. But we do not have control over it.
Bjarke Mikkelsen: E-commerce, actually can do quite well in years that are tough economically. Alibaba's best years in China have been during tough times in the country. Turkey has a terrible macroeconomic level with inflation of 20 percent with currency collapsing but at the same time e-commerce has been booming in the past couple of years because people know that they can always get the product at the best prices.
So from an e-commerce perspective, there can still be a bright future. We also want to do our part to make sure we can support the overall economy by creating jobs.
Inflation is rising globally and in Nepal too. Will it have an impact on orders?
Bjarke Mikkelsen: The prices are rising everywhere. We are in a good position to be more price-competitive in general. But we expect people's buying habits to change. There will be less demand for high-value lifestyle products and a lot more essential products like groceries, household products et cetera.
What are Daraz's future plans?
Bjarke Mikkelsen: Our strategy is quite simple as it is about providing a core e-commerce solution; building a marketplace for both sellers and customers and continuing to expand our customer and seller base. We will continue to invest in our logistics and payment infrastructure. We are also planning to provide financial services with options for payment through instalments.
---
---