With income disrupted for most, Dashain economy unlikely to do well
The prices of food items like rice, lentils, legumes, edible oil too have increased by Rs10 per kg on an average—adding strain to already struggling denizens.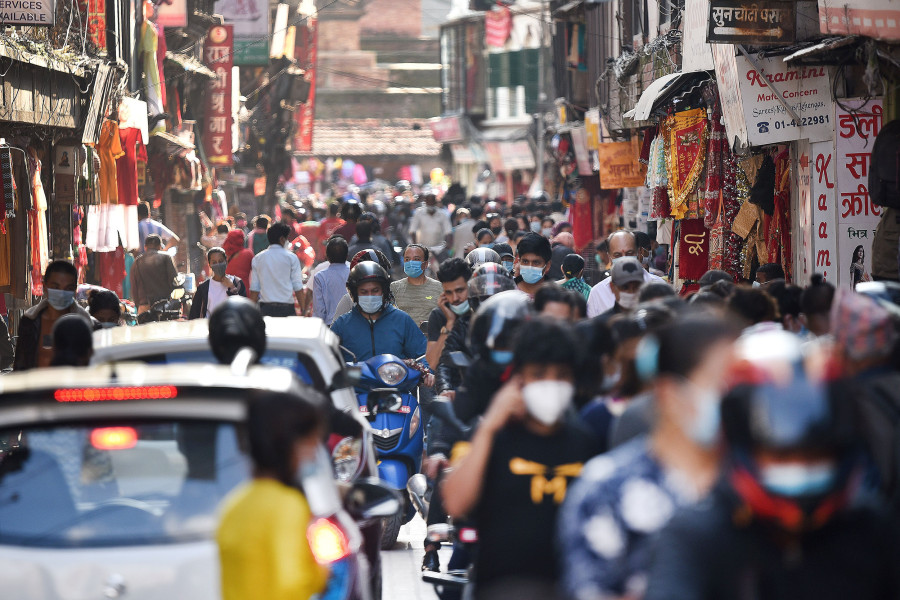 People are refraining from spending their cash due to the uncertainty caused by the Covid-19 pandemic. POST FILE PHOTO
bookmark
Published at : October 17, 2020
Updated at : October 18, 2020 07:59
Kathmandu
Every Dashain, Sunil Shrestha spent around Rs40,000 to Rs50,000 on average. This year, however, he has had to make reductions. He has allocated only around Rs20,000 to Rs25,000 for Dashain expenses, separating the money only to buy essential goods, specially food items, due to his shrinking income with a decline in business.

"The situation is not like before. My family did not go out to shop in the Dashain market this year," said Shrestha.
Shrestha, 50, who owns Shubham Handicraft that has been selling Nepali handmade paper for the last 28 years, says that business has declined by 50-60 percent since May. "I am planning to not make unnecessary expenditure during the festival and am celebrating only with my family," said Shrestha who resides in Kuleshwor with four family members.
"Each time I go out to buy food items in a month's time, the prices increase. The price of rice has been increasing by Rs50 to Rs75 each sack, while the price of lentils has been increasing by Rs5-7 per kg, which has impacted the budget," he said.
With no guests arriving during Dashain, Shrestha's family plans to buy only essential goods and celebrate with a simple ceremony.
Anil Panta has different plans.
Panta, 35, who lost his job three months ago at an auto showroom, is in trouble because the festival is here. Panta, who has three family members, has not found a job yet.
"I am not planning to buy new clothes and other unnecessary goods during Dashain due to the virus infection fear. Goods seem to be more expensive these days and I have no income at all," said Panta, from Dhobi Khola, Chabahil. His Dashain expenditure used to amount to Rs50,000 to Rs60,000, he said.
The 10-day Dashain festival officially began from Saturday, but with many businesses shattered as a result of months-long shutdown and the income of a majority of the population deducted, people are psychologically and financially not excited to celebrate the festival as previous years.
The prices of almost all the goods that people tend to buy most during the festival have been hiked. The prices of food items like rice, lentils, legumes, edible oil have increased by Rs10 per kg on an average. According to the Nepal Retailers Association, the price of a rice sack has increased by Rs50 while the price of edible oil has risen by Rs15-20 per litre.
Similarly, hike in import duty, weakened Nepali rupee against the dollar and higher transportation costs prompted by the outbreak has made Dashain goods—like clothes, footwear, electronic appliances, among others—become dearer by 15 to 20 percent, said Bharat Karki senior secretary of the Nepal Trans-Himalayan Border Commerce Association.
Gunakar Bhatta, spokesperson and information officer at Nepal Rastra Bank, said that due to the pandemic, the manufacturing, construction, hotel and restaurants, transportation, wholesale and retail sectors have been impacted the most. These sectors used to get vibrant with the beginning of the festival with inclining demand, he said.
"People are refraining from spending their cash due to the uncertainty of today's situation," he said. As a result, there has been a decline in economic activity and income, and the country does not have that festive feel. "With increasing Covid-19 cases and death rates, people are psychologically impacted and fearing to go outside, affecting the slowdown in economic activity, he said.
Citing the Central Bureau of Statistics, Bhatta said that Rs3.8 trillion was the nominal GDP of last year of which 82 percent was made in consumption that accounts for Rs3 trillion. As per this information, the monthly consumption of Nepalis is Rs250 billion, he said, adding that the consumption rate increases from mid-July till mid-October with the beginning of the major festival. The consumption has been suppressed this year in those months, he said. The wholesale and retail trade has impacted with less demand. The Dashain economy is not like previous years and consumption has squeezed, he said.
During the first four months of the fiscal year the consumption used to account for an amount equal to Rs1,000 billion with the start of festivity which got declined this year, Bhatta told the Post. 40 percent of annual consumption used to take place in these four months.
"People are focused more on buying essential items, doing minimum consumption and holding cash observing the uncertainty in the pandemic situation," he said.
The inflation rate was comparatively high in the last fiscal year due to which the rate is not the same as last year. Prices on goods—such as vegetables, food items and others—have largely been impacted by a disruption in the supply chain due to the pandemic affecting transportation, workers and labour rate. Thus, the aggregate demand has fallen down with people's decreasing purchasing capacity which has not created pressure in the inflation rate.
Panta, from Dhobighat, plans to borrow some money from his brother, who is a migrant worker abroad, to meet basic demands of the festivity. "Though there is no pressure in spending with the Covid-19 fear I am planning to celebrate the festival in a very simple way with limited expenses," he said.
---
---