Kiwi farmers in eastern Nepal told not to harvest fruits until they are fully ripened
Local authorities have decided to keep a close watch as premature picking may harm demand in the future.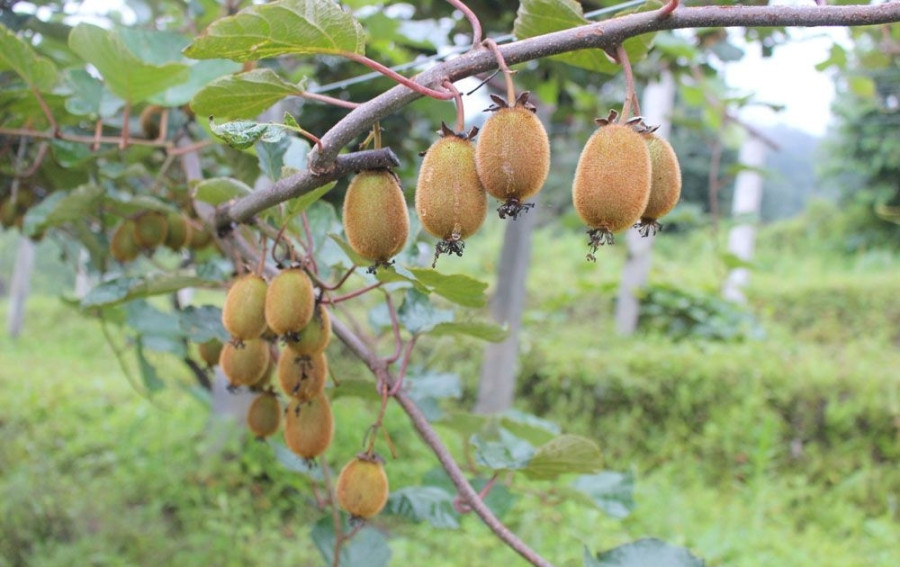 There is a loss in nutritional value if the fruit is harvested before time, according to experts. POST FILE PHOTO
bookmark
Published at : October 14, 2020
Updated at : October 15, 2020 08:59
Ilam
Authorities in eastern Nepal have told kiwi farmers not to harvest their crops until they are fully ripened as immature fruits without nutrient value have been flooding the market, threatening to harm their market value.

The local administration and the District Agriculture Knowledge Centre issued the notice after growers began picking the fruits too early in a bid to make large profits.
The red kiwifruit is normally harvested in early November, but the produce had already begun to appear in the markets of Jhapa and Ilam in August.
Local authorities have decided to keep a close watch to stop unripe fruits from being sold in the market as premature picking may harm demand in the future.
There is a loss of nutrition value if the fruit is harvested before it is time, according to experts.
Kiwi is a small fruit that packs a lot of flavour and plenty of health benefits. The fruit originated in China and was previously known as Chinese gooseberry. Kiwi fruits grow on large vines and usually ripen within 25 weeks after flowering.
It is a brown, large egg-sized oval fruit. When sliced, it yields an attractive emerald green flesh with rows of small dark edible seeds and a light cream coloured centre.
Rich in Vitamin C and Actinidain enzyme, kiwi fruits can be grown at elevations ranging from 1,200 to 2,400 metres. The fruit is recognised for its healing properties as it helps to treat and prevent several diseases like high blood pressure, malfunctioning of the digestive system and diabetes.
Some farmers said that due to competition and with the aim of getting more money, immature fruits are being shipped to market two months before they are usually harvested.
Other farmers have a different problem. Wild animals are emerging as a new threat to their valuable crops, they said.
"It is not possible to guard our fields the whole night," said Purushottam Bhattarai, a local farmer of Jamuna in Sandakpur Rural Municipality. "Wild animals can eat 40 kg of kiwi fruits in one night," he said, and that's a big loss for farmers.
He said that as many farmers were facing this problem, they were being forced to harvest their crops early. Wild animals target the ripening fruits.
The red kiwifruit is harvested in early November, and other varieties are normally harvested in the winter, according to farmers. But this year, markets in Jhapa and Ilam were already flooded with kiwifruit in August.
If the trend of dispatching the harvest to the market early continues, it may dent the image of the fruit, said officials at the Agriculture Knowledge Centre, formerly the District Agriculture Development Office. As concerns have been growing for the last few years, the centre this year issued a notice not to sell the kiwifruits before they are ripened.
Commercial kiwifruit farming started in the district a decade ago, and farmers initially earned as much as Rs800 per kg. But due to unhealthy competition and profuse production, the fruit is traded at Rs100-250 per kg these days.
Local farmers say they have also benefited from the Kiwi Zone Programme launched under the Prime Minister's Agriculture Modernisation Project in 2018 to promote commercial kiwifruit farming.
The Kiwifruit Zone Office has also been urging farmers to become aware of sustainable farming practices.
"If kiwifruit is supplied to the market before it has ripened, it will not give the authentic taste and nutrition," said Ganga Bista, secretary at the Kiwi Zone Programme at Sandakpur. "If consumers find that the fruit does not taste good, they will not buy it again, and this will hurt genuine farmers."
"A number of people have raised concerns over the taste of the kiwifruit available in the market," said kiwi producer Kausila Rai. "We have been requesting other farmers not to sell their products before they have ripened as this may hurt the value."
But farmers are not listening as they are losing their standing crops to wild animals and thieves, she said.
Farmers complain that due to lack of cold storage facility, they are not able to store their harvests safely. Immediately after the local kiwifruit season ends, the market is flooded with imported fruits and they cost more too.
Big farmers have been urging the government to set up a cold storage plant for a long time. Ilam produces 200 tonnes of kiwifruits annually.
---
---