Firms slapped with nearly Rs 10.5 million in fines in first seven months of fiscal year
Daraz and Sunrise Agriculture Research Center were fined Rs300,000 each, the highest penalty of all the firms inspected.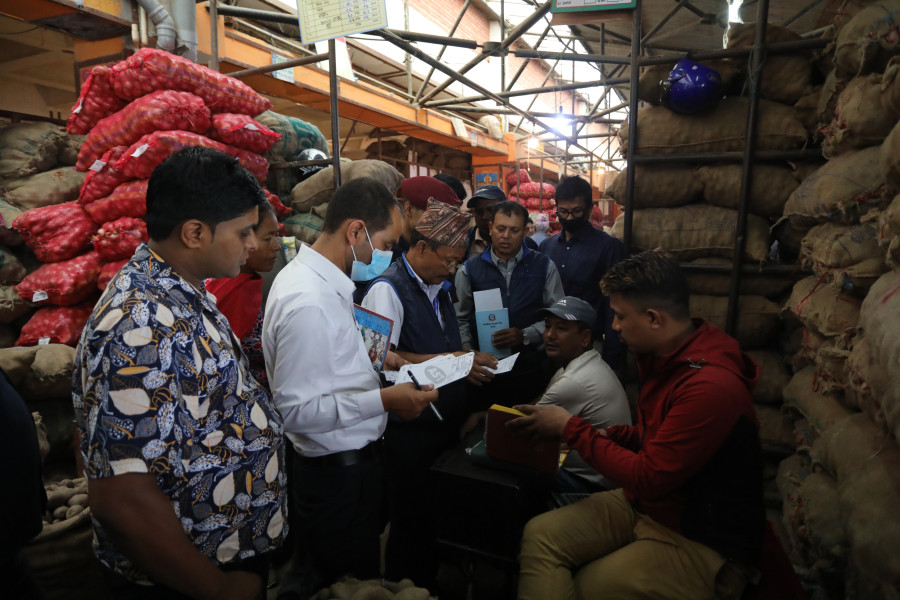 Officials inspect a stall at a vegetable market in Kathmandu. POST FILE PHOTO
bookmark
Published at : March 15, 2020
Updated at : March 16, 2020 08:26
Kathmandu
The Department of Commerce, Supplies and Consumer Protection Management collected a record Rs10.47 million in fines in the first seven months of the current fiscal year. The market monitoring team inspected 1,326 firms in and outside the Kathmandu valley.
Daraz and Sunrise Agriculture Research Center were fined Rs300,000 each, the highest penalty of all the firms inspected.
Sunrise Agriculture Research Center, Dang was fined for importing and distributing fake Garima brand paddy seeds and Daraz for delivering wrong goods under the Consumer Protection Act 2018.
The department took action against 17 firms and slapped fines totalling Rs3.12 million for Garima seed cases worth Rs230 million during the 2019 growing season. Similarly, the department issued fines worth more than Rs1.2 million from a recent inspection of pharmacies for selling masks at a higher price.
Sagar Mishra, director of supply, inspection and consumer protection at the department, said that most of the firms during the inspection were fined for not keeping a price list of goods and not having a registration certificate. Similarly, they also found business firms and traders selling expired goods, goods without proper labels, and charging high prices for low-quality products.
Similarly, the department destroyed expired and low-quality goods worth Rs10.53 million in the first seven months of the current fiscal year.
However, consumer rights activists say that price gouging is still rampant despite the market inspections.
The department has not been able to implement the given rights from the government and traders are profiting from this situation, they said. Market inspection needs to be done at the source so that both the quality and quantity can be assured.
Prem Lal Maharjan, president of the National Consumer Forum said there were less than a handful of inspection supervisors conducting market monitoring for a population of nearly 30 million.
The constitution has charged the local levels to conduct a market inspection but it has not happened. The local levels have not conducted a single market inspection yet, he said.
Slapping a fine on firms guilty of cheating consumers is not enough, he added.
While the government is saying that the consumer needs to be aware of their own, Krishna Hari Baskota, former director-general of the department said that the government cannot ignore the matter anymore. "There is a lack of public trust in the government and its system," he said.
The department should be able to conduct market inspection in all types of businesses.
Whenever a disaster or epidemic appears, consumers always get cheated with opportunist traders creating an artificial shortage in the market and the government promising to ease supply and availability of goods only in speeches, said consumer right activists.
Netra Prasad Subedi, director-general of the department said that they have been informed that regulation of Consumer Protection Act 2018 will be published on Monday's National Gazette. Details on how to manage inspection, code of conduct, standards for price fixation, market level standards, have been forwarded by forming a working group.
The department is planning to inspect over 2,000 firms this fiscal year.
---
---