India lifts ban on imports of refined palm oil from Nepal
Nepal exported processed oil worth Rs 11.5 billion in the first five months of the current fiscal year.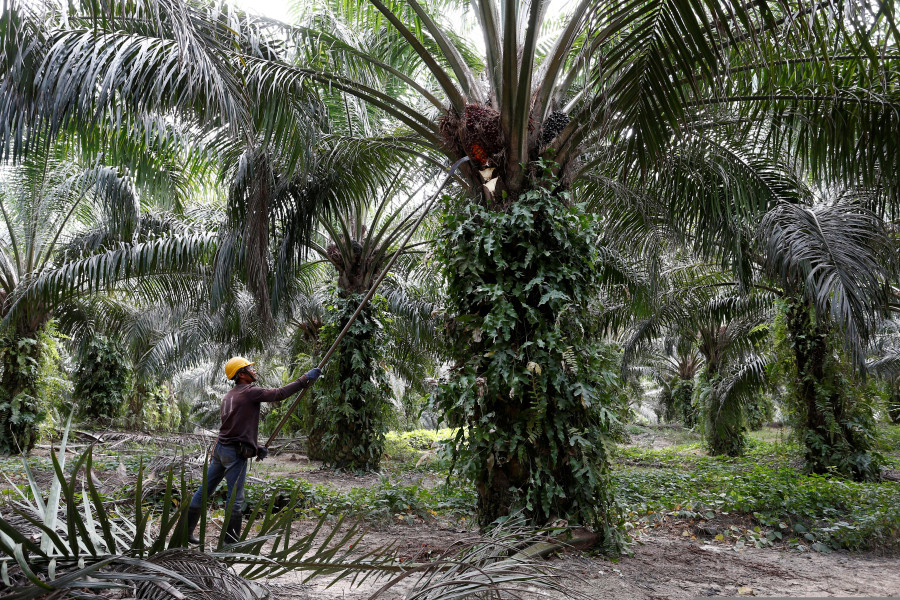 A worker collects palm oil fruits at a plantation in Bahau, Negeri Sembilan, Malaysia. REUTERS
bookmark
Published at : February 13, 2020
Updated at : February 14, 2020 08:24
Kathmandu
India has unbanned imports of refined palm oil from Nepal, reopening the door to shipments worth billions annually in a move that is expected to revitalise the sector.


The Indian Directorate General of Foreign Trade removed the 'restricted' status from Nepal while maintaining the embargo on other countries.

"Indian authorities made the decision to this effect on February 6," said Nawaraj Dhakal, joint secretary at the Commerce Ministry. "But we have not received an official letter from the Indian government."

Licences to import around 88,000 tonnes of refined bleached deodorised palmolein from Nepal were issued to about half a dozen firms, an official of the Directorate General of Foreign Trade in Kolkata said on Wednesday, according to a Reuters report.

Importing crude palm oil and exporting the processed product is big business in Nepal. Palm oil shipments account for one-fourth of the country's foreign trade.

According to the Trade and Export Promotion Centre, Nepal imported crude palm oil worth Rs9.94 billion and exported processed palm oil worth Rs11.5 billion in the first five months of the current fiscal year, an eight-fold jump year-on-year.

In the last fiscal year, Nepal delivered processed palm oil worth Rs10.33 billion to India.

Nepali exporters suffered a huge setback when the Directorate General of Foreign Trade issued a notification on January 8 saying that the foreign trade policy had been amended from 'free' to 'restricted' for refined palm oil trade.

The restriction followed Malaysian Prime Minister Mahathir Mohamad's criticism of New Delhi's actions in Jammu and Kashmir and the country's new citizenship law, and Nepal became an unwitting victim.

Under the new provision, only Indian importers possessing a licence were allowed to import refined oil, and this effectively meant that Nepali traders could not export refined palm oil to India.

"We have made an exception for Nepal. Refined palm oil imports are not allowed from any other country," said another official at the directorate.

According to Dhakal, the processed palm oil trade has already begun. "It's a big relief for Nepali businesses."

According to Reuters, the move could put pressure on Indian refiners as imports from Nepal are allowed at zero duty under a regional treaty.

India's vegetable oil imports from Nepal also surged to $251 million in 2019 from just $20.69 million a year ago as refiners in Nepal took advantage of a regional trade agreement to export edible oil at zero duty, according to data compiled by the Indian Ministry of Commerce and Industry, the report said.

New Delhi's refined palm oil and palmolein imports from Nepal in 2019 jumped 1,260 percent from a year ago to 210,033 tonnes.

Palm oil accounts for nearly two-thirds of India's total edible oil imports. The country buys more than 9 million tonnes of palm oil annually, mainly from Indonesia and Malaysia, the world's top two producers.

Nepal imports crude palm oil from Indonesia and Malaysia, and exports the refined product to India.

According to Nepali experts, palm oil does not satisfy the requirement of 30 percent value addition to become eligible for the zero-tariff facility. To be eligible for tariff exemptions on Nepali exports to India, under the South Asian Free Trade Area agreement, imported goods need to have at least a 30 percent value addition.

Indian edible oil refiners have long opposed duty free imports from Nepal, saying these shipments violate 'rules of origin' and 'value addition' norms.

"Imports should not be allowed at zero duty as this has been putting pressure on local refiners," Reuters quoted BV Mehta, executive director of the Solvent Extractors' Association, as saying.
---
---