Slump in bank lending suggests slowdown in the economy
The government's economic growth rate target of 8.5 percent will be difficult to achieve with the decrease in both government and private sector spending, experts say.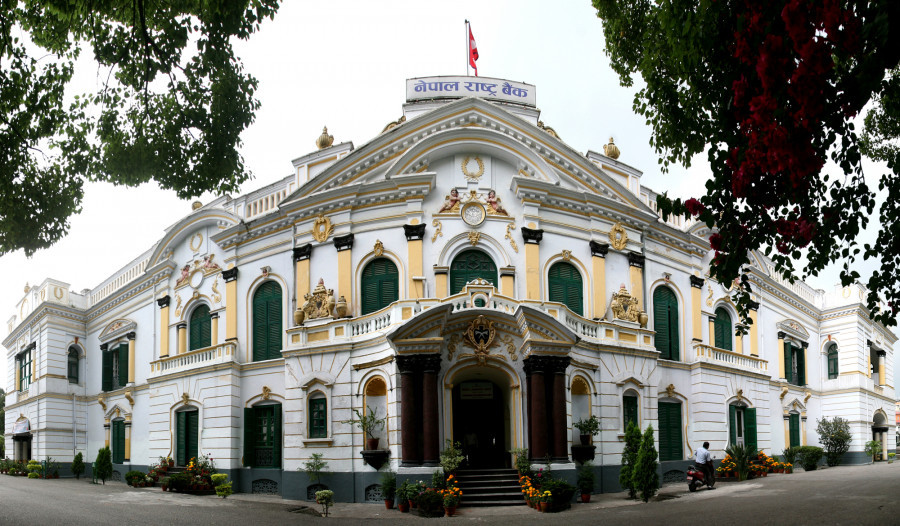 Post File Photo
bookmark
Published at : December 18, 2019
Updated at : December 19, 2019 07:25
Kathmandu
It is the right time to build a house, says Pashupati Murarka, director of Arghakhanchi Cement, referring to the reduced price of cement in the market.

The price of Ordinary Portland Cement in Kathmandu Valley has fallen to Rs750 per sack, from over Rs900. But despite the reduced price, sales are not picking up as expected, said Murarka. With cement companies struggling to sell off their existing stock, they're not asking for more bank loans, which, say experts, reflects a slowing economy.
An increase in loans contributes to economic activities and helps the economy grow. As the government is targeting an economic growth rate of 8.5 percent this year, a marked increase in credit is necessary to boost the economy, say experts.
According to banks, demand for loans has not just decreased from the construction industry—overall demand has come down, as reflected in the central bank's data.
During the first four months of this fiscal year, banks and financial institutions lent Rs136 billion, against Rs201 billion during the same period last fiscal year, according to the central bank.
Banks' credit expansion has also been affected by decreased imports. Banks issue trust receipt loans for the import of goods, but bankers say that there has been a significant drop in such loans, as imports decreased by 6.9 percent during the first four months of this fiscal year, according to the Trade and Export Promotion Centre.
"We are issuing far fewer letters of credit for the import of industrial raw materials, vehicles and other goods this fiscal year," said Ashoke Rana, chief executive officer of Himalayan Bank.
During the first four months of this fiscal year, banks and financial institutions provided a total of Rs11.45 billion in trust receipt loans, down from Rs16.53 billion during the same period last year.
Industrialists say that demand for goods like packaged foods and liquor have also decreased. According to the Inland Revenue Department, it is collecting far less excise duty than expected from the liquor industry. Excise duty collection decreased to Rs43.07 billion during the first four months of this fiscal year, compared to Rs43.84 billion during the same period last fiscal, according to the Finance Ministry. The government has set an annual target of collecting Rs170 billion in excise duty for this year, a significant jump from Rs124.88 billion in the last fiscal year.
"If people have extra money, they spend more on liquor," said Murarka. "The weak liquor sales reflecting people's weakening spending power."
While market demand is one reason why demands for loans from industries are decreasing, businesspersons also point to the country's business environment as another factor in why they are not investing.
Although Nepal's ranking in the Doing Business Index prepared by the World Bank moved up several steps this year, industrialists say that problems on the ground has not changed much. Red tape and corruption continue to hamper business sentiments, they said. Nepal jumped to an all-time high of 94 out of 190 economies in the World Bank's ease of doing business rankings.
"I had to abandon plans for the expansion of a cement plant as the Ministry of Industry didn't approve our proposal to issue bonus shares for more than a year, forcing us to distribute cash dividends," Murarka said.
Bankers and economists say that a number of government policies is also affecting overall loan demands in the market.
"One reason for the decrease in loan demands could be the government's policy of ensuring that businesspersons get loans based on transactions submitted to the tax authority," said Bhuvan Dahal, CEO of Sanima Bank who is also the newly elected president of the Nepal Bankers' Association.
The government introduced this policy to discourage businesses from submitting details of one transaction to the tax authority to pay lower taxes and submitting another detail to banks to get more loans.
According to economist Raghubir Bista, the government's policy of discouraging lending in the share market and in the automobile sector has also contributed to a decrease in lending.
"However, banks too have failed to increase lending in productive sectors such as agriculture, hydropower and industries," said Bista.
Loans are also being affected by the government's low capital spending, which, say experts, is affecting private sector spending too.
"Demand for construction materials increases if the government expands infrastructure development," said Bista. "The construction industry will seek more loans for additional production if the government's capital spending picks up."
As of December 17, only 9.19 percent of the total capital budget had been spent, according to the Financial Comptroller General's Office, a government body which keeps a record of the government's income and expenditure.
The central bank has taken a number of measures to boost liquidity in the banking sector, including allowing banks to borrow from abroad so that they are able to increase lending to help the economy grow. But, according to Bista, reduced lending will definitely affect the growth prospect of the economy.
---
---