In absence of consumer court, businesses keep getting away with selling substandard products
Although dozens of restaurants and companies are found selling contaminated and low quality food, lengthy administrative process results in little action.

Bottlers Nepal, which produces Coke, is accused of selling substandard products. Milosz Maslanka/shutterstock.com
bookmark
Published at : July 30, 2019
Updated at : July 31, 2019 19:56
Kathmandu
Every year, the Department of Food Technology and Quality Control files hundreds of cases against restaurants and companies for selling poor quality and contaminated food. But without a consumer court to arbitrate these cases, not a single entity has ever faced any kind of governmental action.

Last fiscal year, the department filed cases against 148 companies and restaurants at the district administration offices and the district courts. Those accused include some of the big names in the food and beverage industry—Bagmati Sweets, Quality Thai Food, Bottlers Nepal (Terai) Ltd, Smart Food and Snacks, Shiva Shakti Ghee Industry, Modern Dairy, Ramba General Food, BK Masala Udhyog, Birat Golchha Ghee Packing Industry, Golchha Dairy Udhyog, and Baba Vegetable Oil.
But in the absence of a consumer court, cases are filed at the district court or district administration offices, leading to lengthy administrative procedures and bureaucratic hassles.
"The department needs approval from a government attorney to file a case at the district court, which is already overworked," said Yogendra Gauchan, director general of the Department of Commerce, Supply and Consumer Protection Management. By the time the district court gets around to hearing the case, the statute of limitations often expires.
The Department of Food Technology and Quality Control had filed a case against Smart Food and Snacks, a subsidiary of Ambe Group, almost a year ago, but the firm has not faced any action so far, according to the department. And when a case finally gets to court, the offenders are often let go with a slap on the wrist, even though the Food Act provisions a fine of Rs 50,000 or five years in prison for those found guilty of selling substandard food.
It usually takes three to six months for the district court to give a verdict, but there is no evidence that the firms face any real action, said Mohan Krishna Maharjan, spokesperson for the food quality control department.
"But filing a case against an enterprise that has a good reputation in the market is itself a form of punishment," said Maharjan.
This is why a consumer court is necessary, consumer rights advocates say.
The constitution guarantees consumer protection as a fundamental right. In accordance with this provision, the Consumer Protection Act, endorsed last October, outlines the creation of consumer courts under a district judge and with two government officials as members to arbitrate cases related to consumer rights. But nothing has been done so far, with the government failing to enforce the related regulation even a year after Parliament passed the Act.
"The government is dilly-dallying on implementing regulations, possibly under pressure from traders with vested interests," said Madhav Timilsina, president of the Consumer Rights Investigation Forum.
In October 2017, a market monitoring team had sealed a number of storefronts selling 'branded products' at Durbar Marg under the charges of evading taxes. But the government let them off without any action, acting under pressure from traders.
However, the Consumer Protection Act has mandated spot checks and governmental teams have the authority to immediately impose fines if any wrongdoing is discovered. The law allows the imposition of cash penalties between Rs5,000 and Rs 300,000. If traders do not have a purchase bill available, market inspection teams can fine them between Rs5,000 and Rs 20,000. A refusal to cooperate with officials during an inspection can lead to fines of Rs 20,000 to Rs 30,000. The teams can slap a Rs200,000 to Rs 300,000 fine on shops that tamper with measuring devices.
Since the Act came into effect last year, the Department of Commerce, Supply and Consumer Protection Management penalised more than 130 traders, collecting Rs4.4 million in fines.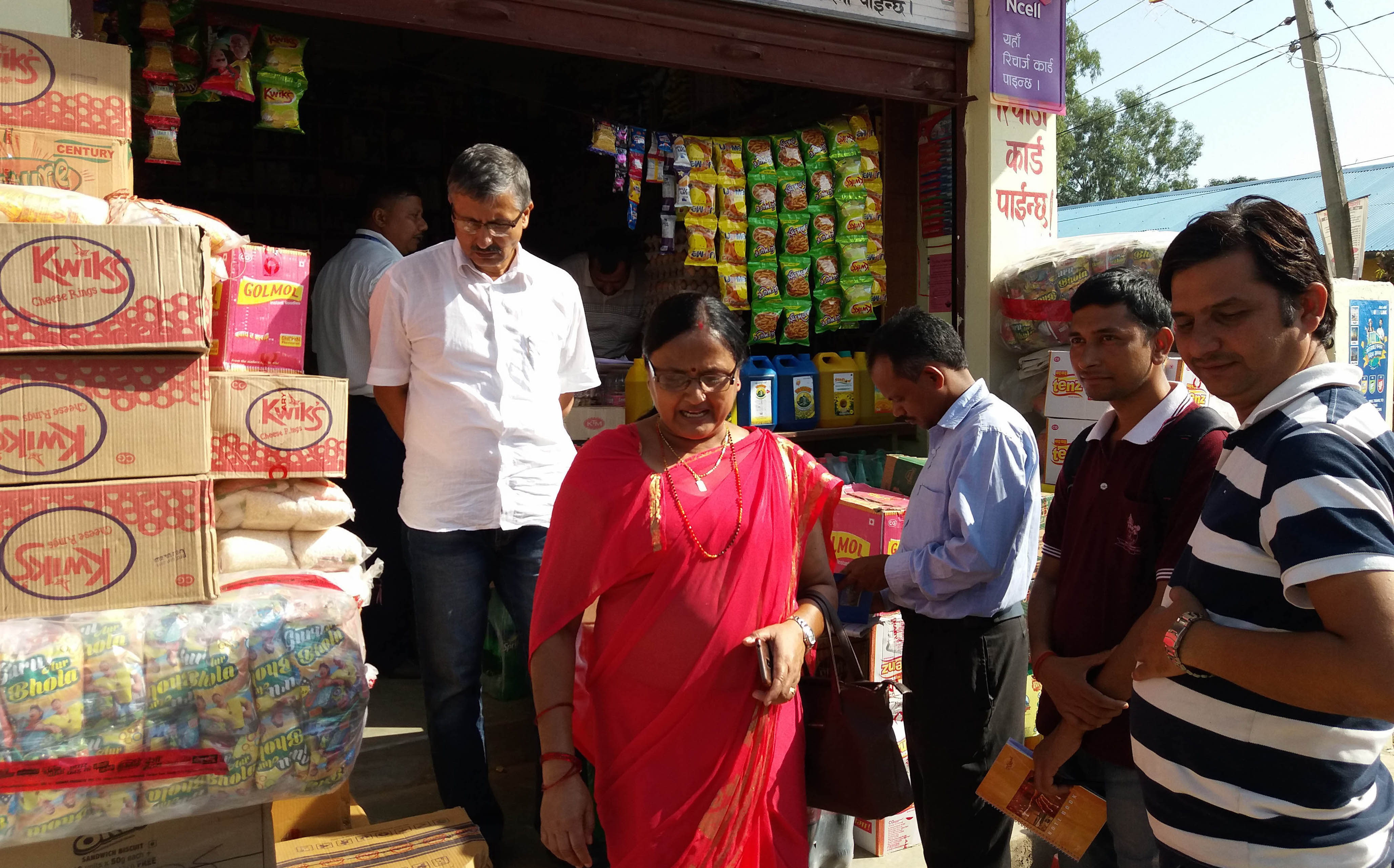 Government authorities regularly carry out inspections across the country. Post File Photo
"Although there have been some positive outcomes, most often, the department faces pressure from traders' associations to revoke the fines," said Gauchan.
And consumer exploitation has continued unabated, largely due to a lack of resources at the Department of Commerce, Supply and Consumer Protection Management, which sends out market inspection teams, said Gauchan, the department's director general.
"Half a dozen individuals are carrying out all market inspections in Kathmandu," he said. "The department also faces a lack of human resources at its five offices in Biratnagar, Birgunj, Bhairahawa, Nepalgunj and Dhangadhi."
Vegetable prices have currently skyrocketed in the Capital, ostensibly owing to the recent floods, but Timilsina said that the price hike was primarily caused by unethical middlemen attempting to benefit off the crisis. On Monday, a market inspection team was prevented from conducting a spot check at the Balaju vegetable market by traders, but no action was taken against those individuals.
Currently, there are a number of institutions that look after consumer rights—the Department of Commerce, Supply and Consumer Protection Management; Department of Food Technology and Quality Control; Nepal Bureau of Standards and Metrology; Department of Drug Administration; District Administration Offices; local governments; and even the National Human Rights Commission.
In theory, these authorities are supposed to look after the consumers but in reality, they avoid the duty.
In a number of cases, the government authorities had filed the cases against the guilty. Apart from penalising with nominal cash penalty, no stern action has been taken so far against unscrupulous traders despite the severity of the anomalies that they have been imposing on the consumers.
The regulations related to the consumer act are currently at the Cabinet and the Ministry of Industry, Commerce and Supplies has finally started groundwork to install consumer courts in all the seven provinces, said Gauchan.
But some consumer rights activists doubt whether the new regulations will have any real effect, arguing that the law has placed too much authority on the director general of the department, who, in this case, is Gauchan.
"The director general of the department is authorised to handle the final grievances of consumers," said Prem Lal Maharjan, chairperson of the National Consumers' Forum Nepal. "So consumers are barred from directly filing cases at the court."
---
---