2018 Everest season starts with fresh hopes, dreams
The 2017 Everest climbing season ended with a mix of triumphs and tragedies: deaths, injuries, record crowds, frauds and other controversies. That was last year.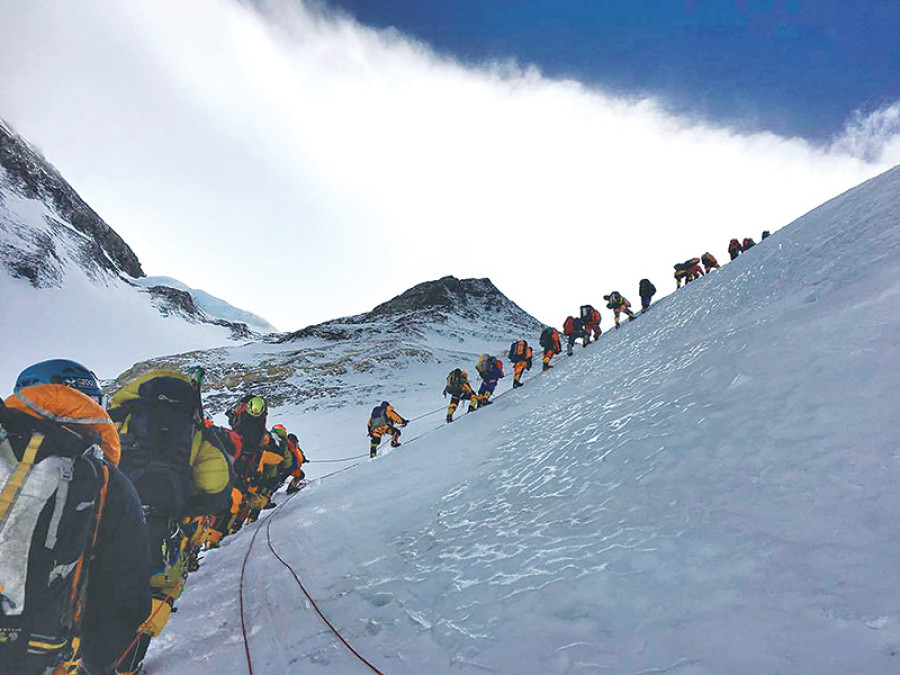 bookmark
Published at : April 11, 2018
Updated at : April 11, 2018 08:13
Kathmandu
The 2017 Everest climbing season ended with a mix of triumphs and tragedies: deaths, injuries, record crowds, frauds and other controversies. That was last year.
The 2018 spring climbing season is on, and hordes of adventurers are again plodding to the Khumbu region with fresh hopes, dreams and enthusiasm. They are spending millions of rupees to achieve their goals, but a question remains: Will climbing Everest become safer this year?
Dinesh Bhattarai, chief at the Tourism Department that issues climbing permits, admits there has been lack of oversight over expeditions causing controversy and tragedy.
"We learned many lessons from the last season. We don't want to repeat those mistakes," he said.
The government has adopted a number of safety measures this year, Team leaders, climbers, high-altitude climbing guides, government appointed liaison officers and agencies handling the expedition are required to follow them strictly, he said.
One, the department has been verifying the health certificates of the climbers more rigorously. Two, there have been complaints that most liaison officers don't go up to Everest Base Camp but remain at lower altitudes.
"Now, we will strictly monitor them. They have to wait at the base camp until the expedition is completed," he said, adding that a special mechanism had been established to monitor their locations. "They have to act as a regulator so that controversies on Everest are minimized."
Three, the department has set a mandatory requirement for climbers to have at least five oxygen cylinders each, Bhattarai said.
The government has also strictly prohibited disseminating controversial messages or broadcasts without prior approval.
Two misleading reports were sent out from Everest last year. One said that Nepali high-altitude rescue experts has spotted four dead climbers in a tent on Everest. The second one stated that Hillary Step had collapsed during the devastating 2015 earthquake in Nepal.
"Our intention is not to stop the dissemination of news. However, for some controversial issues, prior approval should be obtained from the government," said Bhattarai.
Last December, the government amended mountaineering regulations barring blind, solo or double-amputee mountaineers from attempting to climb any peak in the Himalaya in a bid to make climbing safer.
Furthermore, all expeditions would have to employ at least one high-altitude guide. They were also forbidden to use helicopters to reach high camps.
Likewise, climbers will be issued a certificate if they end their expedition at their starting point at base camp. However, the Supreme Court stayed the government's ban on climbers with disabilities last March.
Climbing permits
According to Rameshwor Niraula, an official at the mountaineering division of the department, they had issued climbing permits to 29 expeditions, including three Nepali groups, as of April 9. The teams comprise 275 royalty-paying climbers. These climbers need to hire an equal number of high-altitude climbing guides.
Last year, the department issued permits to 43 groups comprising 366 royalty-paying climbers. The 2017 spring season, which ended on May 31, saw the fourth highest number of successes with 445 climbers making it to the hallowed peak, according to the department. Among the climbers, there were 190 foreigners, 32 fee-paying Nepalis and 223 high-altitude climbing guides.
"Normally, permits are issued until April-end. And based on current trends, the number of Everest aspirants is likely to match the 2017 figure," said Niraula. Including the 445 successful climbers, the total number of Everesters has reached 5,324.
The government issued a record 375 climbing permits this season. An Everest climbing permit costs $11,000 for foreigners and Rs75,000 for Nepalis. Climbers pay between $50,000 and $90,000 to climb Everest. An experienced climbing guide makes as much as $12,000 during this 45-day Everest climbing window.
A normal or beginner guide earns $7,000 per season, while high-altitude porters earn up to $4,000 per season. The income of a porter is five times greater than the average income of Nepalis.
So far, according to government officials, icefall doctors have opened a climbing route from base camp to near Camp II.
The climbing time from Everest Base Camp (at 5,364 metres) to Camp I (5,943 metres) is 6 hours. The Khumbu Icefall, the most treacherous part of the route, lies between these two camps.
Most of the climbers try to cross the Khumbu Icefall during the very early morning before sunrise when it is less susceptible to movement. As sunlight warms up the ice, the chances of crevasses opening up or blocks falling become much greater.
It takes 4 hours to reach Camp II (6,400 metres) from Camp I, the most exciting and easiest part of the route. From Camp II to Camp III (7,162 metres), the average walking time is 7 hours, while from Camp III to IV (8,000 metres) or South Col, the average walking time is 9 hours.
At Camp IV, the ultimate thrill begins as it's the last point from where the Everest push starts. It takes 10 hours to reach the summit (8,848 metres) from Camp IV. Normally, the summit push begins at 11 pm or midnight so that climbers can reach the summit and begin their descent during the day.
---
---