Kathmandu's love affair with Kauli
Kartik. With Dashain and Tihar behind them, Kathmandu's residents are bidding adieu to the festive season. Colourful kites have disappeared from the autumn sky; and the large linge pings are being taken down. But as one thing departs, another promise arrives. The sky is clearer and has taken on a deeper shade of blue and the air is cooler, indicating that Minpachas, the coldest fifty days of the year, is right around the corner.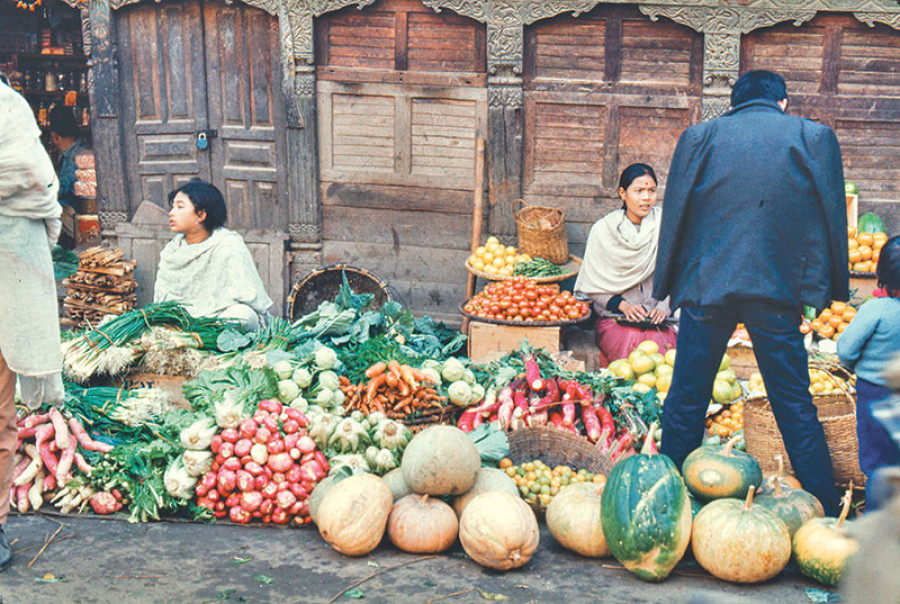 bookmark
Published at : July 21, 2018
Updated at : July 22, 2018 07:53
Kartik. With Dashain and Tihar behind them, Kathmandu's residents are bidding adieu to the festive season. Colourful kites have disappeared from the autumn sky; and the large linge pings are being taken down. But as one thing departs, another promise arrives. The sky is clearer and has taken on a deeper shade of blue and the air is cooler, indicating that Minpachas, the coldest fifty days of the year, is right around the corner.
With the turn of the weather, Kathmandu's farms are beginning to transform as well. As the first winter moisture on the ground seeps through the fields, lily-white curds begin to emerge and blossom between the seas of green. And it is these blossoming whites that have given Kathmandu something to look forward to—the fast-approaching cauliflower season, a vegetable the Valley has come to love like no other.
Interestingly, for Kathmandu's long agrarian legacy, the history of its cauliflowers is a relatively recent one, dating back only to the latter part of the 1800s. Yet right from its introduction, the cauliflower swooned Kathmandu's taste buds, taking up a special spot in the food culture and becoming cherished part of festivities and gatherings.
Today, with the inflow of hybrid seeds, the dwindling of organic farming, and the collapse of Kathmandu's agrarian character, its once famous cauliflower has been forgotten too. But if agriculture is a defining characteristic of Kathmandu's legacy, the Valley's love affair with this 'alien' vegetable forms an important sub-plot that exemplifies not just the ingenuity of the city's farming methods but also how crosspollination has shaped so much of the world's food cultures.
From England with Jung
Cauliflower is not native to Nepal, and no concrete documentation exists on how this Mediterranean vegetable first arrived in Nepal. Historian Mahesh Raj Panta, 74, estimates from the family oral tradition related to him by his grandmother that cauliflower entered Nepal after the establishment of the British Residency during Bhimsen Thapa's reign (1806-1837). Writer Saurav, 60, says that the first mention of cauliflower in Nepal comes in a report about Nepal prepared by the British in 1884 during the time of Ranodip Singh Kunwar.
But one of the earliest published mention of cauliflower in relation to Nepal dates to a decade after Bhimsen Thapa's reign. And, Kathmandu's love of cauliflower is reflected right from this very first encounter.
In the British city of Southampton during his official visit to the United Kingdom in 1850, the "Hindoo servants" of none other than the country's all-powerful Prime Minister Jung Bahadur Rana were captivated by the cauliflowers displayed at the vegetable market. The Illustrated London News declares on June 1, 1850: "They [the "Hindoo servants"] took a great fancy for cauliflower, which is very plentiful at Southampton, and purchased an immense quantity of that vegetable."
Later, Jung's troupe of cooks must have cooked this vegetable, and he must surely have liked what he ate. For when he returned from England, along with several concepts to modernise Nepal's military, legal, and education systems, historians and agriculturists believe that he also brought with him cauliflower seeds. And this is how cauliflower made its journey across seven seas from its place of origin in the Mediterranean to the then isolated Kathmandu Valley.
Indra Raj Pandey, 71, a senior horticulturist, says that once in Kathmandu, irrespective of the exact time they arrived here, cauliflowers were at first only grown in the large kitchen gardens within Rana durbars. Eventually, the Jyapu farmers employed to work these gardens, took some seeds out of the palaces and started growing them in their own farms. This was how Kathmandu's residents at large were introduced to cauliflower. And over time, this imported vegetable would take the form of Kathmandu's very own local breed cauliflower, known colloquially as the Jyapu Kauli.
A cut above the rest
When exactly cauliflower first became available in the Valley's marketplaces is not known, but it is safe to assume that once it was, it was an instant bestseller.
"That this vegetable had come from seven seas away was something that immediately appealed to the people of Kathmandu. Moreover, because it was only grown inside Rana palaces must have charged it with further romanticism," Pandey says.
Over time though, it was cauliflower's distinct qualities that clinched its status as one of Kathmandu's most beloved vegetables.
"In appearance and texture, Kathmandu's cauliflower was no different from the ones available today. But at the time, it was rare, bigger in size, and had a distinct taste and aroma that became a trademark of the Jyapu Kauli," Singha Bahadur Bade, 80, a farmer from Nagadesh, Bhaktapur, says.
Like most other vegetables, cauliflower was a seasonal vegetable, available only from Mangsir through Falgun.
"There were two types of cauliflowers. Chhha Mahine Kaauli ( which took six months to harvest) was sown in Jestha. Tin Mahine Kaauli (which took three months to harvest), was sown in Shrawan. But the curds blossomed only in the months of Mansgir through Falgun when the temperature dropped," Bade says.
And when Mangsir came, the whites and the greens of cauliflowers would have been beautiful sights in the Valley's marketplaces.
According to Bade, what was visibly distinct about these cauliflowers was their size. "A cauliflower could weigh anywhere between one to nine kilograms, the average weight being around three kilograms," he says.
Another characteristic feature was its pleasant aroma. "When cooked, the aroma became stronger and more pleasant. It was so pervasive that neighbours hundreds of meters away could also tell that cauliflower was being cooked in a particular household," Bade says.
But ultimately, it was the taste that Kathmandu's residents fell in love with. "The farming methods were purely organic, which made this cauliflower very soft and tasty when cooked. It was also something that could be cooked instantly. Compared to those cauliflowers, the ones available today are tasteless and stiff, and take much longer to cook," he says.
Farming haven
It wasn't just that the vegetable's taste was an instant hit but also that the Valley's farming conditions were also ideal.
Kathmandu's lacustrine soil, a combination of clay, peat and silt, is considered perfect for agriculture, and consists of an organic layer called Kalimati (dark clay/silty clay) that is especially rich in nutrients and is obtained from deep underground pits to use as manure for vegetables. Its rich nutrient content makes it particularly best for cauliflowers, Pandey says. This organic soil was further complemented by ample sources of irrigation, in the form of rivers like Bagmati and Bishnumati and their tributaries cutting through the Valley.
So suitable was Kathmandu's soil for cauliflower that there were places along the riverbanks (thus ensuring sufficient moisture and irrigation) particularly famous for growing cauliflowers. These included the banks of Tukucha (Tukuchako Phant)—comprising today's Bhrikutimandap, Nepal Academy and the surrounding stretch—Kalimati, Kshetrapati-Dhalko area, Balambu, the banks of Manohara, and Nagdesh of Bhaktapur.
Just like for other vegetables and crops grown in Kathmandu, the favourable soil and irrigation was complemented by organic farming. Compost and animal dung were used as fertilisers in the fields, which retained organic qualities of cauliflower.
"When compost is used, vegetables absorb nutrients slowly and proportionately," Pandey says. "This results in vegetables with good biochemical composition, which ensures an organic taste. Organic farming was one reason that preserved Kathmandu's cauliflowers' distinct qualities and brought it fame over time."
The "secret recipe"
For the first Jyapu farmers growing cauliflowers, the immediate success of the vegetable must have been an instant attraction, creating among them a special affinity towards its farming.
According to Pandey, Kathmandu's cauliflowers required a lot of care and effort. For instance, it needed constant weeding and ample manure; and the harvest cycle was much longer (three or six months depending upon when it was sown) as compared to other vegetables.
"For those who depended on farming for livelihood, sowing cauliflower seeds and then waiting several months for harvest required immense patience and resolution, and the Jyapu farmers exhibited both," he says.
The biggest testimony to these farmers' dedicated effort is reflected, Pandey says, in their role in producing and promoting the best cauliflower seeds.
"The Jyapus of Kathmandu should be credited for their constant efforts in producing the best seeds and preserving it, thanks to their fabled expertise in agriculture," Pandey says. "If not for them, Kathmandu would not have its own breed of local cauliflowers. It was as a tribute to their efforts in preserving and promoting this cauliflower that it came to be known as Jyapu Kauli."
Indeed, where Kathmandu's cauliflower was concerned, the farmers themselves seemed resolute in making it their most successful produce. And agriculturists, farmers and elderly all believe that it was this resolution that led them to further add a "secret recipe", as if the favourable soil conditions and agricultural methods were not enough.
For ages, the use of human excrement and urine as manure was an indispensable part of Kathmandu's farming methods. And in the case of cauliflowers, the farmers gave extra attention to applying excrement to the crops.
At the time, the 'lower caste' Chyame were responsible for transporting feces from households and public latrines to farms. The common method was to mix the feces with ash before sprinkling the mixture onto the fields.
In case of cauliflowers, though, farmers went a step further by adopting a specialised method. In addition to the work the Chyame did, the farmers themselves directly used the bulk of the excrement on individual saplings.
And their attention and care bore its rewards, because, as Bade puts it, "Cauliflowers blossomed better, grew larger and were tastier when excrement was used."
Farm to festival
So what happens when a vegetable that is rare and beautiful, and is aromatic and tasty, is introduced?
"It acquires a cultural value," says cultural expert Satya Mohan Joshi, 99. "Cauliflower was considered a Rajasi Khana [A Royal Food]. It had acquired a status that is close to the one attached to meat in those days. It was expensive, not easily accessible to the common people, and a vegetable which one had to wait for special occasions to eat."
In other words, cauliflowers became an integral part of celebrations and festivities. In the ensuing decades, cauliflower became a delicacy served during Maghe Sankranti, a mid-winter festival. Bhairab Risal, 90, a veteran journalist who was born and raised in Bhaktapur, remembers that along with ghee, chaku, and other traditional confectionaries, cauliflowers became a major attraction during this festival.
But even before Maghe Shankranti, some cauliflowers would be ready for harvest in time for Dashain, a month before the onset of the cauliflower season. While those who ate meat waited for this festival to feast on goat or duck, cauliflowers was a rare delicacy favoured by the vegetarians.
But perhaps cauliflowers' cultural value is best exhibited by how it became indispensible during weddings.
According to Pandey, cauliflower was also called the Jante Baali—wedding vegetable.
"Cauliflower was considered so important for weddings that people from outside Kathmandu came to the Valley to secure the produce," Pandey says, who recalls his villagers trekking down to Kathmandu with porters to get cauliflowers whenever there was a wedding in his village in Nuwakot.
Greater occasions apart, cauliflowers also occupied special place in smaller, individual affairs—a treat when special guests like the son-in-law visited; or a worthy gift to bring with when visiting relatives.
"So high was the value accorded to the cauliflower that it became a profitable means for the Jyapu farmers to secure crops when their own produce was insufficient," Pandey says. Growing up in his village in the 1960s, seeing Jyapus come to his village with dokos of cauliflowers to exchange with different crops was a sight all too familiar for him.
Even as late as the late 1980s, when Kathmandu's agrarian lifestyle was rapidly changing, Kathmandu's cauliflowers were abundantly available and continued to remain highly regarded during celebrations.
But what happened after the 1980s?
Pandey says that two significant transformations occurred that directly impacted Kathmandu's famous cauliflowers, as they did other vegetables and crops as well. "One, seeds of hybrid cauliflowers that could be produced throughout the year became available and farmers used these seeds instead of the local seeds since it had a much quicker return," he says. "Two, organic methods of farming gave way to rampant use of chemical fertilisers."
Slowly thereafter, cauliflower became commonplace. The qualities that had brought it so much love were lost—cauliflower's rarity (for being available only during its season) was lost as it was now available year round; its distinct size was lost too; the taste went bland, and its magnetic aroma disappeared.
And in this way, for all the love it garnered and its cultural implications, Kathmandu's local cauliflower would see a rather tragic end.
"As a society we have watched Kathmandu's agrarian legacy disappear," Joshi says. "And this is perhaps best illustrated in the demise of Kathmandu's famous Jyapu Kauli."v
---
---