You are what you eat and the skin shows it
Dr Suchana Maratha shares how diet impacts the skin's ability to protect itself, repair damage, and prevent inflammation.

Shutterstock
bookmark
Published at : August 29, 2023
Updated at : August 30, 2023 08:06
Kathmandu
When it comes to our skin, the saying 'you are what you eat' holds true. The choices we make in our diet have a direct impact on our skin's ability to protect itself, repair damage, and prevent inflammation. What we consume significantly influences our skin's health and vibrancy, affecting moisture levels, texture, and even susceptibility to various skin issues. However, it's important to remember that while diet plays a pivotal role in skin wellness, it's not a magical solution for all skin concerns. Our genetic makeup, lifestyle, and environmental exposure also affect our skin's condition.

Professor and consultant dermatologist Dr Suchana Maratha sheds light on the link between dietary choices and skin health, dispelling common misconceptions.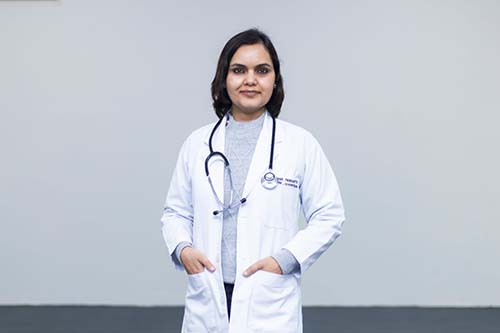 Dermatologist Suchana Maratha Courtesy of Suchana Maratha
As an associate professor in dermatology currently working as a consultant dermatologist and hair transplant surgeon at DI Skin Hospital and Referral Centre (DISHARC), Kathmandu, Dr Maratha's expertise encompasses dermatosurgery, hair restoration, aesthetics, and tropical dermatology. She completed her MBBS from BP Koirala Institute of Health Sciences, Dharan, and did her MD in dermatology and venereology from the same institute.
How does diet affect the overall health and appearance of our skin?
A balanced diet plays a big role in having healthy skin. Healthy skin really does glow from within. Simple things like drinking enough water and including nutritious items like dry fruits, vegetables, dark chocolates, and green tea in our diet add to the skin's well-being.
Which foods and nutrients specifically benefit skin health?
Fruits and vegetables, especially those rich in vitamins (A, B, C, and E), minerals, and antioxidants are vital for our skin. Green tea, also abundant in antioxidants, offers similar advantages. Additionally, dark chocolate enhances skin radiance as it helps keep the skin hydrated for longer.
Dry fruits like almonds, walnuts, raisins, cashews, and pistachios are rich in omega-3 fatty acids. They have anti-ageing properties that regulate skin oil production and improve the hydration of our skin. These nuts are also abundant
in micro and macronutrients—like zinc, calcium, iron and magnesium—that are needed for good skin health.
Can dietary choices cause common skin conditions like acne and eczema?
Certainly. Diet can cause various skin disorders. For someone with acne, a high glycemic index diet can worsen the problem and increase breakouts. This type of diet includes foods like sugary drinks, chocolates, candy, white bread, and white rice, which can elevate blood sugar levels rapidly. Milk and coffee might also aggravate acne for some; however, there is no solid scientific evidence to back this up.
Certain foods—like milk, eggs and wheat—can trigger allergic reactions in eczema-prone skin. Additionally, diets rich in fried foods and saturated fats, like red meat, can worsen eczema and increase inflammation in the skin.
How does hydration impact skin health?
Drinking enough water enhances skin hydration, flushing out toxins and enhancing radiance. Adequate hydration improves skin elasticity and minimises wrinkles and fine lines.
What are some common myths about diet and skin health?
One misconception is that spicy and sour foods cause acne. However, there's no substantial evidence linking fatty, spicy, and sour foods to acne. Instead, high glycemic index foods are known to cause acne in some individuals.
Another myth is that oily foods lead to oily skin. Oily skin is primarily influenced by sebaceous gland activity, not dietary oil. Also, not all fats are bad for the skin. Saturated fatty acids are unfavourable, while unsaturated (omega) fatty acids are beneficial.
There is also a belief that coffee benefits the skin, which is false. Coffee is actually known to dehydrate the skin.
Are there foods we need to avoid for healthier skin?
There are some foods that are not good for skin health—like sugar, salt, coffee, and saturated fatty acids. Other obvious ones are alcohol and tobacco. Foods with high levels of salt and sugar lead to skin inflammation, with salt contributing to dryness and puffiness. I would even advise individuals who want good skin to avoid these foods if they can. Alcohol and coffee dehydrate skin by drawing away water from cells, causing damage. Likewise, sugary beverages like soda should also be avoided for healthier and glowing skin.
---
---