How Tihar has adapted to modern homes
Modern construction materials and technology have changed the way families decorate their homes for Tihar.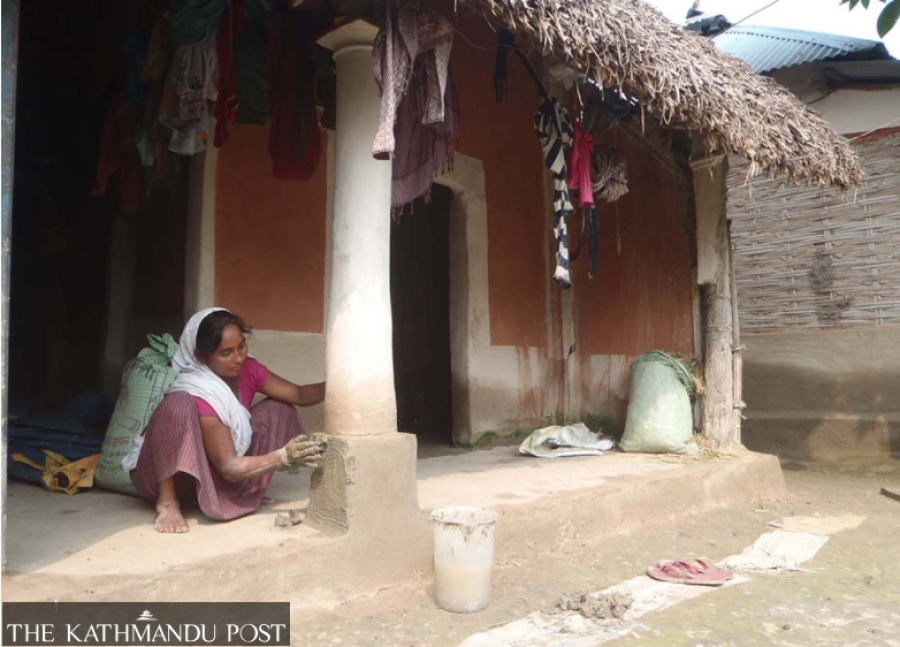 A woman daubs her house with clay for the Tihar festival in a Tarai village. Post File Photo
bookmark
Published at : November 4, 2021
Updated at : November 4, 2021 07:29
Kathmandu
Laxmi Poudel is deep-cleaning her house in preparation for the Tihar festival. She is rearranging the furniture to sweep in the corners that collect dust throughout the year.
Poudel, 39, is originally from Nuwakot and has been living in Manbhawan, Lalitpur for the past thirty years.
"Back in our village in Nuwakot, we had to go mud-hunting in the riverbeds, and would spend hours trying to find sufficient mud to plaster the house during Tihar. We would do so on hungry stomachs as kids, and spent days plastering the house with a mixture of clay, cow dung, red mud, and kamero mato [white clay]," says Poudel. "All I do these days is wash curtains, clean the house – the work is still a lot, but it's comparatively easier these days."
Traditionally, houses in Nepal were made of mud, hay, clay, stone, wood, bamboo, and earth. With the evolution of construction materials and invention of new technologies, houses across Nepal are now made with concrete, rebar, and bricks. This adoption of new technologies in housing construction has not only led to the loss of the vernacular housing architecture of Nepal but has also changed the way festivals are celebrated in the country.
"Tihar meant decorating our whole house and re-roofing with thatch. We created a plastering mixture of cow/buffalo dung and white or red clay and coated a layer of the same all over the house. And for windows, we needed the colour black. So, we dissected old Eveready battery cells, took the black substance [carbon] and mixed it in oil, and applied the paste on the windows," says Poudel, recalling her childhood days of celebrating Tihar in Nuwakot, where she was born.
"Nowadays, we don't have to do much. We'll clean the floor with Lizol. And we only use red mud outside in the parking lot, because the parqueted floors indoors will get stained."
Deusi-bhailo songs that are sung and danced to during Tihar also highlight this change in housing. In bhailo songs, phrases such as, "hariyo gobar le lipeko" describe houses that are freshly plastered with cow dung for the occasion. Likewise, in deusi songs, "ae raato maato - deusire, ae chiplo bato - deusire" highlight the significance of red mud during the festive season, either to colour the houses or to describe the fertile red soil of the central hills of Nepal.
However, modern housing technologies have pushed people to adapt to these technologies, at the cost of losing the cultural aspects of Tihar celebrations.
"With the engineering of new designs in housing architecture, Nepal's culture is heavily changing. The use of red mud, kamero maato, chuna (lime powder) and gobar (cow/buffalo dung) in decorating houses and puja kothas is becoming a rarity these days. People have refrained from using diyos–traditional oil lamps –and have resorted to candles and LED lights because they're easier to manage," says culture expert Om Dhaubadel.
Ramkumar Tamang, who sells utensils at Tinthana in Chandragiri Municipality, showcases all the items considered essential for Tihar in his shop–traditional oil lamps (brass diyos, clay diyos, panas), brass statuettes of deities, utensils used for puja, stickers of swastika symbols, and Goddess Laxmi's footprints.
Tamang says, "Over the years people have stopped buying traditional diyos as much as they once did. People either buy electric diyos, or LED lights."
His regular customer, a woman in her mid-fifties, says, "Oil in diyos stains the floors, and it's difficult to remove those stains. It's only natural for people to look for other options."
In the 1950s, the simplest technology of brick kilns was introduced in Nepal that gradually became popular in the 1990s. There are approximately 1,600 brick kilns operating in Nepal today. Likewise, marble flooring, carpeting, and parqueting are becoming popular as flooring options in the modern houses of Nepal.
Tihar observers have adapted to these new technologies by changing the ways of celebrating the old customs.
"We used to draw a rectangular line with red mud from our gate to the puja kotha, in our old house where the flooring was plastered with kora masino–a mixture of sand and cement. We also made footprints of Goddess Laxmi with a paste of rice flour. But when we shifted to this house with parquet flooring, I've instead started using stickers of the footprints which are easily available in stores," shares Poudel.
Not only has housing technology seen an evolution, but so have Tihar's mandalas. There are ready-made mandala stencils with various patterns available in the market to make rangoli, mandala, and mandap.
Designers only have to sprinkle colours on top of these stencils, and the colours will form the patterns as available on the plate. This is not only time-saving but also allows individuals to create beautiful designs in their homes without staining the floor.
However, experts are concerned that resorting to such quick fixes is causing a loss of identity. The artistic information, knowledge, and skills are passed on from generations, and such ready-made designs are threatening the culture of knowledge-sharing as well, experts say.
"Tihar's mandalas have a heavy cultural and religious significance. They vary with culture, the day of Tihar–Mha puja, Bhai tika, Laxmi puja. With ready-made design plates, of course, it is easier, but we are losing our individual and communal identity," says Dhaubadel, speaking on the culture of the Newa community.
Another shift in culture has been in the posters of deities used in Tihar. Local craftsmen used to create paintings of deities to sell. Over the years, they have been discouraged by the influx of printed posters from neighbouring countries that have taken over the market. The preference for such posters, however, is also because framed printed posters are convenient to use.
"Previously, on Laxmi Puja, we used to buy Goddess Laxmi's paintings that were made by local artists. These days, you get so many posters and people buy those instead. People prefer framed photographs over sticking the hand-painted posters with gobar on the wall. We're gradually losing the culture of making such paintings as well," adds Dhaubadel.
Artistic expressions during Tihar are seen not just on posters, but in the Terai, they are also observed on the exterior of the houses of those who celebrate the festival. During Tihar, also known as Deepawali, houses are decorated with Mithila art.
Mithila art has undergone various changes in its design and process. Previously, homemade naturally produced colours were used to paint on those carvings. While the art is still practised today, the colours used in Mithila art are artificial and bought in the market.
Mithila Devi Yadav, a Mithila artist by profession, explains, "To make Mithila art, we used to soak rice and make a paste called pithaar. Sindoor—vermillion powder used in pujas—were used as red colouring. Leaves of string beans were used for green colouring. The orange head of night jasmine flowers was used to make the colour orange. And the burnt wick of lamps was used as black colour to outline the art. And by mixing the juice of string bean leaves with black, we made the colour blue. Mustard flowers were used to produce yellow colouring."
"Nowadays, you head to the store and you buy a packet of all those colours that work well on plastered walls. It's as easy as that. The art is much refined today, however, the preparation of colours was a huge culture of its own," says Yadav, head of the Department of Folk Art at the Nepal Academy of Fine Arts.
With the evolution of technologies and new innovations in housing designs, the use of red mud, gobar, and kamero mato during Tihar is declining. Individuals are refraining from using traditional oil lamps because they stain the floorings. Artists are discouraged to continue the traditions of making posters of Goddess Laxmi, or to produce homemade colours for wall art.
While opting for comfort in celebrating festivals is inevitable, experts say celebrators should be mindful of preserving the culture and passing on information to the younger generation.
Dhaubadel says, "Decades down the line, raato maato might only be limited to deusi songs. And the thought of it is itself very disheartening."
---
---