As Tihar shoppers opt for electric lights, traditional oil lamps sellers see slump in business
Festival sales of electric string lights are expected to reach Rs400-500 million nationwide this year.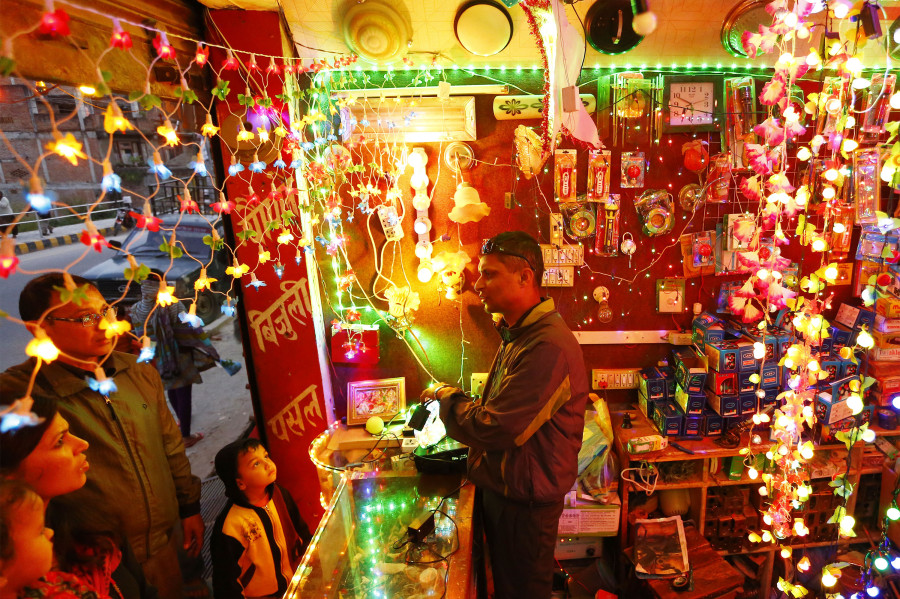 A shopkeeper displays decorative lights at his shop in New Baneshwor. POST FILE PHOTO
bookmark
Published at : October 25, 2019
Updated at : October 26, 2019 07:07
Kathmandu
After checking out various light shops at Bhotebahal and New Road, Manish Shrestha purchased two LED string lights for Rs350 per piece. He felt he had paid too much considering the quality, but he bought the string lights because his children had asked him to bring them to decorate their home during the festival.
Shrestha is 49 and works as a salesman in a clothes store. He believes that spending money on electric string lights is an unnecessary expense as the tradition of celebrating Tihar is about flowers and oil lamps.
Festival sales of electric lights are expected to reach Rs400-500 million nationwide this year, according to the Federation of Electrical Entrepreneurs of Nepal. President of the federation Resham Shrestha said that business had dropped. Last year, sales amounted to Rs600-700 million.
The lights last several years, and those who bought them last year are not coming back, he said. According to Shrestha, the exact turnover cannot be determined because street vendors and even unrelated stores sell electric lights during the festival shopping rush.
Rajesh Baidya, who runs a children's shoe shop in Asan, has supplemented his inventory with festival lights and worship items for Mha Puja. Baidya said that he purchased festival lights from local suppliers. "I am selling festival items to make some money as my regular business goes down during this time," he said.
With festival shoppers opting for electric lights, sellers of traditional oil lamps are seeing a drop in business. Strolling through the bazaars of Asan and New Road, the major markets for buying festival items, it is difficult to see anyone selling oil lamps.
Okil Kumar Sahu, a street vendor selling oil lamps near Bishal Bazaar, New Road, said he had not been able to sell even Rs1,000-2,000 worth of oil lamps all day as very few people are showing any interest in them. Sahu's oil lamps cost Rs40 per dozen. People find that too much but they purchase electric festival lights costing more than Rs100, he said.
Shrestha said that he has been buying festival lights annually as they do not last more than one year. "As long as I remember, my mother used to decorate our house with oil lamps till five to six years ago," said Shrestha. "We used to collect all the clay lamps used during Tihar and store them safely for next year."
An electric shop owner in Bhotebahal said that people were spending more on festival lights because of their rising purchasing power. "The festival lights business is not as great as it looks, but this is obviously a big season for us," he said.
Housewife Geet Nepal, 34, said she had not seen a single house in town decorated with oil lamps to welcome Laxmi, the goddesses of wealth. Filling and lighting oil lamps take a lot of time, and making cotton wicks is also time consuming, she said. Electric lights look beautiful and are easy to light, so you have much time to make preparations for the worship of Laxmi.
The increasing popularity of electric string lights has brought disappointment to makers of traditional oil lamps. "The rise in use of festival lights has turned our business dark," said Srijan Prajapati, an oil lamp maker from Bhaktapur.
"People need to realise that following tradition is how we celebrate festivals. Adopting fancy things increases festival expenses," he added.
---
---