Budding nursery culture set to blossom
Owing to an emerging nursery culture in concrete Kathmandu, indoor plants are becoming exceptionally popular in the city.

Maya Ghale, owner of the Plant Shop in Jawalakhel, holds workshops on plant care and looks after plants for people who are out of town. Beeju Maharjan/TKP
bookmark
Published at : October 2, 2019
Updated at : October 2, 2019 07:38
Kathmandu
Rakshya Singh could not decide what to get her boyfriend for his birthday, but after hours of deliberation, she came up with an idea. The 21-year-old decided on a succulent. "Plants are the perfect gift. They're pretty and thoughtful, so I got him an Echeveria that he could grow," she says. As new as this concept sounds, it isn't uncommon, and over the past few years plants have taken on new meaning.
In a growing concrete jungle like Kathmandu that has little space for yards or gardens, plant lovers have been struggling for space for some time now. But thanks to a new and emerging nursery culture, indoor plants have become exceptionally popular.
But plants have always been a huge part of home decor. In the 1970s, spider plants, snake plants, fiddle-leaf fig, pothos, ivy, bamboos, money plants could be found in the living rooms of each and every house. However, with time, the idea of plant decor wilted, as people started going for more modern and polished aesthetics for their homes. Now with people realising the importance of living in close proximity to nature, and wanting to look after something without too much burden, indoor plants are making a comeback.
Sania Karmacharya is a plant collector, and a 27-year-old kindergarten teacher. She has filled her one-bedroom flat in Gwarko with 32 pot plants. "I grew up in Dhulikhel with plants all around me. When I moved to Kathmandu, I was surprised to see how different everything was, just 30 kilometres from where I lived," Karmacharya says. So she started buying plants so she could feel closer to home.
"Though I started getting indoor plants to decorate my flat and feel at home in the beginning, I also realised the importance of having greenery around me," she says. Karmacharya says with the effects of global warming increasing by the day, having more plants around is very important.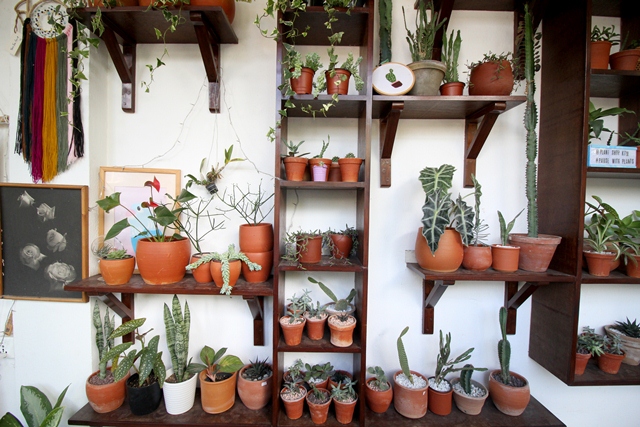 Beeju Maharan/TKP
Biraj Khadka is managing director of I Am The Gardener, a modern nursery catering to this newfound desire for indoor plants among the people of Kathmandu. "We started the company about four years ago, since then, there has been major growth in the sales," says Khadka. He shared in an interview with the Post that he came into the horticulture business after he realised all the nurseries, including the Khadka Nursery, which was started by his mother, had only traditional plants. Hence, he along with four of his other friends opened I Am The Gardener. With this nursery, he aims to revolutionalise the horticulture industry in the country, he says. And so far, things have gone well, he says.
"With I Am The Gardener, we wanted to introduce new plants in the market, and also provide people services that made it easier for them to purchase and take care of plants," Khadka shared.
According to Khadka, the nurseries in the country don't really pay attention to aesthetic aspects of the plants, which is why I Am The Gardener makes sure that the plants are potted beautifully.
"In this age of Instagram and Snapchat, visuals are important. If something is not pretty or visually stunning and doesn't match the 'vibe' that someone's looking for, there's no way they are purchasing it," says Khadka. Khadka says that while people usually prefered flowering plants for gardens in the past, now, small and potted plants are gaining popularity as home decor and gifts.
Khadka also says people like Karmacharya constitute a lot of the customer base. "People these days are very aware of global warming and other environmental and health issues, due to which the sales of plants have sky-rocketed," he says. Because of air pollution as well, a lot of people have been buying air purifying plants like peace lilies, spider plants, ferns and rubber plants for their homes, workspaces and restaurants, Khadka says.
While people like Karmacharya have been buying plants to improve the air they breathe, some people have admitted to buying plants to have something to look after. Collector Ridhima Shahi agrees. "I'm in my mid-thirties, unmarried and don't want any pets, because that's just too much responsibility. Still, I wanted to look after something, and plants were the best option since they require the least work and yet are very purposeful," says Shahi.
Likewise, Maya Ghale, owner of The Plant Shop in Jawalakhel, also says, "The Plant Lady is the new Cat Lady."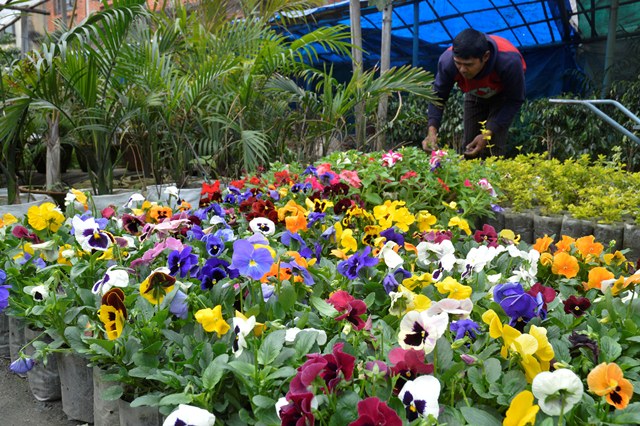 Beeju Maharan/TKP
Ghale believes a brand new plant community is budding in Nepal. "All kinds of people now come to purchase plants and are keen on discussing how to take care of plants. It makes me very happy to see the diversity among people who come," Ghale shared.
To increase nursery culture in the city, Ghale has been wanting to do meet-and-greets where plant owners could meet and exchange plants and learn about different varieties. At The Plant Shop, Ghale holds workshops on plant care, looks after plants for people who are out of town, revives those close to dying, creates suitable environments for plants to thrive, and customises potting mixtures for specific plants, along with selling them.
"The biggest problem obstructing the growth of the nursery culture here is the lack of space utility," plant-collector Rubi Shakya told the Post. "People think they need huge spaces to grow plants when that's not true at all. You just need to find a plant that thrives in the environment you live, and you can just grow it in your room."
The concept of kitchen gardens, jungalows (a style that combines elements of jungles with bungalows), and urban rainforests are becoming very popular. Kitchen gardens are present in most houses for herbs and organic vegetables. They are also extremely convenient, cut the cost of groceries and are generally healthier, says Shakya. Similarly, jungalows and urban rainforests have aesthetically elevated the visual aspects of homes, by keeping nature and function hand in hand. "Not only is it beautiful it's also very therapeutic," she says.
With succulents, cyclamens, orchids, ivy, fiddle-leaf figs being bought like hotcakes at most stores, it looks like the nursery culture has taken off again in the city, and for good. For plant lovers, and everyone else, this trend brings nothing but joy, which is why it looks like this trend isn't going anywhere, anytime soon.
---
---