Nepali startups thriving in shared work spaces
Co-working spaces are also developing as community hubs where small business entrepreneurs connect and collaborate with like-minded individuals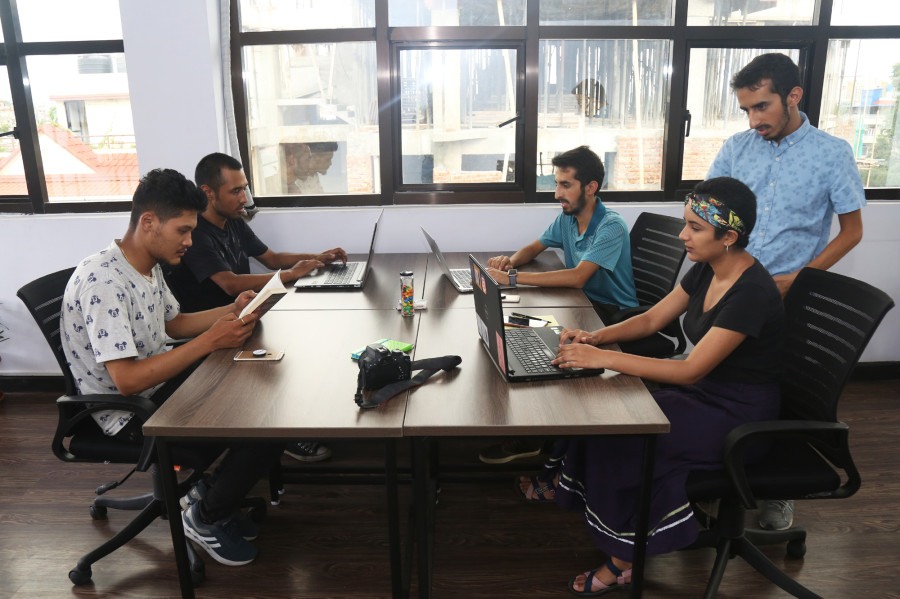 Freelancers and startup entrepreneurs at Rem.work HQ utilising the shared working space, which also provides meditation and lounge rooms. Post Photo: Kabin Adhikari
bookmark
Published at : July 4, 2019
Six-seater and four-seater tables are neatly placed in different corners of a spacious room, and it looks like a cafe at first glance.
It could be a restaurant, even a library, but it's not—it's a shared workspace for new startup enterprises or freelancers.
The space at Work Around provides basic office amenities, like the internet, basic furniture and a printer, where individuals or groups can book themselves a space, as an affordable substitute to renting a dedicated office in Kathmandu.
Commonly known as co-working spaces, these alternatives are a relatively new concept in Nepal, but have been popping up in increasing numbers over recent years. Work Around is one of 22 co-working spaces in Kathmandu listed in Coworker, a global website for people looking for shared work spaces.
Work Around, established by Dadhi Ram Poudel and brother Tanka Ram Poudel in 2016, is dedicated to helping young entrepreneurs and startups in Nepal.
"High initial investment is often a setback and obstacle for startups," says Dadhi, "We also faced it while working on a few projects, so my brother came up with this idea to help others like us."
According to Dadhi, co-working spaces like Work Around helps during business startups' pilot phase.
"Initially a startup is just an idea, there is no guarantee whether it'll work or not. Investing a lot of money while it's still uncertain is not possible for many young entrepreneurs," he says.
Work Around charges Rs 40 per person, per hour. Located in Kalopul, it offers daily, weekly and monthly plans of Rs 200, Rs 1200 and Rs 4500 respectively.
With the rise of the gig economy, the number of independent professionals hired by organisations for short periods of time has also significantly increased. New technologies have also made easier for people to start their own businesses. This has been a worldwide phenomenon with 2,188 brand-new co-working spaces opened around the world in 2018.
In many countries, co-working spaces have evolved according to the hosts' requirements to make them more community and design friendly—they have also thrived as community hubs where small business entrepreneurs connect and collaboratewith like-minded individuals.
Some spaces are looking to provide even more than the basic amenities, however, as recently-opened Baluwatar space Rem.work HQ also has a meditation room, lounge with board games, ping pong table, library and a kitchen, as well as its shared office area.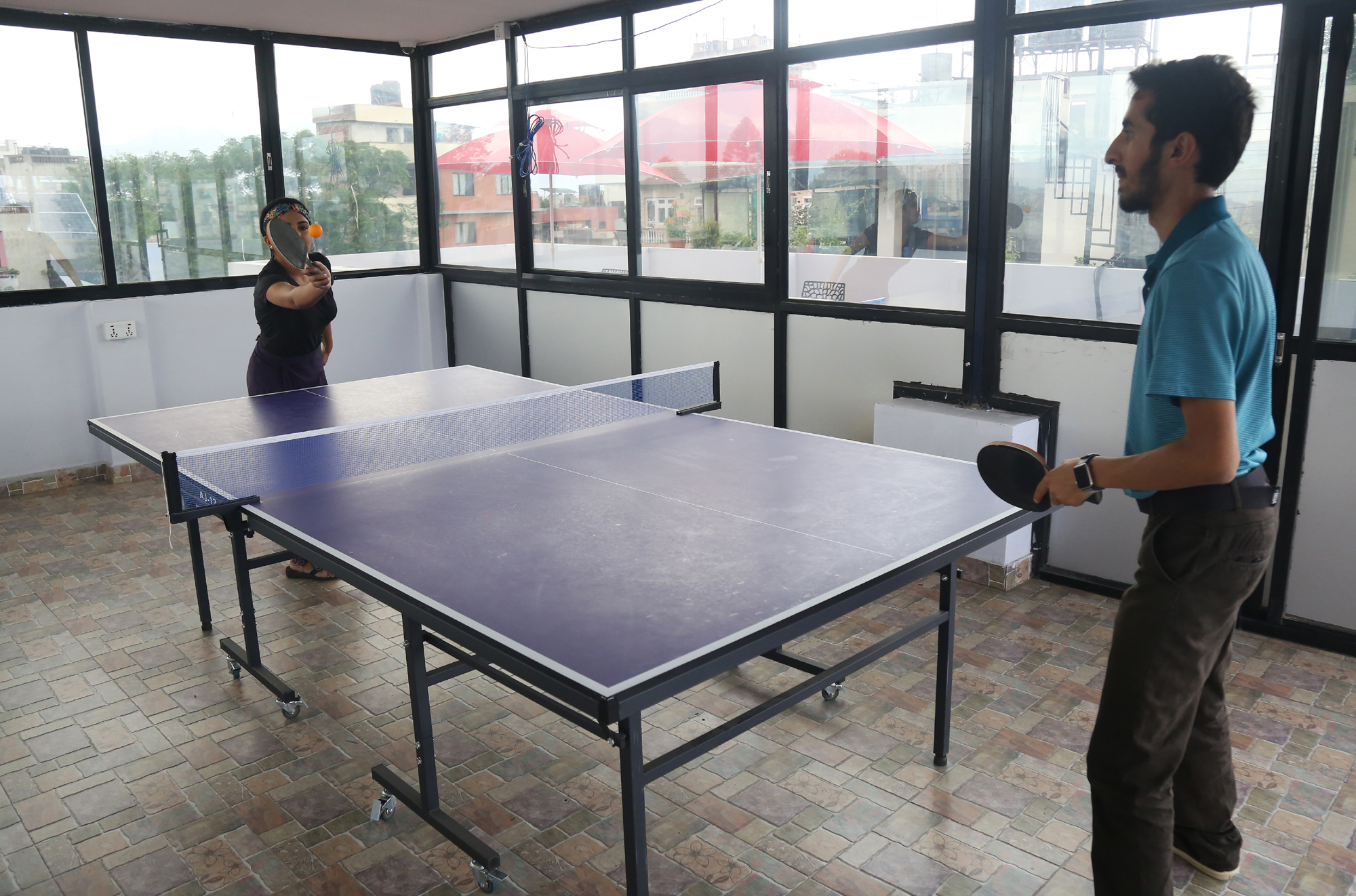 Post Photo: Kabin Adhikari
Rem.work HQ co-founder Nirakar Sharma says he wanted to offer a comfortable and affordable place for entrepreneurs and startups—which according to him is otherwise expensive.
"A co-working space like ours is the perfect solution for a good space for people starting their businesses," says Sharma.
They currently charge Rs 200 per hour for open-plan seating, Rs 6000 per month for a dedicated desk and Rs 24,000 a month for two-person private office. For a six-person office it costs Rs 54,000, monthly.
But co-working spaces weren't a sought after option until a few years back, says Saroj Mahato of Bikalpa Art Center, a co-working space in Pulchowk.
"When we first opened the space in 2014, people would demand private offices and enclosed cabinets. They didn't understand the concept of sharing the office space with other organisations," says Mahato.
But that changed in following years. Many businesses who started in these co-working spaces have succeeded in their ventures and now have their own office space.
Five such businesses, which used the space at Work Around, are successfully sustaining themselves and have moved out, says Poudel.
One such business is Live in Space—an interior design studio.
"We were college students, working with limited resources. We didn't want to waste money on rent so we chose Work Around," says Rustam Lama, the studio's co-founder. It has been a year since they moved into their own space.
"Working at Work Around helped a lot, it was not only cost effective but seeing everyone working motivated us. It was a supportive and peaceful environment to work in," he adds.
Freelancer Binod Dhakal, who has been working at Rem.work HQ for two weeks, agrees with Lama.
"I am mostly involved in a short project. Renting a place, and refurbishing it, for a short period of time is too much of a hassle. Co-working spaces like Rem.work HQ have made it easier for freelancers like me for work," says Dhakal. "If a group has to hold discussions or meetings, they use the meeting room, otherwise they work in the common room. Since most of them use headphones while working in the common room, the place is usually quiet and favourable to work."
---
---