Lalitpur city is taking local initiatives to restore Malla-era Nhu Pokhari
Heritage conservationists and urban planners say Kathmandu should learn from its neighbouring city.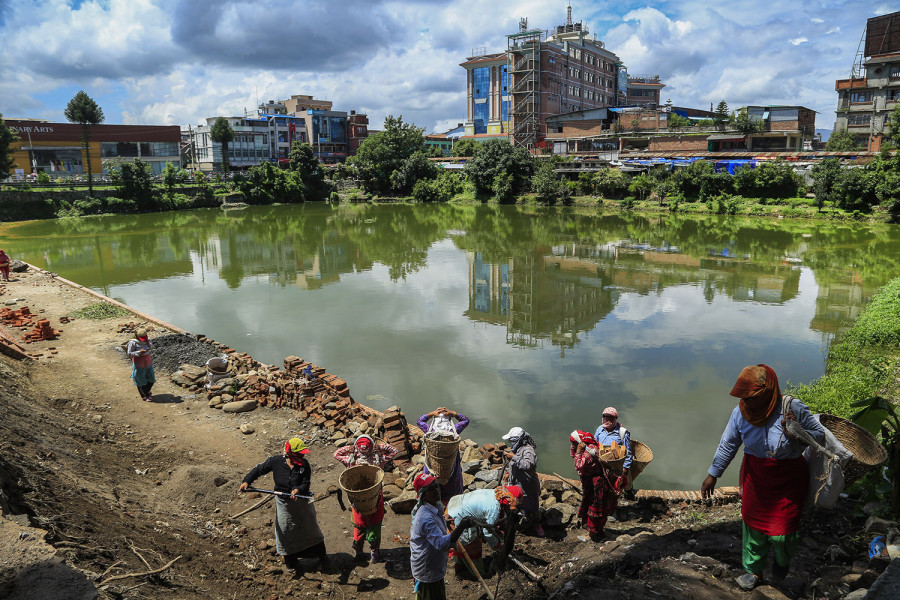 Work underway to restore Nhu Pokhari at Lagankhel in Lalitpur. Prakash Chandra Timilsena/TKP
bookmark
Published at : August 10, 2019
Updated at : August 11, 2019 07:16
Lalitpur
It's a hot, languorous afternoon in Lagankhel. A group of women and men is busy working at Nhu Pokhu (Nau Pokhari), south-east from Patan Hospital, despite the summer heat—beads of sweat trickle down their foreheads.
Some are mixing surki, a concoction of brick powder, lime water and sand; some are going back and forth carrying construction materials. A few others are laying bricks on a retaining wall being constructed on the southern side of the pond.
They are reviving the historic Nhu Pokhu which dates back to the Malla era (12th to 18th century). Until just a few months ago, the pond, situated in Ward No. 5 of Lalitpur Metropolitan City, wore a deserted look. Overgrowth of vegetation and rows of shacks—housing shops and eateries—surrounded the pond, negating its history and heritage.
Today, the pond and its surroundings look different.
Sita Laxmi Kilambu, one of the women working at the pond restoration site, is thrilled by this change. The pond's fresh water today reflects the lush greenery around. "When we began working here three months ago, the pond was teeming with filth and household waste. Many of us nearly fell ill cleaning it," said Kilambu.
The 37-year-old woman is part of the same team of workers and artisans who revived several historic ponds in Bhaktapur, including Bhaju Pokhari and Siddha Pokhari. And now they have been commissioned by the Lalitpur Metropolitan City to restore Nhu Pokhu.
"Ponds like these are very important for a city like ours, as they work as water rechargers. Reviving this pond may also help revive traditional water spouts of Patan," said urban designer Kumar Shrestha, who is supervising the project.


The pond is being restored by using traditional materials. To ensure this, the city office has formed an 11-member consumer committee, whose job, among others, is to monitor the project's progress and enforce the use of traditional materials and components.
"My concern is to restore this pond to its original form by using traditional materials," said Bikash Man Shrestha, the chairman of Ward No. 5, who took the initiative of clearing the shacks built next to Nhu Pokhu to create an open space for the locals. He worked with the local community to remove around 120 shacks from the southern side of the pond. "We are also planning to clear other structures built on the pond's property, including the ward office's temporary building and a plant nursery," said Bikash Man.
The Lalitpur Metropolitan City, which revived the Pimbahal Pokhari not long ago, has allocated Rs 5 million for the latest pond restoration project.
Lalitpur Mayor Chiri Babu Maharjan said plans are also afoot to restore the city's other ancient ponds like Purna Chandi and Sapta Patal Pokhari. "For this purpose, the city has allocated a budget of Rs 25 million in this fiscal year," said Maharjan.
Heritage conservationists and urban planners have welcomed this initiative of Lalitpur at a time when Kathmandu seems to be floundering to restore Rani Pokhari, one of the city's many iconic landmarks. The Rani Pokhari restoration project has been fraught with controversy, imprudent judgment, and an apparent power tussle between Kathmandu Mayor Bidya Sundar Shakya and his deputy Hari Prabha Khadgi. After three years since the work started and millions of rupees spent, the project looks nowhere near completion.
Sudarshan Raj Tiwari, an architect and former dean of the Tribhuvan University's Institute of Engineering, said what Bhaktapur and Lalitpur are doing to restore and conserve their heritage is exemplary.
"Kathmandu should learn from its two neighbouring cities," said Tiwari. "If it cannot restore Rani Pokhari, maybe the city authority should think about hiring the same set of workers and artisans who rebuilt those ponds in Bhaktapur and Lalitpur."
---
---