Restaurants and cafes in Kathmandu defy government order
If big stores can welcome huge crowds, why can't we open for our customers? owners ask.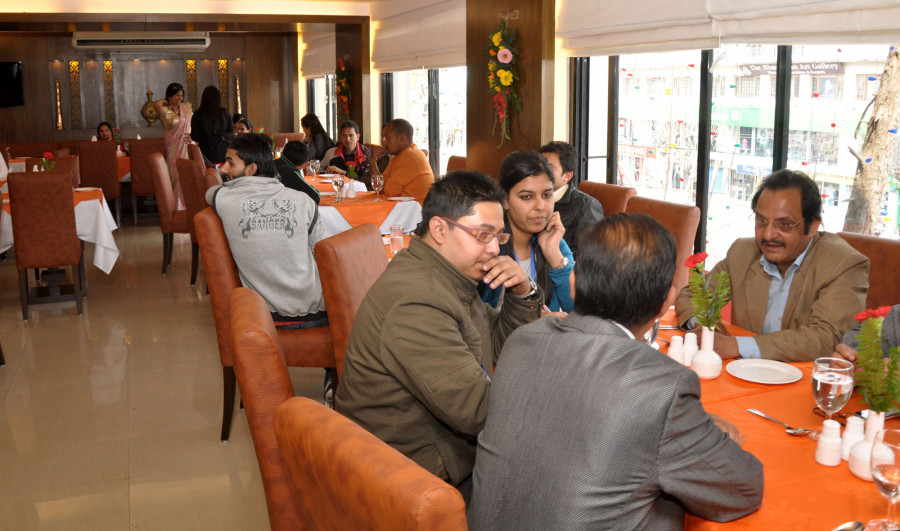 Restaurant owners have accused the government of treating their business unfairly compared to large department stores that still serve a large number of people. Post file photo.
bookmark
Published at : June 26, 2020
Updated at : June 26, 2020 17:25
Kathmandu
A handful of restaurants and cafes in the Kathmandu valley have started allowing customers to order and dine on their premises going against the government's order to operate only takeaway services.
The Post's observation at a number of restaurant hubs such as Jhamsikhel, Thamel, Durbarmarg, and Lazimpat showed that restaurant owners, fed up with the lockdown, have started defying the order. Some restaurants have placed "only takeaway services" signs on their doors, but people were seen enjoying their food inside.
"We don't have an option. With the government order, the situation is that we have to open now or remain closed forever ," said Araniko Rajbhandari, president of Restaurant and Bar Association of Nepal.
Owners of Restaurants, most of which are on the brink of collapse, accuse the government of treating their business unfairly compared to large department stores that still serve a large number of people.
"Everyone is on the brink. And many restaurant owners now feel rebellious, and want to open up in spite of the government's order," said Rajbhandari. He said that the 15-20 percent restaurants in the valley have started operating with dining facilities from Wednesday. More restaurants are likely to follow suit.
The gross value added, which measures the value of goods and services produced in a sector, for the hotel and restaurant business expanded by 9.8 percent in the 2017-18 compared to the previous year as the sector experienced steep growth mainly due to a surge in tourists inflow along with end to power cuts and general strikes.
Hotels and restaurants contributed 2 percent to the country's gross domestic product in 2017-18.
But the Covid-19 pandemic has changed the graph for the sector with most indicators heading south. During the current fiscal, which ends mid-July, the gross value added for the hotel and restaurant sector has been estimated to plunge by 16.30 percent.
Entrepreneurs said that the current crisis was bigger than the 2015 earthquake that was followed by the Indian trade embargo.
With mounting pressure to ease the lockdown, the Cabinet on June 10 decided to change its rules to resume economic activities gradually, and the government allowed restaurants to resume takeaway services.
As per the rules, restaurants and cafes are allowed to deliver food to the customer's doorstep or customers can take away food from the restaurants.
But within two weeks of the government decision, restaurant owners now want to rebel as the government has not prepared a roadmap or a deadline for the sector to reopen.
Hot Chilly Restaurant in Bangemuda, Kathmandu started operating from Wednesday, and has been providing both takeaway service and dining inside the restaurant.
"As we have rent to be paid and bank loans serviced, we started providing both services," said Ajay Shrestha, an administrator in the restaurant. "But we allow only a few customers to dine." He said that people are still afraid to step outside their homes, let alone to dine at a restaurant.
Since the lockdown began, the restaurant business has not received a single relief package from the government and owners are under pressure to pay rent, employee's salary, taxes and service loans, he said.
"What about the big grocery stores? They are also open. We have been treated unfairly."
As per the operational guidelines with health protocol for the tourism sector prepared by Nepal Tourism Board, the maximum permissible occupancy of a restaurant should be calculated based on current physical distancing guidelines—that is, the chairs should be more than 1 meter apart.
Similarly, a full medical kit recommended by health professionals should be available on the premises, with at least two members of the team who know how to use it. Hand washing upon entering the premises, after clearing the tables, after transactions, and after every toilet visit has been advised for employees.
A thorough hand wash every 20 minutes is required for restaurant staff. For customers, the guideline has suggested making use of online payment or card payments rather than cash payments. Proper ventilation of the premises and limited use of controlled air appliances has been recommended. Restaurants also need to note the name, contact details, time and date of visit of each customer so that they can be contacted if a positive case is identified at the restaurant.
Rajbhandari said that he also opened his ND's Café and Restaurant on Wednesday. "We know the safety measures. If we take measures like maintaining distance, wearing a mask and gloves, putting on hand sanitiser, and taking temperatures, there is no reason to remain closed."
Netra Prasad Subedi, director general at the Department of Commerce, Supplies and Consumer Protection said that local governments are responsible for monitoring restaurants.
"It's their responsibility to inspect whether the market is following the government rules or not."
There are around 2,500 tourist-standard restaurants in Kathmandu, Pokhara and Chitwan and these establishments are estimated to have a combined investment of Rs 25 billion.
---
---