Kailali landslide survivors say government left them high and dry
Around 100 families have moved to the Tarai plains and set up a camp inside a community forest.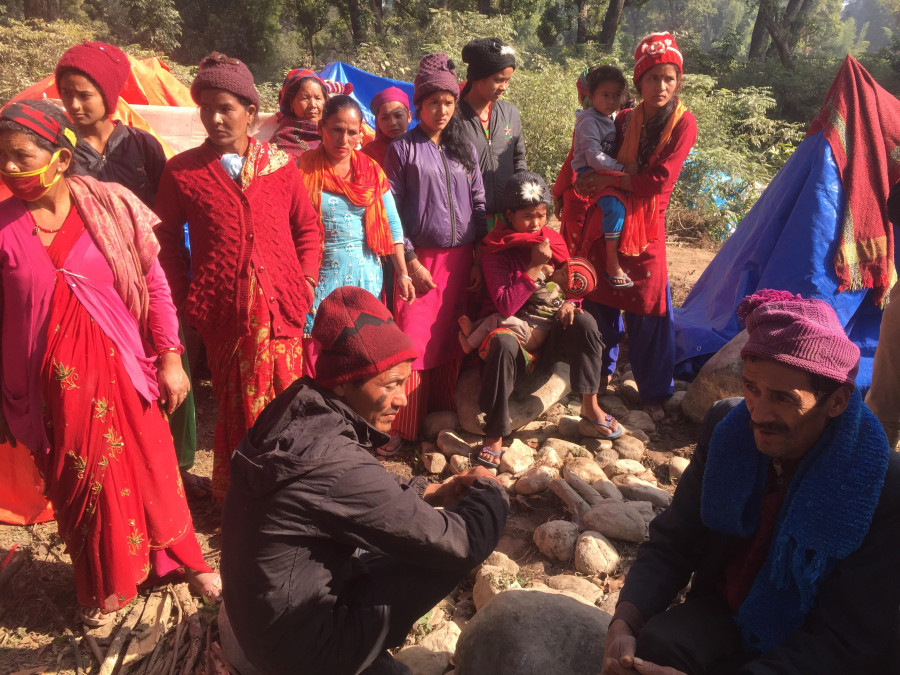 Post photo : Mohan Budhaair
bookmark
Published at : December 21, 2020
Updated at : December 21, 2020 08:33
Kailali
Scores of landslide displaced families from Chure Rural Municipality in Kailali have descended to the Tarai plains and set up a camp inside a community forest of Gauriganga Municipality, where they have been living since last week.

Landslides in July and August of this year had displaced around 200 families in Wards 4, 5 and 6 of Chure Rural Municipality. People affected by the disaster say the authorities concerned have taken no initiative for their rehabilitation and many families are living in community buildings or with their relatives and neighbours.
Those families who have no place to go have moved to Gauriganga Municipality. There are around 100 families living inside Pashupati Community Forest.
"We did not come here to occupy the forestland. We came here to draw the government's attention for our safe and immediate resettlement," said Tikaram Karki, leader of the landslide survivors' struggle committee.
He said the forest authority has threatened to evict them.
"We have nowhere else to go. The government should address our concerns."
Many of the families lack warm clothes and blankets to protect them from the cold. They also have no safe drinking water in the forest.
There is a risk of children, elderly people, pregnant women and new mothers getting sick.
"We stayed in school buildings, on the roadside, at our relatives' homes and even in landslide damaged houses for five months. But the authorities did not pay heeds towards our hardship. We came here to show our difficulties to the authorities," said Tikaram.
He added the other landslide survivors were also expected to join them as they plan to organise protests to exert pressure on the government.
The flood displaced people are angry at the government and the people's representatives for ignoring their situation.
"The government did not come to our villages to assess our situation. How much longer are we expected to live like this?" said Ambu Bohara.
Another landslide survivor Sumitra Devi Karki said her family and fourteen others lived in a school building for five months after landslides ravaged their homes.
"After the school resumed the classes we had nowhere else to go," said Karki. "We came here to draw the government's attention to our plight."
Dhan Bahadur Roka Magar, chairman of Chure Rural Municipality, said the local government could only offer emergency relief to the landslide survivors.
"We repeatedly requested the provincial and federal governments to help us resettle the landslide displaced families, but to no avail" he said.
---
---