Tourism Board says it will scrap agreement with Michael Kobold if fire trucks don't arrive by March
In private emails raising funds for the fire truck expedition, the German watchmaker admitted that the project was a commercial venture, not a charity as he's been advertising to the Nepali people.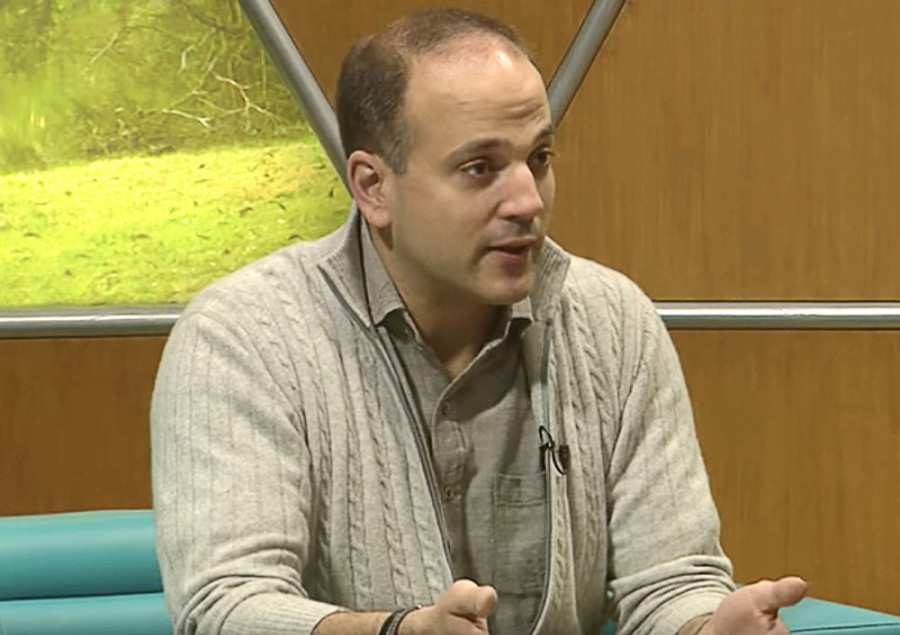 A TV grab image of Michael Kobold. Courtesy: Kantipur TV
bookmark
Published at : January 9, 2019
Updated at : July 18, 2019 12:59
Kathmandu
The Nepal Tourism Board is seeking legal counsel to scrap its agreement to grant $200,000 to German watchmaker Michael Kobold for his fire truck expedition if the trucks don't arrive by March.
The Tourism Board is considering suing him for breach of contract following a Kathmandu Post report last month that revealed Kobold had signed the agreement on behalf of a non-existent company, board's CEO Deepak Joshi told the Post. The board has already paid Kobold $100,000.
The Post's investigation into Kobold had detailed a string of fraud, lies, and outstanding payments to Nepali entrepreneurs across the country.
"We are going to meet with our team of legal experts next week and decide what would be the best way forward, given all the things that have surfaced about his [Kobold's] character," Joshi said. "It's tricky because it's an ongoing project."
Joshi said the board has already notified Kobold about the possibility of the termination of the contract if he fails to organise the expedition by March this year. "We cannot afford any more delays," he said.
Sources privy to the agreement between the tourism board and Kobold said that the relationship between the two had already begun to sour long before the Post story and that the board had been looking for a way out of the agreement.
"The NTB security had been asked to not allow Kobold up to the offices, but he would push through and go in anyway," said Lokendra Kunwar, Kobold's accountant.
Senior officials had grown frustrated with Kobold's aggressive behaviour, which included banging desks during meetings and demanding additional funds for the expedition despite being told the board couldn't fulfill his requests, Kunwar said.
The Post reached Kobold for a comment but did not receive a response.
Joshi, who has been in charge of the tourism board since 2015, admitted that his office had failed to conduct proper research into Kobold's background before accepting his proposal.
As a unit operating independently of the government, the Nepal Tourism Board operates under a different set of rules and regulations and does not have the same level of financial scrutiny as other government entities. The board was without a CEO for four years after Prachanda Man Shrestha's tenure ended in 2011 and its acting CEO, Subash Nirola, was suspended on corruption charges.
Last year, the Special Court indicted Nirola and two others of embezzling millions of rupees and handed him a seven-year jail sentence. Nirola was found guilty of submitting counterfeit bills, inflated invoices, fake travel bills and spending the board's budget on personal use.
"This has been a huge lesson for us," Joshi told the Post. "I have already advised my staff to do their own research and conduct a thorough background check of any individual and organisation that comes to us with proposals, regardless of the glowing recommendations they may come with."
In the memorandum of understanding signed between Kobold and the tourism board in January 2017, Kobold had pledged to bring in up to 10 fire trucks, driven by international celebrities as part of his 'Nepal Fire truck Expedition'. He had also guaranteed social media endorsements for the project from Hollywood influencers like Johnny Depp, Lady Gaga, and Rihanna and coverage from at least seven international media outlets, including a two-part special for the American public television network PBS and an article by a former New York Times Magazine editor.
Following the Post's investigation, Kobold has continued to post updates on his Facebook and Instagram, assuring followers that the fire trucks would soon be on their way and accused the Post of inaccurate reporting without responding to any allegations. The Post offered Kobold a thorough interview to address the allegations in its report, but he did not respond to the emails.
Besides the tourism board, Kobold also received a total of Rs2.5 million from Waling Municipality Office and Biratnagar Metropolitan City Office. The funds were transferred to the account of Experience Nepal Films, a company registered under the name of Kobold's former employee, Roshan Ghimire, whose signature appeared on the contract between Waling Municipality and Experience Nepal. However, in an interview with the Post, Ghimire denied having signed the document and said that the signature was fraudulent.
According to Ghimire, Kobold also used a majority of the funds he had collected to pay for his bills at the Hyatt Regency, the upscale hotel where he had been staying during his time in Kathmandu. Ghimire said Kobold asked him to write a cheque for Rs 1.5 million in March last year, which went towards paying for the pending bills at the five-star hotel.
The Post obtained a copy of the bank statement which showed a transaction for the same amount but was not able to independently verify if that check was made out to Hyatt.
Besides government institutions, Kobold also received funding for his project from several private businesses and individuals, according to his former aides.
Multiple sources told the Post Jawalakhel Distillery and Tiger Palace Resorts paid Kobold Rs 5 million and Rs 2.5 million respectively for the expedition. The Post reached out to officials at both organisations for comment, but did not receive a response by publication time.
***
While in Nepal and traveling abroad, Kobold has been promoting the fire truck project as a charitable initiative. But in private emails—which the Post obtained copies of—to individuals who paid to be part of the expedition, he wrote the project was always a commercial enterprise.
In 2017, a New York-based investor who paid Kobold $60,000 to be part of the fire truck expedition wrote to him expressing his disappointment over repeated delays in the project and asked for a refund. Kobold refused to return the money, writing: "... No, you can't have your money back but you can look forward to an incredible adventure."
After the investor, who spoke to the Post on condition of anonymity, demanded to see a full accounting of all donations and expenses related to the charity, Kobold told him that the project had always been a commercial enterprise and not a charity.
"We have spelled this out from the earliest beginnings of the expedition…" he wrote, "...you didn't write a cheque to a non-profit but to a watch company, and not as a donation, but as a fee for a seat on the expedition."
Kobold's email are in contradiction to how he has long characterised the expedition on social media—as a selfless charitable venture. In a promotional film published by Kobold in 2016, the expedition's leader Russell Brice says the project is not a commercial venture. "We're not coming here to make money, we're coming here to help the people of Nepal," he said in the video.
The expedition, the investor from New York told the Post, was originally set to take place in 2015 but was repeatedly delayed. In November 2015, Kobold announced the expedition had been postponed indefinitely due to India's blockade of Nepal and wrote: "...late February or middle of March 2016 is a more likely timeframe for the expedition to depart Kolkata." A year later, the expedition had been postponed once again and the new time frame of the expedition was set for the first week of September 2017.
Although the investor initially believed Kobold's explanations, he said he started having doubts after Kobold wrote an email in September 2017 soliciting additional funds.
"He said he was short of $200,000 and that a title sponsor fell through following a 90 percent drop in stock value, which is complete bullshit," said the investor who was introduced to Kobold by a mutual friend.
"When I questioned his finances, Kobold basically said that this is a commercial enterprise and not a charity," he said. He then had a heated telephone conversation with Kobold and has not had any direct communications since.
The investor said that Kobold could have managed to solicit contributions from at least 20 people, each of whom donated $30,000 to be part of the expedition.
"I was just appalled, absolutely appalled when I read that he has been defrauding small governments," he said, referring to the Post's report last month. "He's been travelling all around the world, fooling people and till date has not delivered on anything he said."
---
---