Covid cases rise more than two-fold in last two weeks
Experts call for increased vigilance and awareness drive about the risks.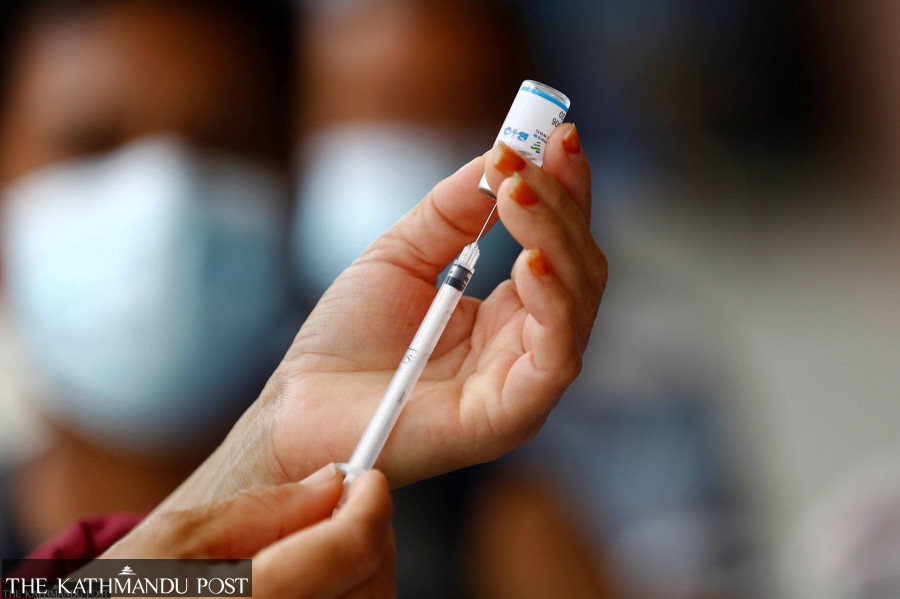 Experts say authorities can reinforce face masks, launch awareness, and encourage people to take booster shots. Post File Photo
bookmark
Published at : June 27, 2022
Updated at : June 27, 2022 09:29
Kathmandu
Last week, two people infected with Covid-19 came in contact with doctors at Danfe Care, an organisation that provides telemedicine services. Officials at the organisation said it had been several months since anyone infected with Covid contacted them for medical help.
"Patients have started contacting us for medical advice," said Dr Prabhat Adhikari, an infectious disease and critical care expert, who is also the founder of the organisation.
"Although the condition of both the patients, who are fully vaccinated, is normal, patients again started seeking medical help means cases might have increased in communities."
According to the data provided by the Ministry of Health and Population, daily numbers of polymerase chain reaction tests show an uptick in new cases. Of 6,675 polymerase chain reaction tests carried out in the last five days, 137 samples tested positive for Covid. Daily positivity rate is over two percent, which was less than one percent until a few days ago.
Active cases stand at 192 throughout the country on Sunday. The number was 93 on June 14.
Public health experts say although there is no need to panic as the rise in cases is small, the timing is concerning as India has been reporting a higher number of Covid cases of late.
Covid cases have been rising in several states of India, including in New Delhi and Maharashtra, where thousands of Nepalis live and work and frequently travel back and forth between the two countries.
India on Sunday reported a total of 11,739 new Covid-19 cases and at least 25 deaths in the last 24 hours. Reports suggest the daily Covid-19 cases are on the rise. The daily positivity rate was 2.59 percent on Saturday, while the weekly average is 3.25 percent, according to media reports.
On Friday India had recorded 15,940 new Covid cases.
With the decline in new cases after the third wave of Covid-19 driven by the Omicron variant of SARS-CoV-2, that started in mid January this year, life has become normal. The decline in new cases could have made people complacent— many have stopped following safety measures including wearing face masks, washing hands and maintaining social distance—despite the fact that the virus is circulating in communities.
"People are getting infected every day and many infected people might not be testing,"said Dr Ravi Shakya, director at Patan Hospital. "Most of the people who seek polymerase chain reaction tests at our hospital are those going abroad."
Experts say authorities can reinforce face masks, launch awareness about the growing risks of the infection and encourage people to take booster shots.
Despite the availability of sufficient Covid vaccine doses, only 21.4 percent of the total population or 6,250,027 people have received booster shots as of Sunday.
Authorities concerned have even failed to administer shots to 12 to 17 year olds, despite announcing a plan.
"All people who were administered a second dose three months ago should be given booster shots,"said Dr Biraj Karmacharya, an epidemiologist.
As vaccines are the only reliable and proven means to lessen the severity and death from Covid, doctors say, one should not wait until a new surge to take booster shots.
Experts say the rise in new cases in India is a matter of concern since there is an uninterrupted cross-border movement every day. Nepal and India share an 1,800-kilometre open border through which thousands of people cross over into each other's territories on a daily basis.
"We must be vigilant, closely monitor the surge in India and what measures are being taken in our own country," said Dr Sher Bahadur Pun, chief of Clinical Research Unit at Sukraraj Tropical and Infectious Disease Hospital. "Our own experience shows that a new surge comes if cases start rising in India rapidly."
Apart from focusing on booster shots, authorities should carry out whole genome sequencing on the swab samples of infected people to know if there is any new mutation in the virus, experts say.
Doctors also call for monitoring whether the hospitalisation rate has increased or not.
"Authorities should also revive contact tracing, quarantine and isolation," said Adhikari, an infectious disease expert. "Spread of infection can be contained, if intervened in the early stage."
On Sunday, 29 people tested positive (21 in 1,077 polymerase chain reaction tests and eight in 653 antigen tests) throughout the country.
Nepal has so far received 55,584,770 doses of Covid vaccines of various brands—AstraZeneca, Vero Cell, Moderna, Janssen, Sinovac-CoronaVac, and Pfizer-BioNTech—including paediatric doses.
As many as 20,237,066 people or 69.3 percent of the total population have been fully immunised so far.
---
---