Nepal receives over 2.3 million Moderna doses on Monday and Tuesday
Deliveries part of 4 million jabs purchased through COVAX.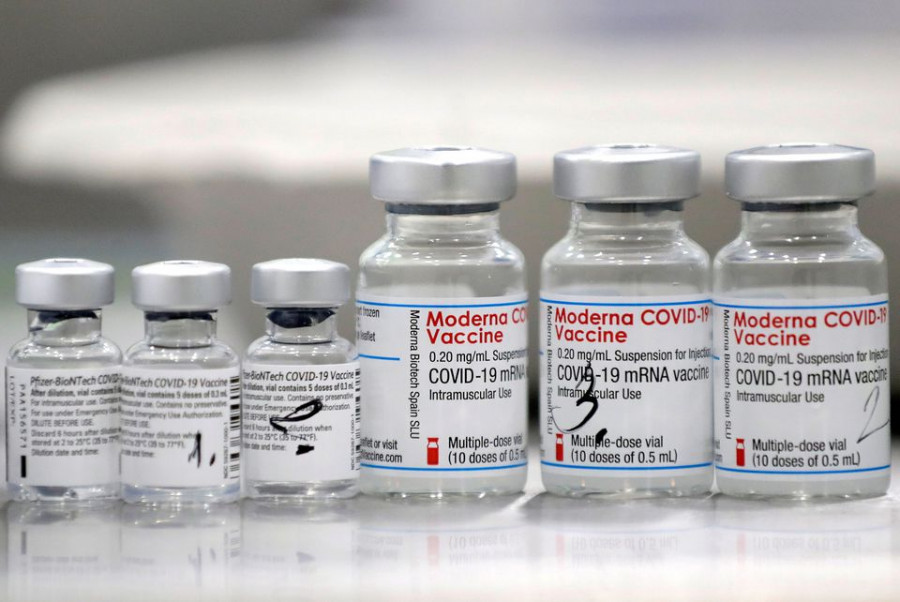 Reuters
bookmark
Published at : February 1, 2022
Updated at : February 2, 2022 07:40
Kathmandu
Nepal received 2,339,200 doses of the Moderna vaccine on Monday and Tuesday.

The doses are part of the four million doses purchased by the government from the US manufacturer of the vaccine last August.
The doses were purchased through COVAX's cost-sharing scheme with the World Bank's loan.
"We have received all remaining doses of the vaccine," Badebabu Thapa, a senior official at the Logistic Management Section under the Department of Health Services, told the Post. "The doses arrived on Monday and Tuesday."
The first consignment of 1,660,800 doses was delivered on January 24.
The Ministry of Health and Population plans to administer the doses to children between 12 and 17 years.
The government started inoculating children in the age bracket of 12 to 17 years with the Moderna vaccine supplied by the COVAX facility from December 20 last year. The facility had supplied 3,712,000 doses of Moderna vaccine in December.
Some children of the said age group from 20 districts, including the three districts of Kathmandu Valley—Kathmandu, Bhaktapur and Lalitpur—were also inoculated with Pfizer-BioNTech vaccine supplied by COVAX.
Earlier, the Health Ministry had said that it would administer the Moderna vaccine to children of the said age group only in 57 districts. But it later announced that the Moderna vaccine would be given to children in the said age bracket across the country after confirmation of the arrival of sufficient doses of the vaccine.
The vaccination of children of the said age group is ongoing in schools in several districts.
Nepal needs to vaccinate around 26 million of the 29.1 million population, as around three million are children under five years of age. Authorities had decided to inoculate children between five and 11 years but no deal has been reached so far to purchase vaccines for them.
Nepal so far has received 45,737,840 doses of vaccines, including AstraZeneca, Vero Cell, Moderna, Janssen and Pfizer-BioNTech.
As of Monday, 14,204,270 people have been immunised against Covid-19.
---
---