As countries mull booster shots, experts say Nepal should focus on vaccinating all
Around 56 percent of Nepal's population is still unvaccinated.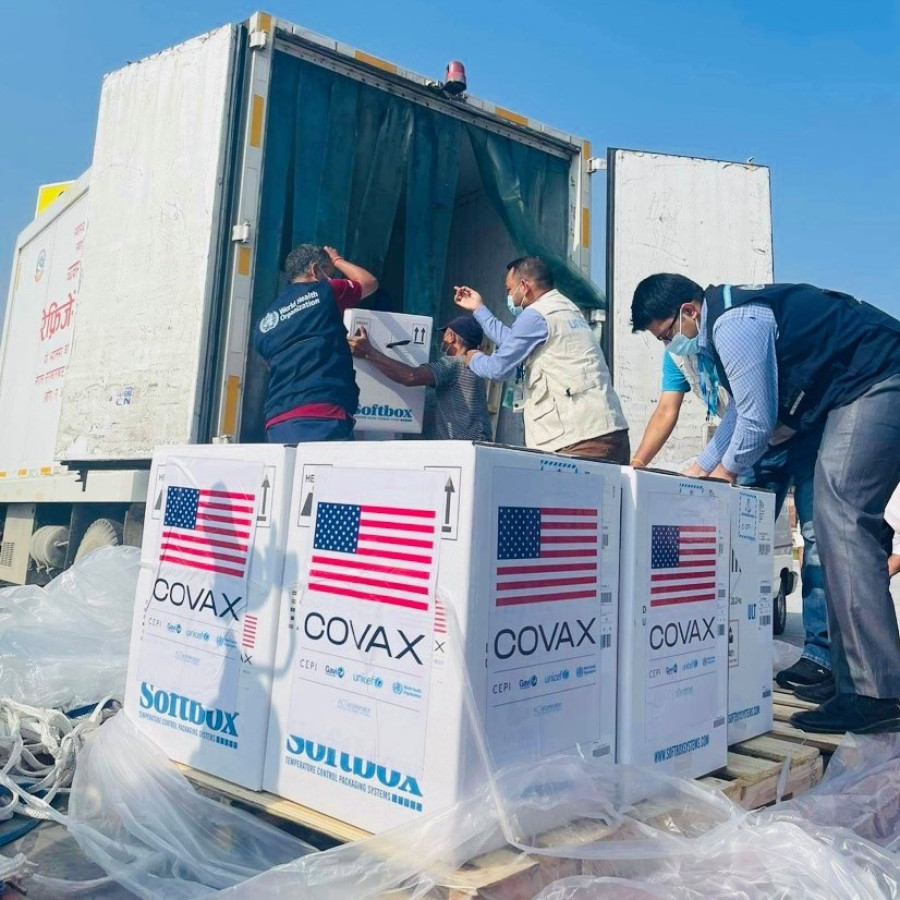 Nepal on Monday received 100,620 doses of Pfizer-BioNtech vaccine sent by the US. Photo Courtesy: US Embassy Nepal
bookmark
Published at : October 26, 2021
Updated at : October 26, 2021 09:46
Kathmandu
Revising its earlier vaccination plan, the Ministry of Health some three months ago said that it would vaccinate 78 percent of the country's over 30 million population against Covid-19. The revision included vaccinating those between 12 and 14 years of age. Previously, the ministry had planned to inoculate people above 14 years.
As of Monday, only 21.9 percent of the total population has been fully vaccinated.
Now close to two years into the pandemic, the definition of "fully vaccinated" has become somewhat difficult to pin down.
The level of antibodies against Covid-19 in fully vaccinated persons with Vero Cell developed and manufactured in China and Covishield, the AstraZeneca type vaccine manufactured in India, drops after 60 days, according to a recent study carried out by the Nepal Health Research Council.
Until a few weeks ago, receiving one dose of Johnson & Johnson vaccine (Janssen) or two doses of other vaccines, meant fully vaccinated. However, in the second week of October, an expert panel of the US Food and Drug Administration recommended a booster dose of Janssen.
Several international studies suggest that antibody levels decline after two to three months from the date of "full vaccination."
The term "fully vaccinated" becomes even more confusing when scientists are talking about booster shots and breakthrough cases. A breakthrough case is when a person tests positive for Covid-19 at least two weeks after becoming fully vaccinated (either receiving a one-dose vaccine or the second dose of a two-shot vaccine).
While Nepal still has a long way to go when it comes to "fully" vaccinating its population–around 56 percent of the population is still awaiting vaccination–debates have arisen if the government should start thinking about booster doses.
Some experts say it's time authorities started considering booster shots while scaling up drive to inoculate the rest of the population.
"Several national as well as international studies show that antibody level in vaccinated people wanes over the time," Dr Anup Subedee, an infectious disease expert, told the Post. "Authorities should also take decisions on booster shots for Nepalis. If not all can be covered, at least people with compromised immunity and frontline health workers should be the priority."
Drug regulatory authorities of Europe and the United States have recommended booster shots to older and at-risk people and to those having compromised immunity.
Experts fear that if the rich and developed countries start hoarding or book booster shots in advance, countries like Nepal may not be able to secure sufficient doses of Covid-19 vaccines for its population.
"After all we have to protect our population from Covid-19 infections, prevent the third wave and continue our economic activity," said Subedee. "If we have to take booster doses, why not make the decision on time."
Some studies also suggest that 'mix and match' of booster doses provide lasting immunity.
Subedee said that authorities should also think about whether the booster shots of the Pfizer-BioNTech vaccine can be provided to the elderly.
Nepal needs to vaccinate around 78 percent of its over 30 million population—or around 25 million people. Since around 4-5 million people are said to be living abroad, the government needs to vaccinate around 19-20 million people. For this, the country needs a little over 40 million doses of double-shot vaccines.
Some doctors, however, say the government first needs to focus on inoculating all eligible people before considering booster doses.
"As we have not yet provided vaccines to hundreds of thousands of people, we should first think of providing the first two doses of the two-shot vaccines to all eligible people," Dr Mingmar Gyelgen Sherpa, former director general at the Department of Health Services, told the Post. "If we make a decision on booster shots immediately, people with access might get them, while others in need could be left behind."
According to Sherpa, the best way to stop Covid-19 cases from exploding is vaccinating all eligible people first.
Nepal so far has received 18,958,210 doses of Vero Cell, AstraZeneca, Johnson and Johnson, and Pfizer-BioNTech vaccines. A majority of them have been donated by the governments of China, India, Japan, the United States, Bhutan and the United Kingdom.
Nepal so far has bought 12 million doses–10 million doses of Vero Cell from China and 2 million doses of Covishield from India. China tops the list as the biggest donor of vaccines.
The US, Japan and the UK have provided vaccines in partnership with COVAX, an international vaccine-sharing scheme backed by the United Nations. The COVAX facility, which has committed 13 million doses, enough to inoculate 6 million people, has so far directly provided 348,000 doses of Covishield vaccine.
Nepal on Monday received 100,620 doses of Pfizer-BioNtech vaccine sent by the US.
After a deadly second wave in April-May, there has been a decline in Covid-19 cases in Nepal, but experts say there is no room for complacency.
On Monday, 776 people tested positive for Covid-19 (673 people from 8,284 polymerase chain reaction tests and 103 from 2,580 antigen tests).
In the last 24 hours, 13 people died of Covid-19 infections, according to the Health Ministry. The number of active cases stands at 10,360 throughout the country.
So far, 6,647,322 people (21.9 percent of the total population) have been fully vaccinated.
But experts say as the pandemic has left even scientists perplexed, more debates are likely on "fully vaccinated" and "full protection".
They advise that as the government continues its vaccination drive, it should also inform the public what the terms "full vaccination" and "full protection" mean when it comes to Covid-19.
With vaccine delivery from COVAX likely to get delayed, experts also suggest that the government should ramp up efforts to secure doses from other sources.
"As the developed countries have already started booking vaccines for booster shots, authorities should not rely fully on COVAX," Dr Prabhat Adhikari, an infectious disease and critical care expert, told the Post. "The government should focus on purchasing vaccines directly from vaccine manufacturing companies and on its own."
Last week, Reuters reported that India was delaying committing supplies of vaccine to COVAX.
The government, however, looks confident about receiving more vaccines "soon" from different sources. China has separately pledged to donate 1.6 million doses and 2 million doses. Their delivery dates, however, have not been fixed yet. China has also offered to provide 1 million doses of the Sinovac-CoronaVac to Nepal.
Nepal is also in the final stages of signing a deal to buy 6 million doses of the Pfizer-BioNtech vaccine.
Meanwhile, officials at the Health Ministry said the government has not yet thought about administering booster shots.
"As we have to vaccinate over 56 percent of the total population, our priority will be to provide the first two doses to all eligible people," Dr Roshan Pokhrel, secretary at the Health Ministry, told the Post. "The government will take a decision if it has to, but as of now the World Health Organisation also has not recommended booster shots. Our current focus is on securing enough doses to vaccinate the rest of the population."
---
---