It's time to climb the mountain
We need politicians who have the courage to take on the bureaucracy. If not, this system will never change.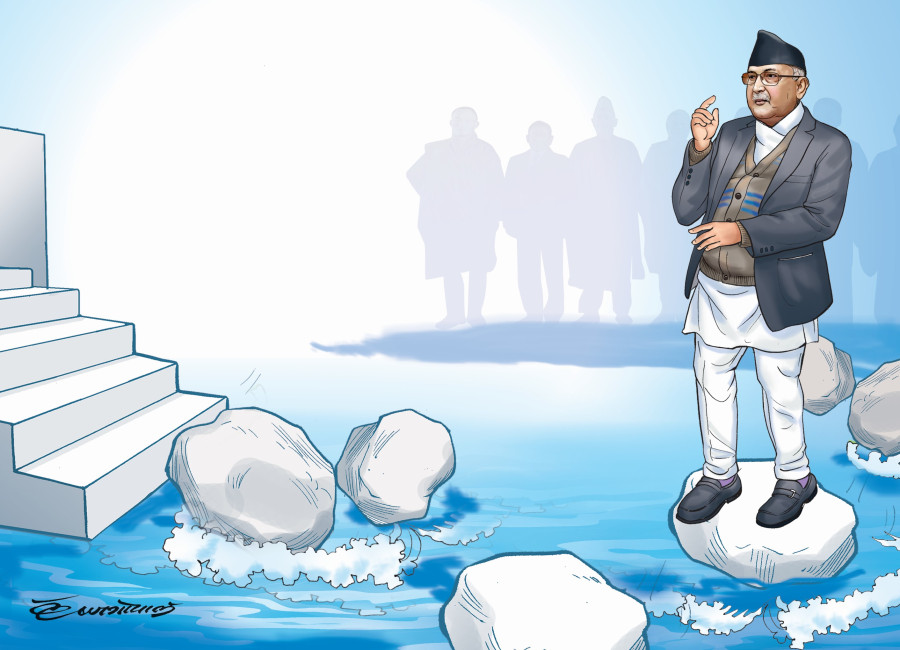 Krishna Gopal Shrestha/TKP
bookmark
Published at : November 2, 2019
Updated at : November 2, 2019 07:44
Nirmal Purja has done it. He has now set a world record for climbing 14 highest peaks in less than seven months and this record will probably never be broken. Nirmal had an all Nepali team and this shows that we Nepali can work together and be successful unlike our clowns, civil servants and contractors who never complete their tasks on time and within their budget. People like Purja should get a medal from our Madame President instead of fake VAT-bill byaparis and other controversial figures.
Purja has an MBE from the Queen in England. Someday, he might get knighted but I don't know if he has British citizenship yet. I think it's time our government give at least a 'green card' to our NRNs abroad. Let us even open our hills to rich foreigners. I think a lot of rich folks from Hong Kong would love to buy our hills and build villas. We can tax them a little bit more if the land value appreciates and they want to take their money back home. If most of the buildings in Manhattan can be owned by foreign entities then why are we scared of foreign investors in our real estate market?
I think it's time we follow the 'Bhutan' policy when it comes to tourism and just follow the rulebook from China and India when it comes to attracting foreign investors. But of course, the only folks who really don't want this all to happen are our civil servants. Our bureaucracy is bloated and corrupt. I think it's time to realise our civil servants have destroyed this country and help our politicians to loot more. We need politicians who have the courage to take on the bureaucracy. If not, this system will never change. I think it's time our civil servants took responsibility for their incompetence and resistance to change and do the right thing.
Maybe our politicians should learn a thing or two from Purja and his team. Climbing Everest or any other mountain requires mental and physical endurance. Most of our politicians have neither and maybe that's the reason why we are still stuck at the base camp when it comes to the socio-economic development in Nepal. Purja could not have done it without the help of his team members and our sherpas are the true heroes of Everest. I think it's time our government set a fixed amount folks need to pay to our sherpas for helping them to climb our mountains. I think a minimum of ten thousand dollars is a good amount. We need to make Everest more expensive so that our sherpas are paid better and we can also minimise traffic jam up there and cut down on trash as well.
Oli is not feeling well. Let's hope he gets better soon. I think it's time Oli fulfilled his side of the bargain and let our emperor move into Baluwatar. Our greatest communist government on earth sometimes forgets that the reason we voted for them was that we thought they would be better than the kangresis. But it seems that even with the two-third majority, our Oli government still acts like they are in the opposition instead. The recent arrest of two artists has led us to question our government's intentions when it comes to freedom of speech, press and religion.
Our comrades are here today because they fought against the system that was against our right to voice our opinion. And they should not forget that they may bring out new laws and ban everything in this land but one day, a new player will emerge and our old political parties might be banned as well. So our comrades should stop shooting themselves in the foot. Power does not last forever. Elections will happen and Nepali voters are not ignorant fools. We will have no choice but to give the other chors a chance to loot us all again come next election.
We all know that our emperor is still in the game because he ditched one partner for another. And who knows, he may do the break-up act again to fulfil his own self-interest. It's about time our political parties stop supporting their own cadres even when they have committed heinous crimes. This culture of impunity must be stopped. The CIAA should be an independent body and report to the president and not our politicians. Our justices should not answer to their political masters. Our civil servant should be able to work without political interference.
Visit Nepal 2020 is around the corner. Nepal Tourism Board should appoint Nirmal Purja as our brand ambassador or maybe we can appoint him as our Ambassador to the UK if he meets the minimum requirement. He could help in bring a million Brits next year. Prabal Gurung should be appointed the brand ambassador in the US. He could bring in thousands of his fans and even Michelle Obama and a dozen Hollywood celebrities to Nepal. And we have a Chinese brand ambassador but how about the Desis. Yogesh Dai, please ask Sachin Tendulkar and Rajinikant to be our brand ambassadors in India. We could get tens of millions from the north and the south.
Our Emperor is waiting. He is itching to move to Baluwatar. Will the greatest communist party on earth break up and we will see a new political set up soon or will the Eh-Maleys give the Maobadis a chance to lead the government. We all know that this 'unity' natak will not last long. The question is when will they break up and we will go back to the same old nataks again. It all depends on the smog in Delhi.
---
---