FPA, footballers demand probe into player-coach row
Players association and 10 footballers have submitted a memorandum to ANFA briefing the chain of events.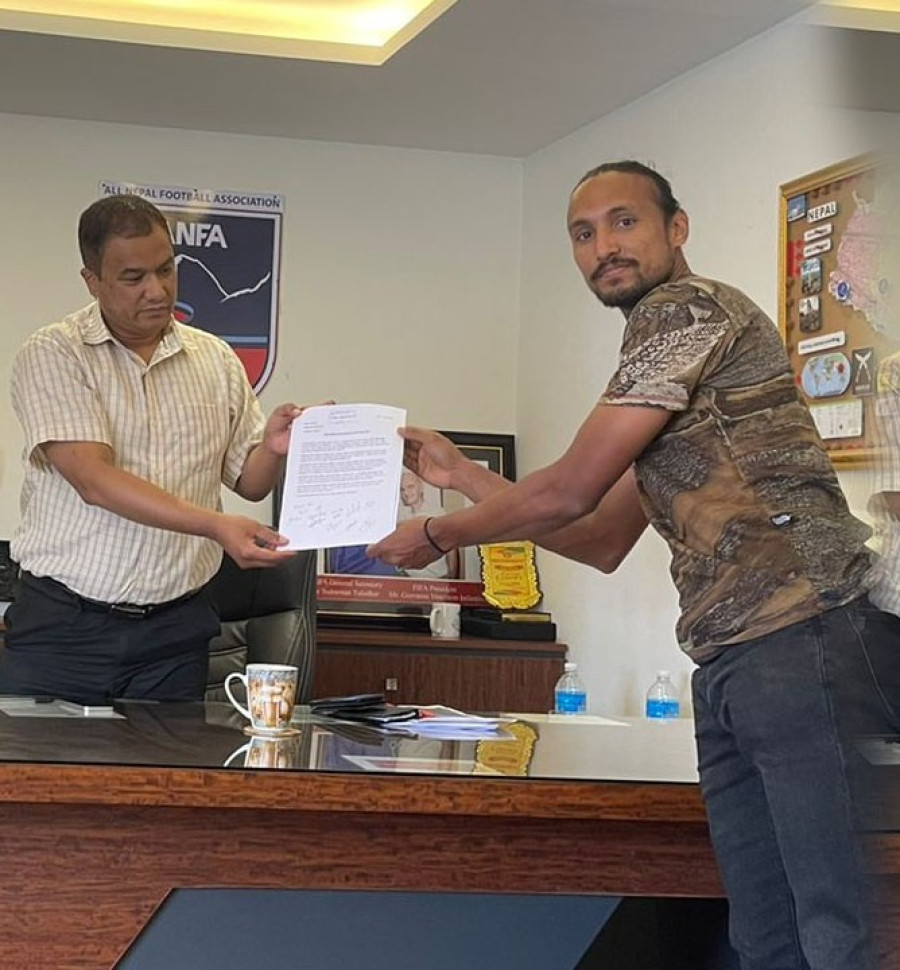 Rohit Chand (right), in the memorandum he submitted to ANFA on behalf of 10 players, stated they were saddened to have been cast out of national team for demanding basic facilities. Photo courtesy: ANFA
bookmark
Published at : May 3, 2022
Updated at : May 3, 2022 08:26
Kathmandu
Football Players Association (FPA) and the agitating 10 national football players who left the training camp submitted memorandums to the All Nepal Football Association (ANFA) briefing about the chain of events that unfolded on Wednesday, the day they left the camp, and demanded an inquiry into the incident.
Nine footballers—Sujal Shrestha, Bishal Shrestha, Bishal Rai, Anjan Bista, Ananta Tamang, Tej Tamang, Suman Lama, Dinesh Rajbanshi and Bimal Gharti Magar—had left the closed camp after coach Abdullah Almutairi allegedly asked them to leave, following differences over accommodation.
A day before that, caretaker captain Rohit Chand had left the camp after directives by the Kuwaiti coach who reportedly ordered Rohit to leave the team for raising his teammates' voice. He had urged the coach to arrange a hotel for closed camp training instead of ANFA hostel as it lacked basic facilities.
But on Sunday, Almutairi denied that he expelled the players and said they left the camp without his prior approval. Writing a letter to the ANFA general secretary, he said, "The unilateral actions of players had hurt me."
He, however, has called up 17 new players in the squad ignoring the 10 expelled footballers.
The letter submitted by FPA president Bikram Lama, a former national team player, has urged the football governing body to open an inquiry into the incident. "Though the players had informed they left the camp after the coach's instruction, the team manager (Madhusudhan Upadhyaya) gave wrong comments about the players in media which has disappointed us."
"The players have reported that they informed coach Almutairi, deputy coach Kiran Shrestha, goalkeeping coach Bikash Malla and deputy manager Krishna Bhakta Manandhar that they were leaving," reads the letter.
"Individuals who publicly level false allegations at players and try to tarnish their image are obstacles for the development of football in the country," states the letter. "We demand ANFA to open an inquiry into the incident at the earliest and punish the guilty."
The letter submitted by Chand on behalf of 10 players states that they were disappointed by the reports they fled the camp. "We are deeply saddened by the fact that we were expelled for asking for basic facilities and by false comments on the incident from responsible ANFA officials," reads the letter.
"We have asked ANFA leadership to address the issue at informal meetings and discussions. But we were forced to call a press conference after our issues were not addressed," states the letter. "We are hopeful that the ANFA will take the issue seriously."
---