APF, Police victorious as Women's League concludes
The champions beat Army 3-0 to end the league campaign with a perfect record while Police finish third after a 10-0 victory over winless Chaudandigadhi.

Champions Armed Police Force (APF) Club earned maximum 36 points winning all 12 matches conceding only one goal in their run to the title of National Women's League that concluded on Friday. Hemanta Shrestha/TKP
bookmark
Published at : February 19, 2021
Updated at : February 20, 2021 08:30
Kathmandu
Champions Armed Police Force (APF) Club defeated Tribhuvan Army Club 3-0 to wrap up their campaign with a 100 percent winning record while Nepal Police Club demolished winless Chaudandigadhi Municipality 10-0 on the final day as the National Women's League came to a conclusion on Friday.

As APF were already crowned champions before playing their two remaining matches and Army were guaranteed second place finish, the two departmental rivals went to the Dasharath Stadium carrying different ambitions.
With the champions missing their star striker Sabitra Bhandari, out due to anterior cruciate ligament injury, there were speculations that Army could finally put APF's unbeaten run to an end.
Without Bhandari, who had scored 43 goals for her side, APF's performance in their previous match against Biratnagar had lacked their usual spirit and relentlessness, something Army was looking forward to exploit. But it was not to be.
APF's midfielder Saru Lama scored twice, denting Army's hopes.
Lama put APF in front just before the half time, thanks to a clever pass fed by Anita KC from the edge of the box.
KC, who was adjudged player of the match, furthered the lead in the 86th minute with an outstanding header.
APF's Bhujanga Rai dropped a long ball just outside the box between Army goalkeeper Anjana Rana Magar and KC. Rana Magar advanced to seize the ball but KC reached there first, bowed and lifted the low bouncing ball with her head over the goalkeeper towards the net.
Lama then put the result beyond the doubt in the added time of the second-half. In an action similar to the second goal, goalie Rana Magar went too far ahead to punch a high ball from defender Srijana Chemjong but KC was there first to head the ball. Rana Magar somehow managed to block the header but lost the grasp and KC was quick to link the pass to waiting Lama, who fired from a distance into an empty net.
Lama was declared the most valuable player of the tournament and was awarded with a Yamaha scooter. APF striker Bhandari was named the best forward. The champions returned home with a reward of Rs 1.5 million.
APF coach Bhagawoti Thapa was rejoiced.
"It's a great feeling…especially to win the title," said Thapa, who was also named the best coach award.
"Our match against Biratnagar was not the best. We wanted to improve and we did it," she added. "I am thrilled that we won."
Army coach Raju Tamang conceded their title hopes were dashed when they played a draw against Police in the league opener.
"That draw was a big blow to our title chances," said Tamang. "It changed everything."
Army took home a cash prize of Rs 800,000 while Army's Bimala Chaudhary was named the best midfielder.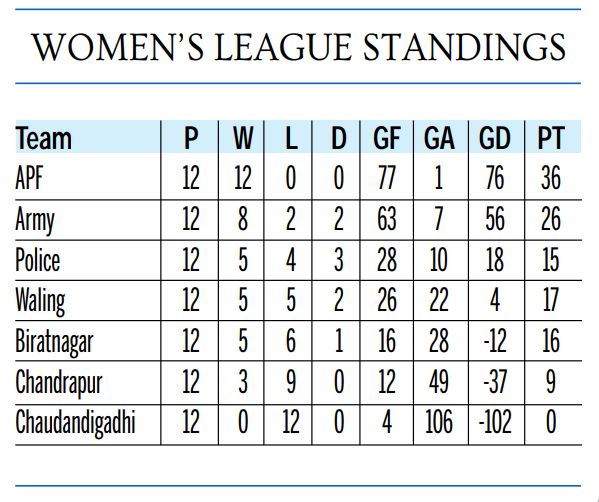 Meanwhile, Police ensured their third position in the league hammering the bottom-placed Chaudandigadhi Municipality 10-0 earlier in the day, courtesy of Niru Thapa's four goals and Nirmala BK's hat-trick. Amrita Jaisi and Sunkala Rai also scored a goal apiece for their side.
For Chaudandigadhi, it was a campaign to forget. The team failed to eke out even a single win throughout the league. Worse, they conceded a staggering 106 goals and scored just four goals during the campaign.
Waling had climbed to the third spot in the standings accumulating 17 points after thrashing Chandrapur 3-0 on Thursday, but a rejuvenated Police side were drawn a relatively easy fixture in their final round and they showed no mercy against minnows Chaudandigadi.
Police began putting Chaudandigadi to rout from early on, with Thapa scoring in the third minute, a simple tap-in finish after she was set up by BK inside the six yard box.
Thapa doubled the lead from the spotkick three minutes later when Police were awarded a penalty after Chaudandigadhi defender Chumlungma Rai tripped BK inside the penalty area.
BK then combined with Thapa again for the team's third. This time Police keeper Usha Nath led the attack. She got out of her zone and fed a long ball into the Chandrapur box. BK raced to grab the ball and beat the two chasing defenders before feeding Thapa, who slammed high aiming the target.
Chaudandigadhi keeper Rai stretched and got a hand on the ball but could not stop it.
Player of the match Thapa then scored her individual fourth in the 29th minute, converting a penalty after Chaudandigadhi captain once again brought down BK inside the box.
Police got their fifth goal two minutes later when Chaudandigadhi defender Sujata Rai shot into her own post while trying to clear a cross from BK.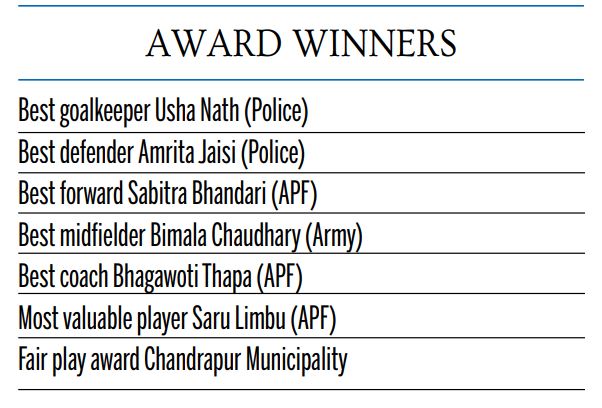 BK got her first in the 37th drilling a low shot past goalie Rai, and netted another in the added time after she was set up by Thapa.
Substitute Sunkala Rai made the score 7-0 in the 61st minute taking advantage of a confusion among Chaudandigadhi defenders. Forward Thapa connected Police midfielder Rai inside the box. As the midfielder took a little longer to shoot, Chaudandigadhi defender Anusha Thewe managed to get her foot on the ball but her attempt to clear the ball bounced off Rai before making its way to defender Purnamaya Rai. But the Chaudandigadhi defender took too long to steer the ball clear and Police's Rai snatched the chance and put the ball past goalie Rai.
BK completed her hat-trick in the 86th minute sending a low shot past indolent goalkeeper while Jaisi wrapped up Police's season's biggest victory deep into the injury time.
The win helped Police replace Waling at third position with 18 points. Police took home Rs 500,000.
"It is not bad to finish third in the tournament," said Police coach Sanjeeb Joshi adding he was satisfied with the result.
But Chaudandigadhi coach Dipak Thapa regretted lack of preparations.
"To return home without a point is a very saddening. We lacked preparations and lost all the matches," he said.
Police's goalkeeper Nath and defender Jaisi were adjudged best goalkeeper and best defender respectively.
The fourth-placed Waling got Rs 300,000. Chandrapur Municipality, who finished sixth in the league with nine points, bagged Fair Play award and received Rs 150,000.
---
---