He was an acclaimed chef. He gave up everything to find peace.
Acclaimed chef Sandeep Kumar KC on the emotional toll the hospitality industry took on him and how he's finding peace in a monastery restaurant.

Deepak KC/TKP
bookmark
Published at : December 19, 2019
Updated at : December 20, 2019 12:33
Kathmandu
"This is the happiest I have been in a very long time," Sandeep Kumar KC says.
In the corner of the serene Utpala Cafe sits KC, executive chef of the six-month-old restaurant tucked down one of the lesser-frequented lanes of Boudha. He points to at an amber-covered book sitting on the table; it's The Joy of Living written by Yongey Mingyur Rinpoche and Eric Swanson. "I have been reading this book," he says. "The book provides wonderful insight into the life of Mingyur Rinpoche, a renowned Buddhist master."
For those who know KC, the professional and personal decisions he has made in the last few months have been nothing but shocking. Joining Utpala Cafe three months ago was one of those decisions. But for those who don't know KC, just looking at his resume could raise questions.
In the last 20 years, KC has worked at hotels and restaurants in Hong Kong, Switzerland, Australia, India, and Nepal. In Nepal, he has worked as executive chef at Club Himalaya, Nagarkot; GG Machan, Jhamsikhel; Bukeba Organic Cafe, Bakundole. He has also worked as a restaurant consultant for many years, a role that saw him open restaurants across India, from Delhi, Hyderabad to Chennai, and more than a dozen restaurants in Nepal.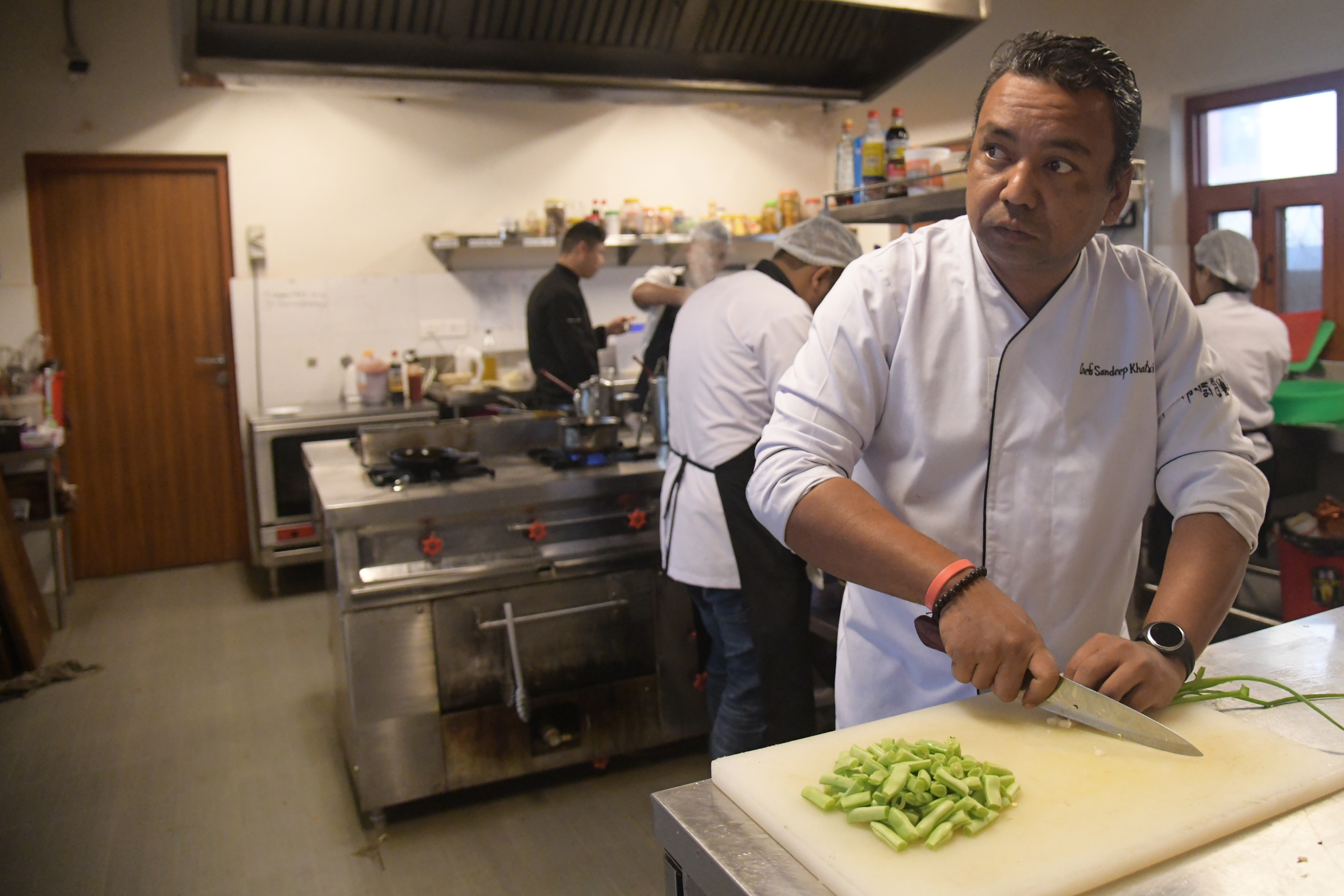 Utpala Cafe has brought a distinct change of pace, compared to Sandeep Kumar KC's past jobs in professional kitchens. Deepak KC/ TKP
So, why would a renowned chef like KC decide to work at a relatively unknown restaurant in Boudha?
Because Utpala Cafe is unlike any restaurant KC has worked at before. The restaurant is run by Ka-Nying Shedrub Ling Monastery, a Buddhist monastery, where the spartan menu fits on an A4 page. The food is entirely vegetarian, and there's no alcohol.
After joining Utpala, KC, a devoted meat eater, became a vegetarian and converted to Buddhism.
"It's a long story," he says.
Unlike many of his contemporaries in Nepal, KC was born with a silver spoon in his mouth. His father, Shiva Bahadur KC, once had nine successful restaurants in Hong Kong. Born in Nepal, KC attended some of the best schools in Nepal, India, and Hong Kong, and received his hotel management degree from Switzerland's Glion Institute of Higher Education, one of the world's top hotel management schools.
For his master's degree, KC's father sent him to study hotel management in Australia. Instead of finishing his degree, he started working as a chef and hasn't stopped—he has now been in the industry for nearly two decades.
But for most of his professional life, KC admits he was miserable. "It's a very high-pressure job. Because everybody is under immense pressure, making mistakes often means humiliation. But if you want to succeed, you just bear everything and deal with it," says KC. "You just work hard, work on public holidays, in the hopes of rising up the ranks. There's no such thing as work-life balance."
Not long after KC started working in the industry, he found himself changing. "From a very emotional and empathetic person, I became short-tempered and self-absorbed, I would blow my top over every little thing. I didn't hesitate to humiliate a team member. I became someone I loathed," he says.
But if he was so miserable and hated who he had become, why didn't he quit?
KC was only 17 when he fell in love with cooking. "I had moved to Hong Kong from Kathmandu to be closer to my father. I earned my pocket money by working as a reliever at father's restaurants, which served diverse cuisines from Nepali, Italian, Spanish, Thai, to Middle Eastern," says KC.
The exposure to diverse cuisines, ingredients, and cooking styles was enough to make young KC very interested in cooking. Each tidbit of information would make him even hungrier for more. "I started experimenting with different spices. I would use lemongrass and lemon leaves to marinate Nepali dishes, use fresh oregano in Nepali pulao. Kitchens became my playground," says KC.
But his love for cooking, he says, was never strong enough for his younger self to want to become a professional chef. "I wanted to become an aeronautical engineer," says KC. He was even accepted into the University of South Carolina, before a minor documentation problem forced him to defer his enrollment. Instead, his father sent him to Switzerland, to study hotel management. "There was no changing track after that," says KC, despite equating it to a "paid vacation".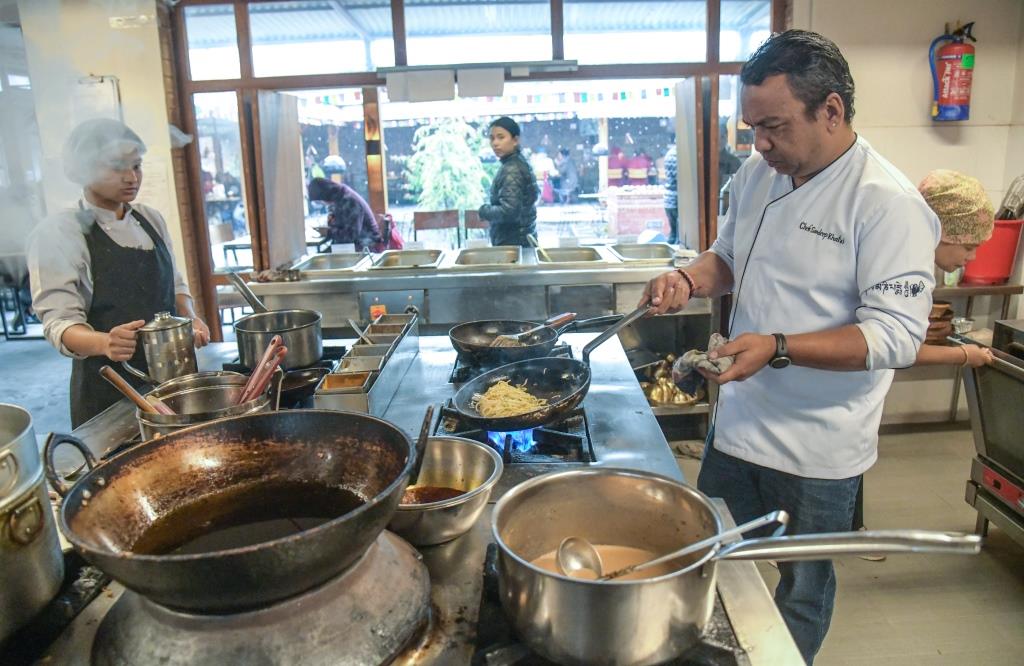 Deepak KC/ TKP
"Everybody seemed happy with my professional success. I was making good money. And our society tends to equate money with success and happiness. So quitting the industry meant disappointing the ones I loved," he says. "I used to wonder if there was something wrong with me, for not being happy when everyone else seemed happy with where I was."

To blunt his discontent, self-doubt, the pressure of the job, and continue the life he was living, KC started to abuse various substances. It began with cough syrup, marijuana, and cocaine, then it became a cocktail of them all. "I would take tablets with cough syrup, and sometimes I would mix in alcohol too," KC says.
It took four years of drug abuse for him to realise it was all a recipe for disaster. KC, then living in Hong Kong, moved to Kathmandu at the end of 2004. "It was supposed to be a fresh start," KC says. He opened a wine bar to promote wine in the local dining scene. While he managed to avoid drugs and alcohol for a while, the craving soon returned. "I started drinking excessively. It got to a point where I would shut myself in my room for two to three days and drink myself silly. Then the guilt of being irresponsible would surface, and I would get back to work," KC says.
In 2015 KC left for Goa, with no future plans. In Goa, he got a job at a seafood restaurant in Calangute Beach. He was provided a place to stay, a scooter, and he was among his countrymen, chefs from the far-west. "For the first time in so many years, I felt happiness," KC says, his eyes beaming.
When the year's tourist season ended, his employers, impressed with KC's cooking, suggested that he go to work at their friend's restaurant in Pondicherry, India. KC obliged, and over the course of the following two years across India, and more than a decade in professional cookery, he finally came to appreciate his skill set. "Until then, I was sort of drifting on auto-pilot, and cooking was only a way for me to make a living. That was the beginning of me understanding my self-worth," he says, tightening the knot on the Buddhist prayer beads wrapped around his right wrist.
In Delhi, KC started dabbling in recipe development for restaurants. "I loved R&D as it allowed me to concentrate just on food. You play with ingredients, and failure becomes a part of your success," says KC, a man who grew up believing failure was not an option. Another aspect of the job that KC loved was how it forced him to think and focus on a much higher level. "It's like meditation," says KC.
An hour into conversation, the restaurant slyly filled itself with monastery students. Having taken a short break, when he sits down again, he reveals he took the chance to visit the kitchen.
"I tasted the Greek stew my team made for lunch. I told them the stew was good, but it could have been better had they enhanced the flavour by adding herbs and balanced its acidity with some sweetness. I think they got my point, and the next time they make it, I'm sure they'll keep my suggestions in mind," KC says.
Would he have reacted to a similar situation in the same way, five years ago?
"Oh, absolutely not. I would have either asked the dish to be withdrawn and would have re-prepared it or prepared something else from scratch," says KC. "And I would have scolded my sous chef and my entire kitchen team. This, of course, would have ruined the entire team's mood for the rest of the day."
For most chefs in the country, career progression means working at bigger and better restaurants as they go on. But choosing to work at Utpala Cafe, KC seems to be going against the grain.
"In my first meeting with my current employer, I told that I am a recovered drug addict, and that I have been drifting in and out of alcoholism for more than a decade," says KC. They asked him to quit drinking and asked if he would join dharma classes at the monastery. KC was also urged to not put too much pressure on himself and to be mindful of his physical and emotional well-being. "In my 20 years in this industry, I had never been told that—to take care of myself. This industry encourages hard work, which is not a bad thing, but that hard work often comes with a huge physical and emotional toll. So being told to take care of myself for the first time felt like a breath of fresh air," says KC. "It felt humane."
Now KC attends dharma teaching for 90 minutes everyday, and each evening he meditates for around 30 minutes. The classes, he says, have helped a lot in deciphering a lot of internal conflicts that he had been dealing with. "The teachings have helped me understand the reasons behind some of the harmful decisions I made. The classes have been revelatory," says KC.
At the crux of what chefs strive to do is to make dishes that people would crave for. But Buddhism complicates this part a bit as the religion admonishes cravings. Buddha, in his first teaching on the Four Noble Truths, said that one of the origins of dukkha or suffering is tanha or craving.
It begs the question, then, how has his newfound religion impacted his cooking?
"Earlier, my sole focus was on making great-tasting dishes. But not anymore. My focus now is on making food that nourishes the body and soul, everything else is secondary," says KC. Nourishing body and soul goes further than nutrients however, as he lays focus on experimenting with local produce, to benefit local producers. KC's experimentation with local ingredients was on full display at high-tea event organised at Utpala Cafe for a group of foreign delegates, recently. On the menu: flambéed black lentil burger bun stuffed with bara, coriander and cumin vol-au-vents with sisnu (stinging nettle), jellified bael (wood apple) juice in orange cups, canapés topped with sandheko bhogate (pomelo), and a chai ice-cream served in a buckwheat cone. Such a list speaks to his current vegetarian and Buddhist life, but also boasts his history as a high-end chef with a deep knowledge of diverse cuisines.
"The last few months have also changed me as a person. I am more open to suggestions and criticisms, and this has helped me improve my cooking. I am not so judgemental, I have learned to forgive people and, most importantly, forgive myself," says KC.
The key behind the changes, says KC, is his practice of becoming more mindful. "Mindfulness is something culinary schools should teach. This will help make the industry more humane, more forgiving. This industry needs it as it teaches you to give up on people who don't match the standards, can't handle the pressure, and are weak. But here at Utpala, it is completely different. Here, the focus is on teaching, training, and empowering the people you work with. This is where I feel at home, finally."
---
---