This family wants Kathmandu to go vegan
Demand for the plant-based products has seen a surge in recent years.

The co-founders of Vegan Dairy, mother-daugther-father trio, (from left) Babita, Kajol and Narpat Sethia. Anish Regmi/TKP
bookmark
Published at : July 29, 2019
Updated at : August 25, 2019 16:06
Butter, milk, honey and cheese are commonplace in the Nepali market, but plant-based versions are few and far between.
Vegan Dairy is among the first to consciously make such products in Nepal, offering cultured cashew butter, pineapple honey and various alternative milk for the market, and is following a worldwide push to plant-based diets and lifestyles.
Veganism, which shirks any animal products in both diet and lifestyle, is still in its nascent stage here in Nepal. But this family-run business, launched in August 2018, is already seeing success with its diverse range of dairy alternatives and nut-based products.
The brain behind the business, co-founder Kajol Sethia, started the business with her parents after returning to Nepal. Before that, she was studying at Singapore University of Technology and Design, where she studied aerospace engineering. But it was there she came to learn about veganism—both in the sense of climate and animal rights—then subsequently became one herself. Upon returning to Nepal, she saw an opportunity.
"There's a huge vegan community of both expats and Nepalis here," she says, "Still, a lot of people don't actually know about veganism. I didn't even know about it before going to Singapore."
There have been vegan restaurants in Pokhara and Kathmandu for years, but not much in the way of stand-alone products.
Vegan Dairy started with soy yoghurt and, in turn, soy milk, but demand led them to expand their offering. It has since ballooned to include vegan energy bars, several varieties of nut milks, a spreadable cheese, a cultured vegan butter, seed and nut butters and pineapple honey. The biggest seller, however, is their chocolate-hazelnut spread dubbed "No-tella".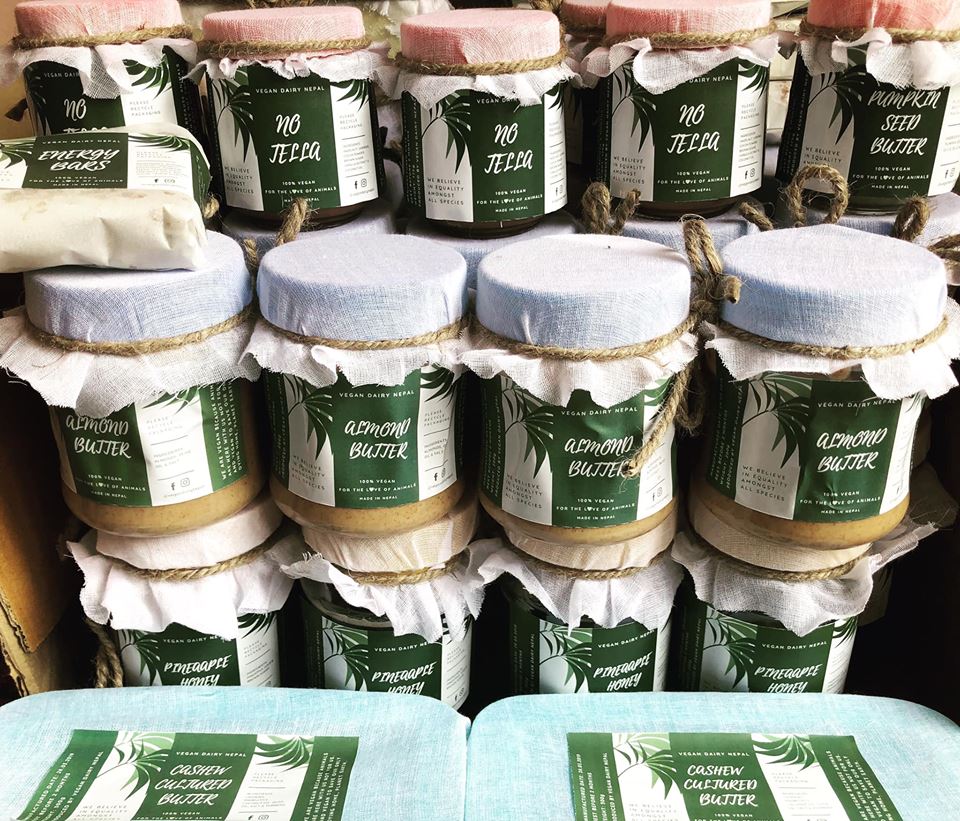 Vegan Dairy Facebook
"It tastes almost exactly the same, but it tastes better," Kajol says. The secret, according to her, is there is no palm oil, and it's 60 percent hazelnuts, unlike famous brands of the spread. And, while Vegan Dairy is about catering to plant-based diets, it's also about maintaining an environmentally friendly product. That means it's preservative-free, animal-free and without palm oil—Kajol wants the products to be GMO-free eventually, although that cannot be confirmed yet because the nuts are imported from India.
Despite virtually no marketing in the business's first few months, word of mouth held them in good stead. Since then, Kajol has seen her product endorsed by social media influencers and has been using Instagram and Facebook to sell products. Their goods are also stocked at several restaurants and food outlets in the Jhamsikhel area, and selected retailers around Kathmandu.
While the research and marketing is carried out by Kajol, her mother Babita does the development and kitchen work. Babita has developed and refined recipes for all of their products, with the help of YouTube videos, and has come up with novel recipes. At the moment, Babita produces between 15 and 20 litres of milk per day, and makes other products according to demand.
"She has been cooking for about 40 years and, since the beginning, everyone has loved her cooking," says Kajol. "I think she is getting a bit tired, because she's doing it all alone. But she doesn't want the quality to disintegrate."
Speaking about the pumpkin seed milk they produce, father Narpat gushes about its benefits. Tinged a light shade of green, he says the benefits to health are numerous. Recently retired, with a background in import and export, Narpat has been helping with ingredient acquisition and general business.
This mother-father-daughter trio has been the perfect team since the inception of their business. But after studying such an innately scientific subject like aerospace in the university, Kajol's parents initially wanted her to pursue the profession pertaining to her academic qualifications.
But Kajol says that entrepreneurship was part of her course—and it runs in her blood. Her parents have been involved in business for their careers, so it was only natural she do the same—and with their help.
Recently, they were approached by both the Marriott and Himalayan Java, who were interested in stocking vegan products. Unfortunately, at this stage, Vegan Dairy is not able to produce the hundreds of litres of milk required to keep the large businesses stocked. But Kajol has grand plans for the business, and expansion is penned to happen over the next few years.
"I want to go international as well. Singapore is first. I know that market, because I lived there. Dubai could be the second," Kajol says. In fact, Vegan Dairy products can actually be found in Singapore, through Kajol's online grocery store Marché Éthique.
But to grow any further, they will have to move their production outside of the family kitchen. Kajol says they hope to have a stand-alone outlet for their products soon, but will also branch out with a stand-alone kitchen. They have plans to be on department and grocery store shelves by 2021.
"While we've already perfected our current products, we'd like to add a few more. We want to make look-alike cheeses. If I can perfect cheese, I'm confident a lot of people could go vegan."
Because of the growing interest from both consumers and providers, the future seems bright for Vegan Dairy. "We're working full speed right now, to meet demands. I think being the first mover and being an original business, we get a lot of attention, even if it's been done already in other countries."
While they are targeting vegetarians and vegans, there are others who are keen to have their products too. Among them are the lactose-intolerant and followers of the in-vogue ketogenic diet, who look for alternatives to dairy.
"Actually, the majority of our customers are non-vegan," says Kajol, "People are getting more conscious health-wise, animal-wise and climate change-wise."
Kajol says the company's goal is to introduce people to vegan food, possibly welcome more people to the vegan lifestyle, and to dispel myths that say the food is tasteless or boring.
Kajol rescues animals, as well as working with her parents in the business. And, in June, she was the first person to ever receive PETA Asia's Outstanding Activist Award for her work with animals and activism.
While people turn vegan for their own reasons, whether health or environment, Kajol went vegan predominantly for animal welfare reasons. From a Jain family of animal-loving vegetarians, going vegan was not incredibly difficult for her—nor for her parents.
"The end goal is to make more people vegan, rather than making money," admits Kajol, "All I can say is our world is in a climatic emergency right now, and we need to be aware of it. We need to start making sustainable and conscious changes."
***
What do you think?
Dear reader, we'd like to hear from you. We regularly publish letters to the editor on contemporary issues or direct responses to something the Post has recently published. Please send your letters to [email protected] with "Letter to the Editor" in the subject line. Please include your name, location, and a contact address so one of our editors can reach out to you.
---
---