Pushing the boundaries of conventional glamorous makeup in Nepal
Delving in special effects makeup and body painting is not a financially viable option in Nepal's budding makeup business, but a handful of artists are doing it—because they love it and they're good at it.

(From left to right) Makeup artists Diksha Thapa, Reason Magar and Anish Tamang are among a handful of makeup artists who are going beyond glamorous makeup to pursue an artform that allows them to explore their creativity. Photos courtesy: Diksha Thapa,Reason Magar and Anish Tamang/ Instagram)
bookmark
Published at : August 10, 2020
Updated at : August 10, 2020 08:52
Kathmandu
Sitting in front of a mirror for 10 continuous hours could sound like easy work to some, but it's not—especially if you're constantly moving your hands, applying body paint, all the while being completely focused.
Makeup artist Anish Tamang knows this because he does it every other week. But more than it causing him stress, it gives him immense satisfaction, he says.
A professional makeup artist, Tamang, 25, started learning the art of applying makeup back in 2013. He got into this line of work because for him, makeup was a form of self-expression, and it gave him self-confidence. But how he got into body painting is another story.
"I was going through a lot of problems in my personal life last year, which was affecting me deeply," says Tamang. As it is with so many others, Tamang resorted to watching movies as a form of escape. And it was while doing so that he watched the classic The Lion King and was so moved that he wanted to make his first body art.
"I could relate to the movie a lot, as I was going through similar experiences in life. I wanted to make art as an ode to the movie," says Tamang, adding that it took him nine hours to complete his work.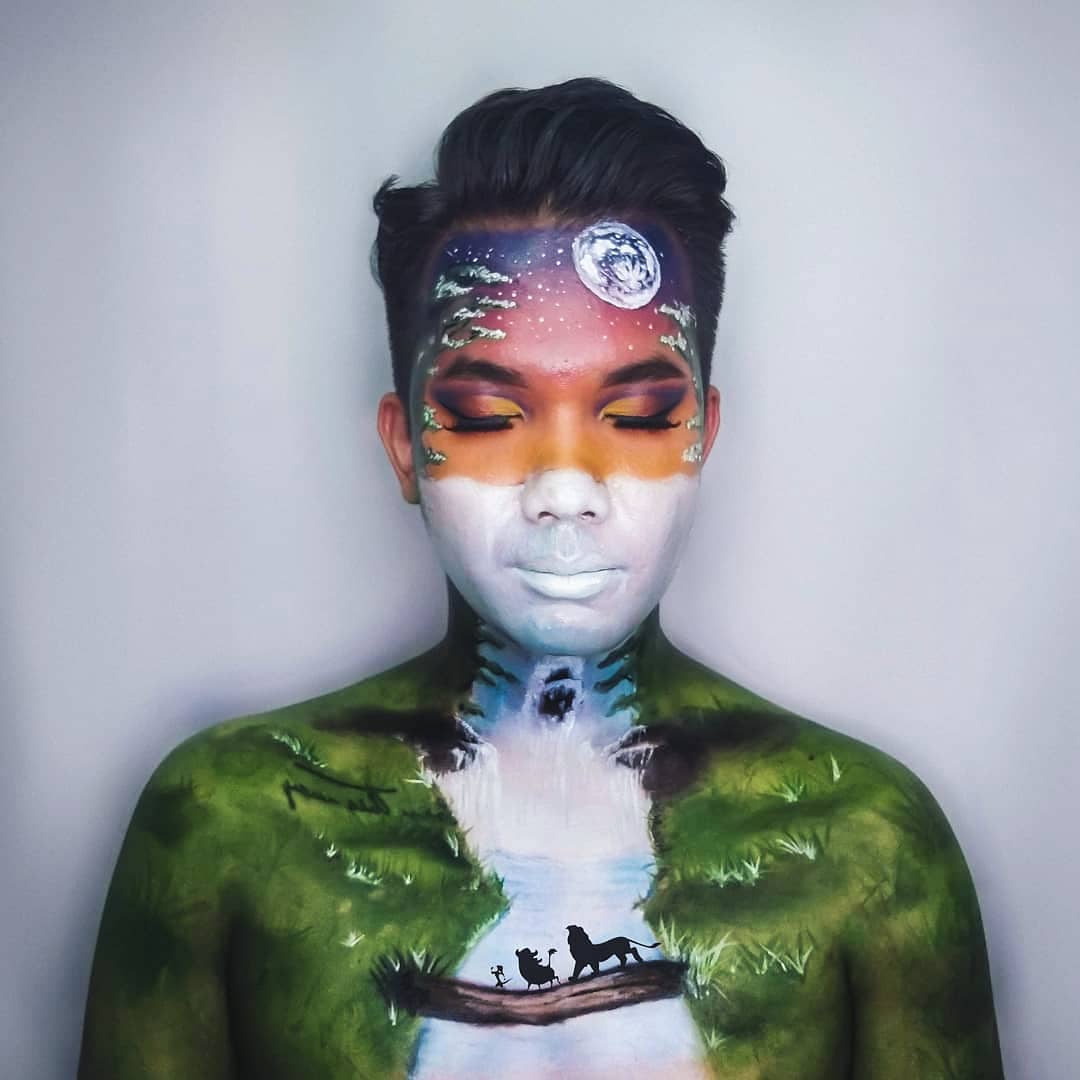 Photo Courtesy: Anish Tamang
"I was so astonished to see the final results. And the fact that I could vent my emotions just through my body made me happy," says Tamang, who's Nepal's first body painting artist and has been doing body painting since last year.
With artists like Tamang, the makeup industry in Nepal, although in its nascent stage, has boomed in recent years. With the rise of extravagant wedding ceremonies, social media filters and a thriving partying culture, more and more people are being attracted to makeup, and becoming a makeup artist has become a profitable venture. But beyond glamorous makeup, there are some artists who are finding various avenues of working with makeup to express themselves and create new forms of art—even if that means not reaping financial returns.
Among them is 21-year-old Diksha Thapa, known to many by her Instagram name, Ahskid (_ahskid_), a special effects makeup artist who is working in the Nepali film industry.
For Thapa, although her love for colours, drawing, and sketching started since her formative years, makeup was not a vehicle of expression or something to beautify her appearance but a means to hide her bruises, she says.
"I was bullied by my schoolmates regularly, and to hide my bruises from my parents, I started wearing makeup, " says Thapa, who spent her formative years in India.
However it was one particular Comic-Con, which she attended with her friend in 2017, where she transformed herself into Sakura, a character from Naruto, which opened her world to special effects makeup, says Thapa.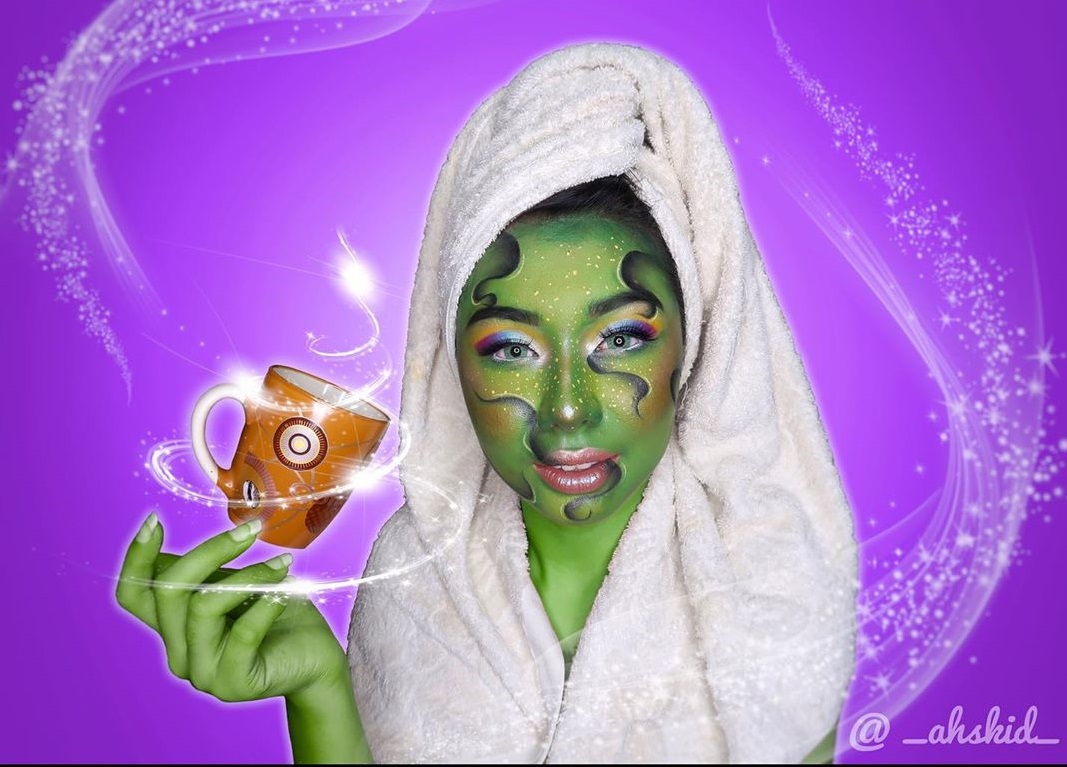 Photo Courtesy: Diksha Thapa
"I transformed myself into the anime character, just by watching YouTube tutorials," says Thapa, who was stunned by her ability to change her look just by makeup. Likewise, as she was studying fine arts, creating art was a routine task. "I was learning about how we can use colours to tell a story as well as human anatomy in my classes," says Thapa, who has been practising special effect makeup for the past three years.
Combining her theoretical and practical knowledge, she slowly started experimenting with special effects makeup on her face as well as making her friends and family members the subject of her art. All her works she uploaded on her social media account, which found her recognition.
And then in 2019, she got the opportunity to work in Nepali films (2 short and 3 feature films). Her works can be seen in the upcoming horror movie 'Kathaputali' and a mainstream Nepali movie, 'Ghamand Shere'.
For Reason Magar, who's known by his Instagram name manthatmakeup, his passion for special effects makeup started with curiosity, says the 20-year-old makeup artist. "One day, I was playing with a matchstick and mistakenly burnt my hand," says Magar, who hails from Butwal. "As I was aware of what special effects makeup is, I thought why not practise some special effects makeup on my other hand."
It was after his 12th attempt that he was successful in making the wound look real in his next hand, he says. "I was very satisfied with my work, as the fake wound looked as real as the actual wound. But as special effects makeup was still new to me, I decided to learn more about it," says Magar, who started doing special effects makeup from 2017.
Today, in a couple of years, Magar has become a known name in makeup. From doing special effects makeup to giving makeup tutorial classes, to working with celebrities, Magar's schedule is full. And his interests have also widened: he now finds solace in conceptual makeup, an art form through which he tells his personal as well as the stories of others.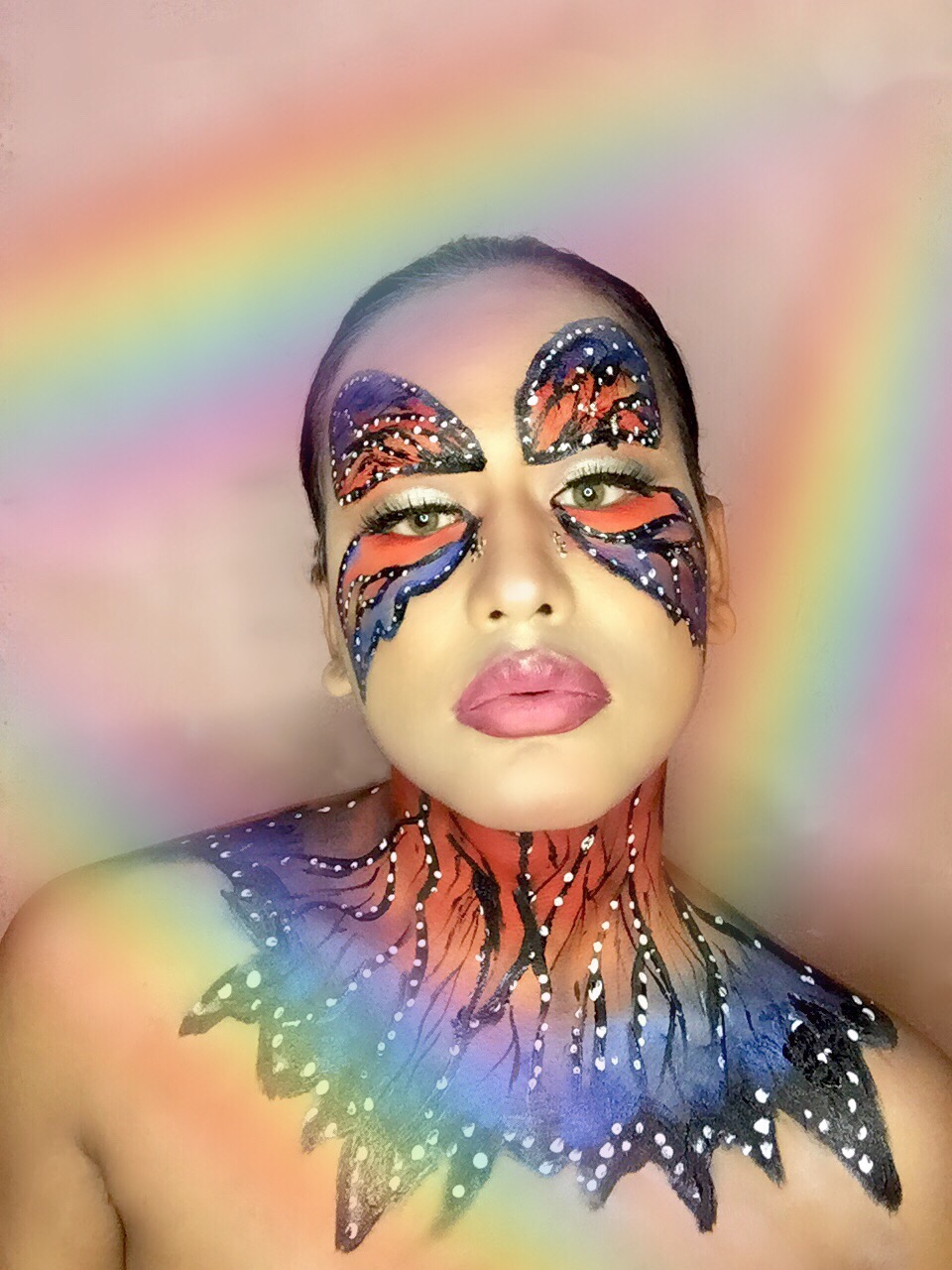 Photo Courtesy: Reason Magar
"My passion now lies in telling stories through makeup, something that people can relate to," says Magar, who uses makeup to depict stories of harassment, the struggles of the queer people and other pertinent issues.
However, as this form of makeup does not guarantee financial benefit, the artists have to depend on other forms of makeup for financial backing so that they pursue their passion and interest.
While Tamang and Thapa give private makeup classes to makeup enthusiasts, Magar keeps himself occupied with commissioned bridal projects and magazine and music collaborations. But still, things aren't easy for makeup artists, even in the commercial arena of makeup, they say. There is a certain disregard when it comes to taking makeup as a serious art form, a lack of professionalism and a gender-glass ceiling that views makeup as something only girls do—all these factors create a struggling environment for makeup artists, they say.
"Although working with the new generations is easy, people from older generations still view makeup from a gender lens, which sometimes creates an unpleasant working environment for me," says Magar. "Likewise, many people don't pay in time or even don't think necessary to pay for my work, as they believe that while collaborating you don't need to pay other people."
Similarly, for Thapa, the lack of scope of working as a full time special effects makeup artist can be a hindrance to creating more interesting characters on screen, as very few filmmakers are interested in creating such characters, she says.
However, regardless of the struggles, the passion in them to do what they love—creating stories and characters through the art of makeup—is still fueling them, they say.
"It's challenging to do what I love—creating body paint and special effects makeup—as it's not yielding any financial benefit for me," says Tamang. "But for artists, creating money is not always important. It's the happiness from being able to explore and create art that can express the inner emotions that excites me to indulge in the art of body making," he says.
---
---