Nepali cricket team stare at a busy schedule
Apart from the US tour, Sandeep Lamichhane's Nepal are set to visit Scotland and Canada in the next two months.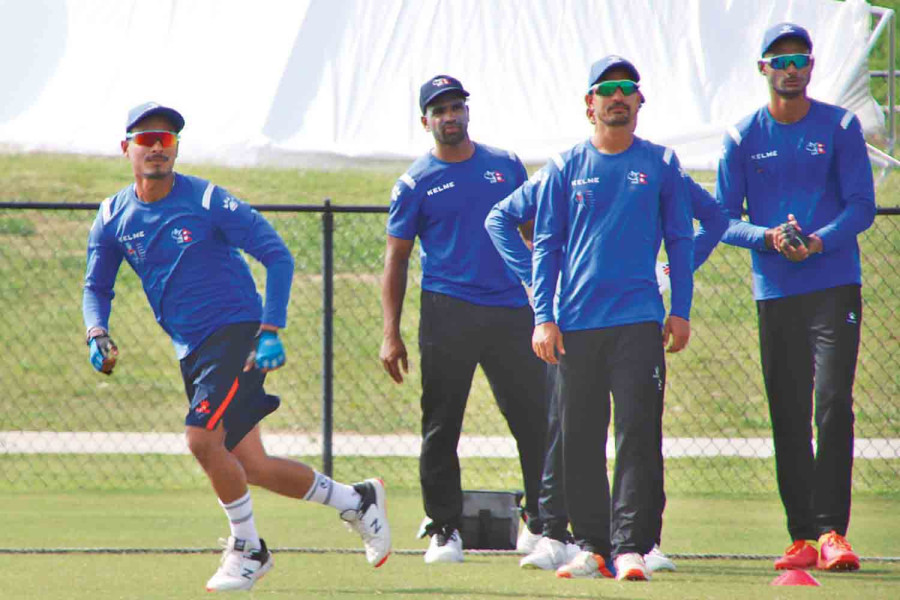 Nepal's Sompal Kami (left) attends a training session in Houston, Texas on Thursday. Photo courtesy: CAN
bookmark
Published at : June 10, 2022
Updated at : June 10, 2022 07:56
Houston (texas)
Nepal's national cricket team have a busy international cricket schedule for the next couple of months though the domestic cricket would come to a standstill owing to the monsoon season.

After starting their campaign of the US Triangular Series of the ICC World Cup League 2 in Houston on Thursday, Nepal are scheduled to visit Canada later this month and Scotland in July. Nepal have already played two practice matches against local teams in Houston.
Nepal will be playing their fourth series of the World Cup League 2 in the US tour. Each team needs to play nine series and 36 matches in total at the completion of the League 2 series. The participating teams need to complete their League 2 games by February next year, four months before the World Cup Qualifiers begin in June, 2023.
"We will play lots of matches in the next two months. It is a big challenge for us because we are playing in totally different conditions," national coach Pubudu Dassanayake said. "The condition of Scotland is totally different from ours but I have been telling the players that national players should play well in any condition. That's how the national players should be."
The Nepali team are scheduled to return to Kathmandu after playing four matches of the US Series in Houston—two each against the US and Oman. Nepal have proposed to play two Twenty20 Internationals and three One-Day Internationals against Canada.
In fact, Nepal were scheduled to visit Canada before the US Triangular series. But the plans could not materialise due to the lengthy visa process; the team could not obtain a Canada visa before their flight to the US. Now the Nepali team will return to Kathmandu before boarding for Canada.
Now as per the new plans, Nepal will play a series in Canada ahead of the Scotland Triangular Series. They are planning to travel to Scotland from Canada on July 8, three days before their match. They are scheduled to play against Scotland and Namibia.
"The players need to be mentally strong to play in different conditions. This is a young team and for me it is easy to make them the way we want," said Dassanayake. "We have enough talent and it is just about getting the right mindset to take on the challenges. If things do not go right, then it's a challenge. But we have a young group and we are capable of doing it the right way."
The early indication and injuries of some of the key players including openers Aasif Sheikh and Kushal Bhurtel meant that the tours would be difficult nut to crack for Nepal. Veteran Subash Khakurel has been called as backup for the injured openers.
The Cricket Association of Nepal (CAN) has applied for visa applications for 20 players for the US, Scotland and Canada tour and only these 20 players would be in the list of visits. However, Khakurel, who was not in the list of 20 players, was called to the US as he already had a valid visa.
---
---