Paras Khadka: The decision to quit captaincy not made overnight
The situation seems favorable for me to leave. New leadership has come in CAN and it is essential to make a fresh start. We have got a new challenge.

Paras Khadka during the unveiling of Women's Champions League trophy in Kathmandu on Tuesday. Post Photo
bookmark
Published at : October 15, 2019
Updated at : October 16, 2019 10:15
Kathmandu
National cricket team captain Paras Khadka stepped down from his role on Tuesday. The 31-year-old who led the team for a decade since 2009 is one of the most successful cricketers the country has ever produced. He resigned as the national team captain a day after the International Cricket Council lifted the conditional suspension on Cricket Association of Nepal that was imposed on April 2016. An edited version of Khadka's press conference during the unveiling of Women's Champions League trophy in Kathmandu on Tuesday.
Read: Paras Khadka, Nepal's most accomplished cricketer, steps down as captain
Wasn't it an abrupt decision to quit the captaincy of national cricket team?
No, not at all. I have been leading this team for the last 10 years. Personally, I was waiting for the International Cricket Council to lift the ban so that I could resign. We got the news yesterday and everyone including players, coaches and the whole cricket fraternity are happy with the decision. I am not where I am because of captaincy and it is not that Nepali cricket will suffer if I am not the team captain.
I wanted to take a break as a captain, mentor, selector and contact person with the ICC for some time. I now wish to play and contribute as a player. But, of course, it depends upon the selection committee, coach and the team for me to play.
Has the new leadership in the Cricket Association of Nepal anything to do with your decision to step down?
I always wanted to leave on a high note. The decision to quit captaincy was not made overnight. I had a lot of discussions with people close to me. And the current situation seems favorable for me to leave. The new leadership has come in CAN and it is essential to make a fresh start. We have got a new challenge in front of us. We, as players, are on the pitch playing, but everyone including us and the management should fulfil their responsibility properly.
Rather than becoming the captain of the national team, our main concern should be to take Nepali cricket forward and develop institutional structure in Nepali cricket. The new leadership has been elected for off the field works and we must work together to take Nepali cricket to greater heights.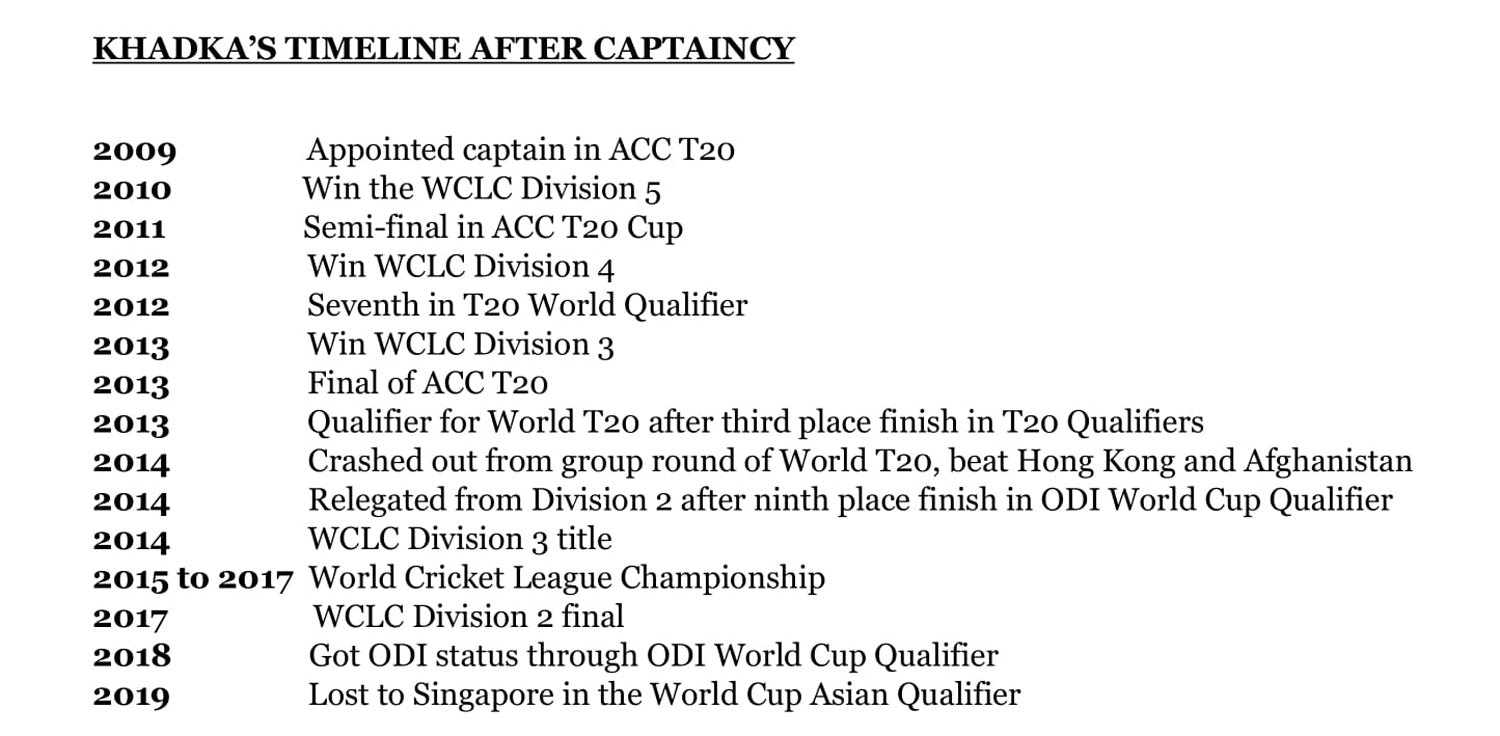 Who do you think would be the ideal candidate as the next captain?
It is not me who picks the captain. Back in 2009, I was not told that I would become the next captain by my predecessor. It is up to the CAN office-bearers and the coaches to decide. Whoever takes up the role, Nepali cricket has to win. Nepali cricket must get results irrespective of who the players or officer-bearers are. As a player, I always want to contribute if I am on the team.
But considering the leadership quality in the current squad, Gyanendra Malla would be the ideal player to take over the captaincy. He should lead the team for at least one year as he is the senior-most player in the squad. Whoever gets the role, I wish him all the best and lend my full support to him.
How do you take your journey as a national team captain?
The support of players and coaches were vital. Foreign Coaches Roy Luke Dias, Pubudu Dassanayake and Umesh Patwal were very much supportive. Coach Jagat Tamata has also been the same. Besides, I also got unlimited support from players. As a team, we always had a clear vision of uplifting Nepali cricket in a collective manner. That is why we are here today.
I am happy and fortunate to be part of the team. I had never dreamt of playing cricket for the country. But I was destined for it and even got a chance to lead the team after making into the national team. It has been an incredible journey so far. But all good things come to an end someday.
What were the highs and lows during your captaincy?
Gaining the ODI status was obviously high point. But qualifying and playing in the ICC T20 World Cup in Bangladesh was the biggest one. Losing matches would be lows.
What importance does cricket holds in your life?
The game has given me everything, which I had not imagined and dreamt of. As long as I am alive, I will definitely do everything from my side for Nepali cricket. I cannot take this game away from me and I will always be involved in cricket in one way or other.
---
---