Cyclone Nisarga brings clouds, rainfall to Nepal
The weather office says impacts of the cyclone are likely to be felt until Friday afternoon.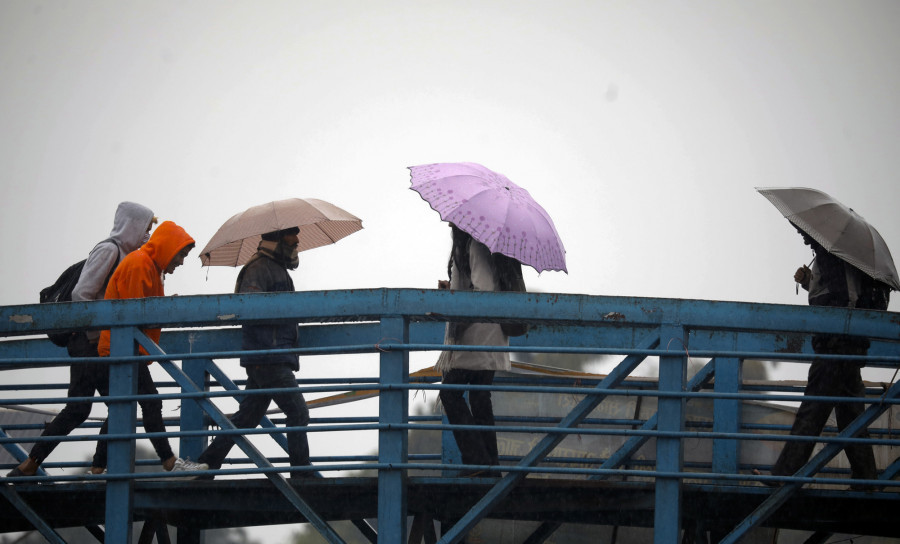 File photo. Hemanta Shrestha/TKP
bookmark
Published at : June 4, 2020
Updated at : June 4, 2020 17:14
Kathmandu
Nisarga, yet another cyclone to hit South Asia this summer has brought in overcast conditions and rainfall across the country on Thursday, a day after it made landfall south of Mumbai.
Cyclone Nisarga, which originated in the Arabin Sea, indirectly impacted the county's weather, said the Meteorological Forecasting Division under the Department of Hydrology and Meteorology.
"Due to the cyclone, we are experiencing cloudy conditions across the country and some places are receiving rain," said Samir Shrestha, a meteorologist with the weather office. "The [cyclone's] impact will have a weaker impact on Province 1 and Sudurpaschim Province compared to other parts of the country," he said.
Cyclone Nisarga made landfall in Alibaug, Maharastra, on Wednesday afternoon, and has weakened with wind speeds reaching around 90-100 kmph. The cyclone is expected to move north-east and weaken further during the next few hours, according to local media reports.
"After landfall, the cyclone has been downgraded into a deep depression, and its wind speed is coming down," said Shrestha.
According to weathermen, the effect of the cyclone, however, could remain until Friday morning.
The sky will remain cloudy even though chances of rainfall will be lower. "A few places in Gandaki Province, Province 5 and Karnali Province will witness rain," said Shrestha. "Isolated rainfall with light to moderate intensity has been forecasted for other places due to the cyclone."
Last month, the country's weather was affected due to Cyclone Amphan which wreaked havoc in West Bengal and Odisha states of India and Bangladesh. Amphan, touted the "strongest storm" ever recorded in the Bay of Bengal, had affected the eastern and central parts of the country.
Cyclone Nisarga, which has claimed four lives so far, entered Nepal from Gujarat and Maharastra. India's financial capital Mumbai, already worst-hit by the Covid-19 pandemic, had braced for a cyclone after 129 years. However, the city narrowly escaped the worst of the cyclone's effects.
"Nepal felt the impact of the cyclone due to its associated cloud system," said Shrestha. Talking about the overall weather in the country, he said "Skies over Gandaki Province, Province 5, Karnali Province and Sudur Pashchim Province are mostly cloudy and those over Province 1, Province 2 and Bagmati Province are generally cloudy."
---